This is a great naturally gluten free dish! I have been making this for more than 20 years and it is still one of my favorites. However, I absolutely love the flavor of a good lemon and I always have! Love to eat them, use them in recipes, love their smell and they are so bright and sunny to have in the kitchen!
Lemon Juice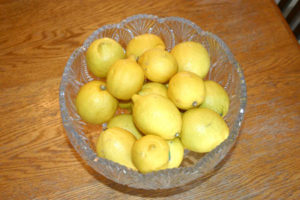 I like to get my lemons from Costco because I can get a lot for less (usually). Personally, I prefer to use fresh lemon juice in my recipes. I also love to put lemons or just the juice in my water. Lemons are really good for your liver!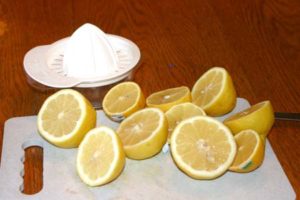 A good juicer is nice to have in the kitchen. I use ours frequently and love that it has a little rubber ring around the bottom that keeps it from sliding. It is one of my kitchen "must have" tools!
Directions:
Pre-heat your oven to 350 degrees.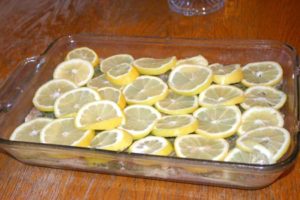 I cut and juice 4-6 lemons depending on how juicy they are. I like to have enough liquid for my bouillon to be in and really give the chicken a lemony flavor. You can play with this and figure out how much juice you prefer.
I spray the baking dish with a non-stick spray (I like the ones that use olive oil). and then place the chicken in the pan. I prefer using boneless, skinless chicken tenders approx 2 lbs. I have done 1/2 chicken breasts and cooked 4-6 pieces and either way it comes out wonderfully!
In the liquid ,you put about 3 or 4 tsp of Better than Bouillon dropped in the thick parts of the juice throughout the pan. I drop a little here and a little there but you could add the better than bouillon to the juice before putting in the chicken and mix it together first. I gauge how much juice I want according to the chicken and I like the juice to come up a little more than half way on the chicken pieces.
Sprinkle the garlic powder, tarragon, and parsley on top. Next, salt and pepper to taste. (I use grinders and just grind a little of each across the top.)
Depending on the size of lemons you use and how thick you slice them depends on how many lemons you need to cover your chicken. I used 3 or 4 lemons.
Cover with tin foil and bake on 350 Degrees for 45 min.
I serve with chips and dip or mashed potatoes. A nice green salad on the side is good with this too.
Homemade Lemonade is wonderful with this, too!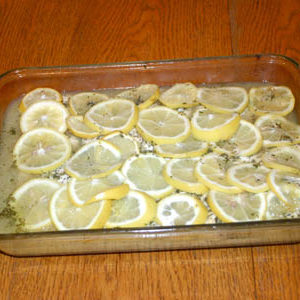 Lemon Chicken
Light, lemony chicken. Naturally gluten free.
Ingredients
7

or 8 Lemons

3-4

tsp

Better Than Bouillon-Chicken flavored

1/2

Tb

Garlic Powder

1 1/2

tsp

Tarragon

1

tsp

Parsley

Salt and Pepper to taste

2

lbs

Chicken

boneless, skinless (works for 1/2 chicken breasts of chicken tenders)
Instructions
Pre-heat oven to 350 degrees.

Squeeze approx 4 lemons. Can do more if you want more juice.

Spray pan with non-stick spray

Put chicken in baking dish.

Put lemon juice in baking dish.

Drop Better Than Bouillon in the deeper parts of the juice throughout the pan. I drop a little here and a little there rather than putting the full teaspoon in one place at a time.

Sprinkle the garlic powder, tarragon and parsley over the top of the chicken.

Salt and pepper to taste

Cover with tin foil and bake for 45 min.
Save
Save