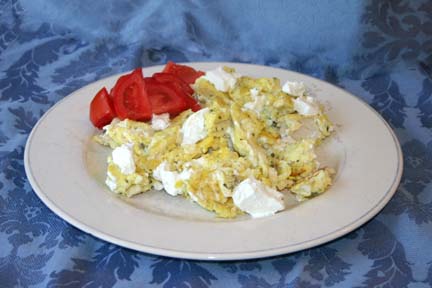 Delicious Turkey, Red Onion and Goat Cheese Scrambled Eggs For Two
A little more than scrambled eggs to bring a delight to your breakfast table in a light and delicious way! This recipe is for 2 people. When I do it for one I use 3 eggs and one slice of Deli Turkey.
7

Eggs

2-3

slices

of thin

sliced deli turkey (cut into small pieces)

Approx 1 T Red onion chopped

or freeze dried

Sprinkle on Basil

Salt

Pepper

Goat cheese -to your liking

Butter or oil to keep eggs from sticking to pan
Prep all ingredients before starting the stove. Cutting, chopping and scrambling ingredients.

Melt butter or heat oil in pan.

Add all ingredients except for the goat cheese.

Cook ingredients while pushing them around in the pan with a spatula.

When egg is fully cooked add goat cheese to the top.

Remove from heat.

Tomato or avocado are really nice on the side!