When I was 5 years old my mom started helping me to sew. I have never had a sewing class and so I'm not super confident in my quality of sewing. Sewing is sometimes a love/hate kind of relationship. I can do it but I don't always enjoy it. Especially, if I am worried about pleasing or meeting expectations of someone other than myself. However, when my girls were little I loved making them matching dresses, dress-ups and dresses to twirl in! I love sewing for my family! Shopping gets so hard when trying to find modest, comfortable, quality clothing! I keep thinking that I need to sew more!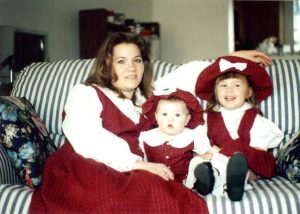 Left: Me and my girls in 1995. I made everything, including my oldest daughter's white blouse and my blouse. I even made my husband a matching tie.
My little girls in their Easter dresses, 1997, with my grandparents.
Save
Save
Recent Comments
Categories
Archives
Instagram
Instagram has returned invalid data.
Advertisement