Gluten Free Halloween and Recipe for Halloween Weenies!
Oh, to be a kid and get all that wonderful free candy on Halloween!
It can be hard to navigate when you have a little one (or an older one) with celiac, gluten intolerance or other allergies. These strategies can work for Trunk or Treat as well as Trick or Treating.
We still do Trick or Treating in our neighborhood and it's a big thing! We have a safe neighborhood and know all of our neighbors. On pleasant Halloween's we sit in our driveway and pass out candy.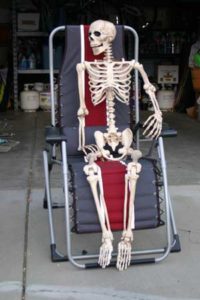 In fact, all of my neighbors do this! Even if the weather is bad, many of our neighbors will pass out candy from their garages.
We also live next door to Mr. Halloween. He absolutely loves Halloween and my husband has gotten more into Halloween, thanks to him. Here he is, on our roof. Under that bucket is a dryer motor that protects it from the weather. Hooked to that motor is a pulley system and a cable that is connected to two other homes in our cul-de-sac. 3 ghost fly around the cul-de-sac on Halloween night. They have black lights in them, so they light up nicely!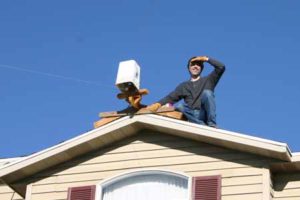 The ghosts are a favorite attraction in our neighborhood!
Needless to say, we get tons of trick or treaters! My daughter and husband really like Mine Craft and so they made some Mine Craft things to go in our yard.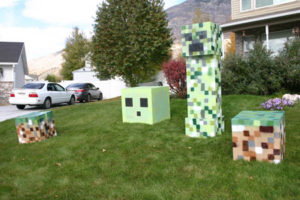 The big slime cube is designed so someone can be inside and move it. The eyes are a black see through material. We try to stay away from the really gory and scary. (Not my favorite part of Halloween.)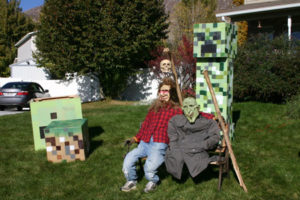 Sort and Switch
I buy lots of Halloween candy and those bags with lots of options always have one or two candies that are not gluten free. I have a big bucket for the gluten free candy and a smaller one for the gluten that needs to be handed out first. We separate the candy. . . gluten free and gluten before the night begins. (We don't want to be stuck with the gluten candy!) My kids will go trick or treating and half way through the night they will return and sort their candy so we can hand out more gluten candy. Sometimes they will trade the gluten candy with their friends for gluten free candy.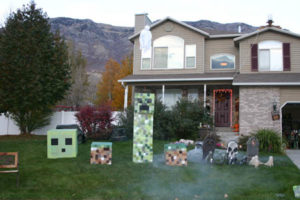 Another idea is to have a bag of their favorite candy to trade for the gluten candy or a special item (stuffed animal, small toy, video, or music), if you don't want them having all that candy. I think it is hardest the first time around but then they look forward to what special thing they get at the end of the night and they still get to participate with their friends.
I thought my kids might want something different for Halloween dinner, but when I asked they were like, "Duh, we want little smokies!" We started doing little smokies on Halloween night, years ago because it is easy and everyone is going in so many directions! Some are helping dad set up and others are getting ready to go out with friends and people are coming and going all night. I like to do these in the crockpot but you can also put them in a pan on the stove and heat them through.
Halloween Weenies!
One or two packages of Little Smokies (You can do more if you have a lot of people or the packages are small.)
Favorite barbecue sauce (We like Baby Rays! Picture is a clickable link.)

Put all ingredients in a crockpot on low for an hour or two. (I don't remember how long we usually do it, but you don't want to scorch your barbecue sauce. I check it periodically to make sure it doesn't burn since all of the meat is pre-cooked and just needs to be heated through.) Leave on warm until ready to eat!
Super easy! Serve with a vegetable tray, gf crackers and cheese, mashed potatoes and or chips and dip.
Halloween Weenies
Easy for anytime. Our Halloween favorite because we can put it in the crock pot and people can eat when they are ready.
Ingredients
1

or 2 packages of Little Smokies

Favorite Barbecue Sauce
Instructions
Often there is liquid in the package of Little Smokies; drain off the liquid. Put Smokies in the crockpot. Pour barbecue sauce over Smokies and stir. You want them nicely coated and maybe a little extra.

Put crockpot on low for an hour or two. (I don't remember how long we usually do it, but you don't want your sauce to scorch.) Check periodically to make sure it doesn't burn since the meat is pre-cooked and just needs to be heated through. Leave on warm until ready to eat.
Save
Save
Save
Save
Save
Save