Mom's Best Potato Salad loaded with lots of vegetables and spices!Potato salad is an American tradition for picnics, pot lucks and special occasions. My kids think it is a sin that I am sharing this piece of heaven in salad form. Sorry kids! They really love my potato salad!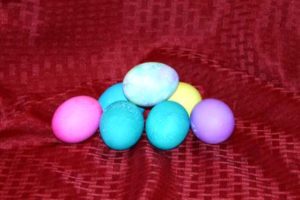 FYI: Potato salad is a great place to use more of those hard boiled eggs from Easter!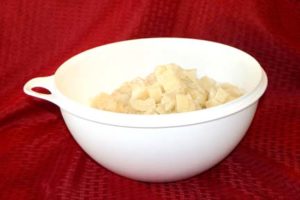 Boil and dice your potatoes. I lost count of how many potatoes I used but I believe it was about 10 medium to large potatoes.
Don't  boil too long, you aren't making mashed potatoes. You want them to be soft but not mushy. There's a sweet spot between soft and crisp.

Cut your vegetables: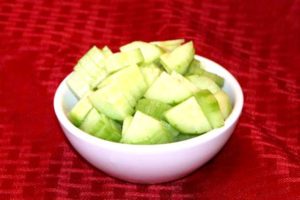 Cucumbers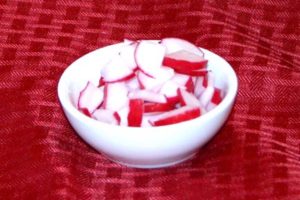 Radishes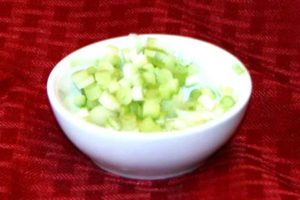 Green onions
Slice your boiled eggs.
I slice horizontally and then carefully move the egg to slice vertical.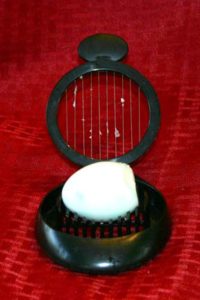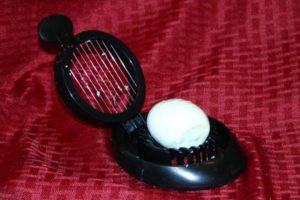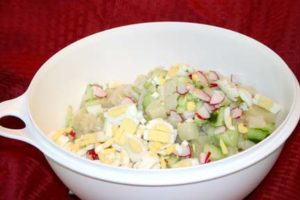 Put all vegetable ingredients in a big bowl. It is hard to tell from the picture, but this bowl is really big!
Next, we add the condiments and the spices!Mustard, salt, pepper, celery seed, dill, and paprika!
I like to use the Mayonaise that is made from olive oil because it doesn't contain high fructose corn syrup. It's not a good sugar and may play a part in keeping the auto-immune system over-active.
Mix all spices and condiments together with the vegetables, in a big bowl. Once well mixed, move to a serving bowl.
Place sliced egg (only sliced once through) on top of salad and sprinkle with paprika. Don't let the salad sit out for very long or it may spoil. Keep refrigerated. Potato salad left overs are always nice to have around!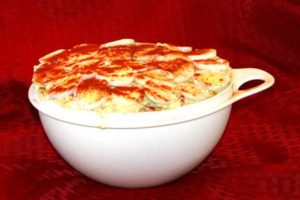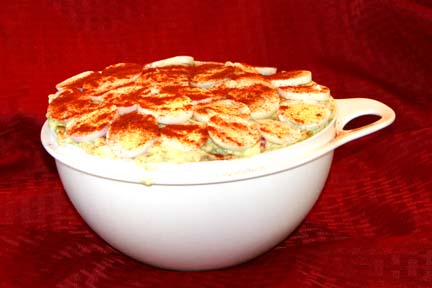 I should have put the big bowl next to this bowl so you could see their size differences but this is a regular large mixing bowl.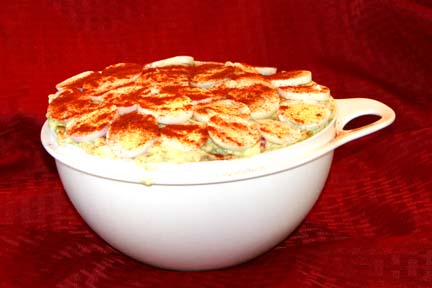 Mom's Best Potato Salad
An American favorite and tradition for almost any occasion.
Ingredients
Approximately 8-10 potatoes

peeled and boiled

Approximately 1/2 cucumber

chopped

3

large radishes

chopped

5

green onion

sliced

Approximately 8 boiled eggs

4 or 5 chopped and the rest sliced for the top

3 1/2

c

olive oil mayonaise

3

T

mustard

1/2

tsp

pepper

1-1 1/2

tsp

salt

1/2

tsp

celery seed

1

tsp

dill
Instructions
Chop all vegetables.

Put all chopped vegetables and chopped eggs in a big bowl.

Add mayonaise, mustard, pepper, salt, celery seed, dill

Mix well

Taste and adjust spices to your liking or add a little more of your favorite vegetable

Once it is to your liking, place mixed salad in a serving bowl

Place sliced eggs across the top of the salad

Sprinkle with paprika

Keep cold until ready to eat.