Bridal Shower
My daughter is getting married soon, so my other daughters and I are hosting a bridal shower for her and her friends. I saw a cute pin on Pinterest about hosting a bridal shower and it had a cute door decoration. The door decoration wasn't part of the post, but I wanted to make one and set out to figure it out.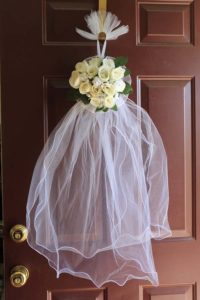 Materials
I think it turned out pretty good! I bought most of the materials from Hobby Lobby.
1 Bouquet collar- about $1.99
A group of white roses from the wedding isle; it was a His and Hers brand and on sale. It was about $7.99 before the sale.
White Tulle- not sure how much it was and I only used enough to cover the wire stems and make a hanger.
From Zurcher's I found a cheap $14.99 veil. Hobby Lobby had some that probably would have worked, but I thought I was going to use the tulle to make a veil. Between mulling over how I was going to do this and the way the packaged veil looked; I decided to go this route.
Here's the back- side of the door hanger: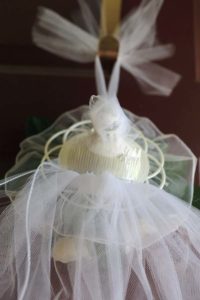 Directions
Here you can see the Bouquet collar. I cut apart the flower bouquet and threaded the stems through the bottom of the collar. I had some other little decor that I found on the Hobby Lobby wedding isle that I put in between flowers to decorate it and make it look a little fancier.  I wish I wouldn't have cut the stems as short as I had. I would have had an easier time bending the stems upward, so they didn't scratch the door. I used one stem to wrap around the others (before I cut them shorter). I hot glued them together. Then I put tulle around and padded the wire ends and secured with hot glue. I then glued the comb of the veil to the bottom of the collar.  At the top, I tied more tulle to the collar and added some fluffy tulle to the top. (I tried to tie a cute bow, but it didn't work out and I like how this looks.)
Here's a close up of the bouquet and the little fancy parts: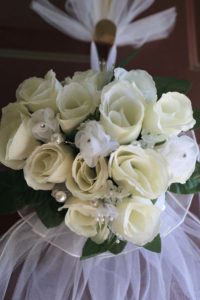 There are tulle pre-made flowers, pre-made tulle fluff with beads, and pearls. I like it being all white because I can use it for future Bridal Showers regardless of the brides chosen colors. I have 4 girls, there will be more opportunities to use this! I am so pleased with how it turned out!!!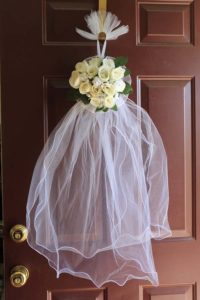 Save
Save
Save
Save
Save
Save
Save
Save