Directions for Fresh Homemade Lemonade with an option for Raspberry Lemonade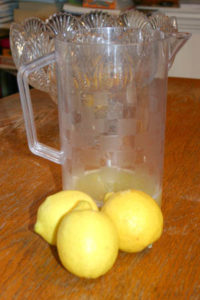 You will need 6 Lemons.
Squeeze with the lemons with the  juicer and put juice in a pitcher.
3/4 -1 cup sugar (if you like it a little sweeter do the 1 cup)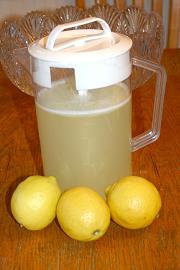 Fill the pitcher to 2 Liters.
Mix well and chill
For a variation you can add strawberries or raspberries. If you do this wash them, cut greens off and any bad places out. Put them in a bowl with a couple of Tablespoons (out of the 3/4 cup) from the sugar you will add to the lemonade when it is all put together.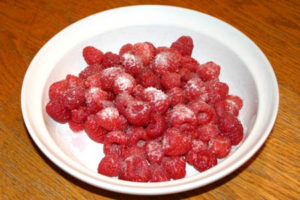 Because the fruit is so sweet I wouldn't do more than 3/4 cup of sugar when adding more fruit to the lemonade. Let the berries with the sugar sit in the fridge for 30 minutes. This helps to soften them and draw out their juices. Put the berries into the juice with the sugar and then add the water and stir well.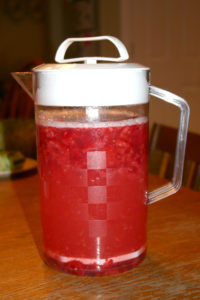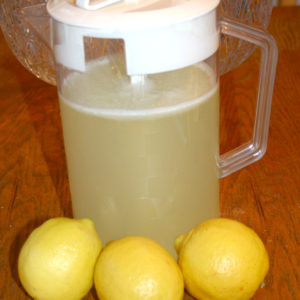 Homemade Lemonade
Lemony and refreshing
Ingredients
6

Lemons

3/4-1

Cup

Sugar

Water

Optional: Raspberries or strawberries
Instructions
Squeeze lemons with a juicer.

Add juice to a 2 liter pitcher.

Add sugar according to how sweet you like it.

Add water to make a full 2 liter pitcher

Taste a small amount to see if you need more sugar or a little more lemon juice.

Chill or serve right away.
Optional for Raspberry or Strawberry Lemonade:
For fresh berries sprinkle with approx 1 or 2 Tb sugar (divided from the sugar you will be adding to the full pitcher of lemonade.

Place in fridge for 20 -30 minutes to allow berries to soften and the juices to be drawn out.

Then follow the above directions, but add berries before the water and then fill to 2 liters.

If using frozen berries, thaw first and then add.
Save
Save
Save