I love French Dip Sandwiches!
At a Gluten Intolerance Group Conference, several years ago, I got to hear Jules Shepard of GF Jules speak. She talked about how food is emotional. We have emotional attachments to the foods we enjoy. Usually because of who made it or when it was eaten and the memories surrounding the circumstances where the food was eaten and with whom. Sometimes, what we long for most is the memories that eating that particular food brings up in our minds and hearts. Gf cooking and recipes have come a long way in the 12+ years I have been gluten free. Almost anything you want to cook can be found.
My Grandma didn't drive. She had been a pretty bad car accident and refused to drive after that. So, every 2 weeks my mom would drive to downtown Salt Lake City where my grandma lived and take her to do her shopping. During the week, Grandma took a cab to and from work but it was hard to get all the other things done. I often went with my mom on these shopping trips. We went to lunch and often it was to Pepperidge Farms Restaurant (I think that is what it was called. . . it was Pepperidge something.) It was my favorite restaurant to go to with my Grandma. They had the best French Dip sandwiches!
This is one of the things I have missed a lot in going gluten free! I was so happy to find some gf baguettes! The perfect bread for doing French Dip Sandwiches! SCHAR | Baguettes- [Gluten Free]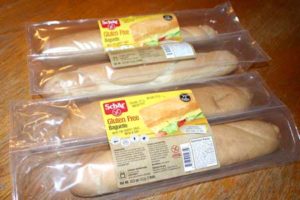 This is the perfect bread for making gf French Dip Sandwiches as well as hoagies. They make a smaller version that is about half this size but it is close to the same cost as buying the long ones. So, we get the long ones and then cut them in half.
Cut them in half and then in half again like so. Then, they are ready to put on a baking sheet or stone. (I love cooking with stoneware! If you have cooked gluten on them make sure you either replace them or cover them with tin foil when cooking anything that is gf. Stoneware holds onto the gluten because it is porous.)
Cut 1/2 of a large onion, 1 green pepper and mushrooms into slices. Put some butter in the bottom of a frying pan and sautee your veggies. I don't measure my butter but I probably start out with about 3 Tbls butter to keep them from burning and to add flavor. You could do oil to make it a little more healthy. Salt and pepper veggies to taste. Add more oil or butter if needed.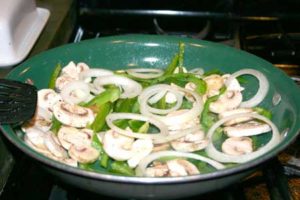 You need to get your water boiling. I did 8 cups of water and 8 tsp of Better Than Bouillon Beef Base
to make our Au Jus and some salt and pepper to taste. After the Better Than Boullion has been mixed in (dissolved) I turn the temperature down to low.
I do extra au jus because if I don't, we always run out and I am scrambling to make more. Adjust the amount for what your family likes and uses.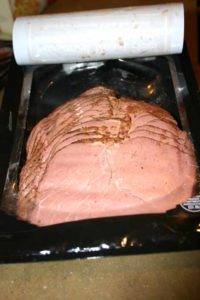 I like the roast beef from Costco, the Kirkland brand, found in the meat and cheese (Deli) section of the store. (Deli sliced lunchmeat- pre-packaged)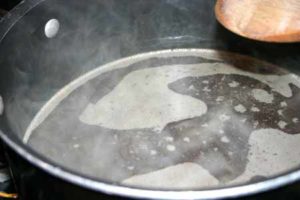 I throw the lunch meat into the broth. This way the meat is warmed up and they share flavors. I put 3 slices per sandwich.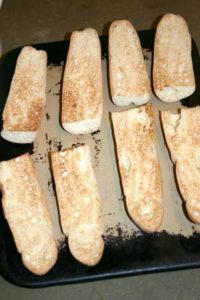 Toast the bread on broil until just golden brown. This should only take a few minutes 2-3, keep an eye on them. (I have started dinner on fire on broil, before! Huge bummer especially when gf bread costs so much!) The toasted bread is perfect for soaking up the au jus and not falling apart, too much.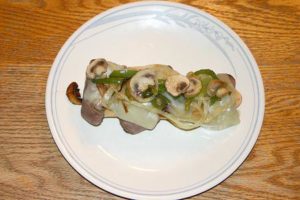 I remove the "tops" from the baking sheet. I load up the "bottoms" with the meat, using tongs to do so. Then I put cheese slices on top of the meat. We used Monterrey Jack this time, but you could do Swiss, or Mozzarella. Broil until cheese is melted and then remove from oven. Load your veggies on top of the cheese. Tongs work great to place the veggies. Then place the top of your bread on to the sandwich!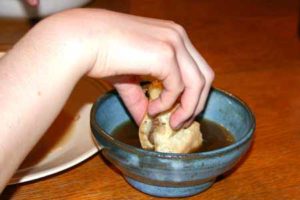 With a ladle we fill bowls for dipping with the Au Jus.  Dip, soak, enjoy!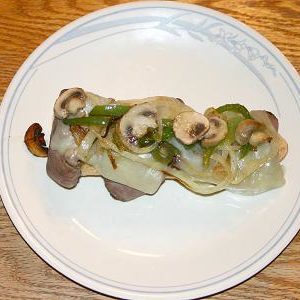 Gluten Free Loaded French Dip Sandwiches
We cooked for 4 people and used 3 baguettes and a little more than half of the roast beef that was in the package. We put about 3 slices of roast beef per sandwich. *Prep time really depends on how long it takes you to slice the vegetables. This is what is going to take the most time and then sauteing them.
Ingredients
2

packages

there are 2 per package of GF baguettes (could do it on toast and just broil to melt the cheese)

Cheese- Monterrey Jack

Mozzarella or Swiss

1/2

large onion

sliced

1

green pepper

sliced

Mushrooms

sliced

2-3

Tbl butter or oil
AuJus
8

C

Water

8

tsp

Better Than Bouillon

beef flavor or your favorite gf bouillon
Instructions
Turn oven on broil

Slice veggies

Place all of the sliced veggies in frying pan with 2-3 Tbl butter or oil (add more if veggies are sticking.)

Salt and pepper to taste

Saute until soft

While cooking veggies, start water boiling and add Better Than Boullion.

Salt and pepper to taste

After Boullion is dissolved turn temperature to low and put slices of beef in with the juice

Slice bread

Broil bread for 2-3 min. or until golden brown. Be careful to not let burn.

Remove the tops of the sandwich to a plate.

Load the bottom half with meat from the juice. I use tongs to do this.

Place 2 pieces of cheese per sandwich

Broil for 2 to 3 min until cheese is melted. Be careful to not over melt or burn.

Place on plate and load with veggies. Again, tongs are really great for putting the onions, green pepper and mushrooms on the sandwich.

Place top of sandwich on top of the veggies

Dip into the Au Jus
Save