A friend suggested a Facebook page for me to join, A World of Hearts. A way to spread love and happiness during an uncertain time. What a fun idea!
For a few days, I just watched the page and what people were posting. There were amazing pictures made with hearts, hearts everywhere, hearts on animals, hearts found in nature and sayings with hearts. I was inspired to create my own picture made from hearts. I wish my photos turned out better, but my window is so reflective!
Materials Needed:
Heart punches or stencils
Tape or other adhesive to stick hearts to the window
Dry erase markers
Scissors
Construction paper
Glue stick
An idea
Making the Hearts
I did scrapbooking for years and have several tools. So, I pulled out my heart punches and began to punch hearts out of construction paper. I had an idea of creating a little scene with a giant rainbow umbrella.
It was easiest to have a bunch of hearts to get started and then be able to figure out the right size and position.
Making the Umbrella
I tried to "free hand" it at first and just place the hearts how I thought they should go. It didn't go well! I then, got my daughter to help in drawing the shape of the umbrella on the window with dry erase markers.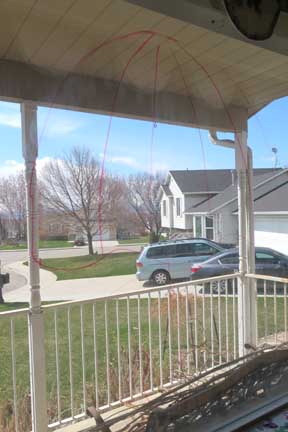 I recommend erasing the lines as you place your hearts! It does show up when you are done. It was too much work to take the beginning ones off to get to the marker. So, it is what it is.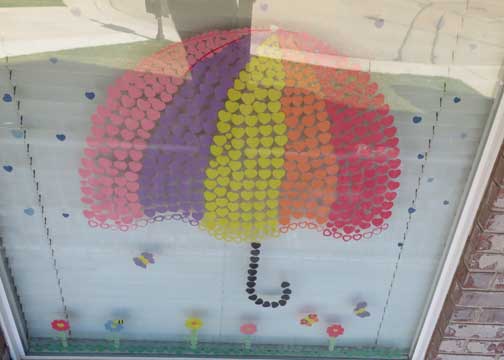 Making the scene
The blue raindrops falling added character to the picture and so fitting with the weather we have had recently. I love the ideas of green grass, flowers, butterflies and don't forget the bumble bee!
For the grass I used two sizes of green paper hearts and alternated them. I used a different shade of green for the flower stems, doing 5 in a straight row. For the flower leaves I punched a small heart and then punched a larger heart around it. Just like on the edge of the umbrella.
The flowers take 4 hearts of the same color and size, glued together with a glue stick. I used smaller yellow and orange hearts for the centers.
Bumble bee is 3 hearts glued together. Just like the center of the butterfly. Then with a black marker or using strips of black construction paper make black bumble bee stripes.
The butterfly has two large hearts with two smaller, hollow hearts glued on them. Then, there are two smaller hearts for the lower wings. Glue the butterfly body to the wings.
For the flower use 4 hearts- same size- smaller heart of a contrasting color.

4 Hearts glued together for the flower. Place a smaller, contrasting heart for the center.

More grass and flowers

The bee and butter fly body use three hearts of the same size.

Glue the two bottoms of the heart together for bumble bee or butterfly body

Glue the top part of one heart to the top part of the 2 hearts you previously glued

Add black stripes to your bee and tape or glue to a flower

Two large hearts and two smaller hearts for butterfly wings

Punch out a small heart and then a larger heart to make it's silhouette.

The top of the heart forms the top of the head.

A fluttery butterfly to add to your scene

Grass, butterflies and flowers
The Finished Project
This was a fun thing to do for a couple of days. It was fun to be creative and not worry about much of anything else. I hope it brightens my neighbor's day and helps to bring a little more love to life.