Stocking stuffers for her this Christmas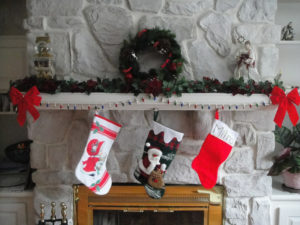 These ideas are a good starting point in how to fill your favorite girls stocking! Whether you do a 12 days of Christmas with stocking stuffers or use this post as a springboard to fill her stocking you are sure to please her.
1. Essential Oil Jewelry
On the first day of stocking stuffers, "I love the scent of you"
Many women are loving essential oils. This jewelry is a fashionable way for her to wear her favorite scents.
2. Follow Her Dreams
On the second day of stocking stuffers, dreams are what life is made from!
Tell her how much you believe in her and her dreams with this pendant! Inscribed are the words: "Go in the direction of your dreams".
3. Birthstone Necklace
On the third day of stocking stuffers, "The most precious jewels you'll ever have around your neck are the arms of your children".
I love that! With birthstone necklaces she can continue wearing her jewels around her neck even when they aren't so little, anymore. They grow, but in our hearts they will always be.
4. Blue Tooth Hat
On the fourth day of stocking stuffers, "I love being in tune with you".
The reviews say that the person wearing the hat feels like everything is in surround sound, but no one else hears the music. It is a blue tooth device and so there are no wires to get in the way of moving around.
5. Coin Purse
On the 5th day of stocking stuffers, 5 gold coins!
It would be so much fun to get the 5 of the $1 coins to put in this purse. So cute! Who doesn't love another pretty place to put your cell phone, lipstick and more?!
6. Key Ring
On the 6th day of stocking stuffers, you have the key to my heart!
I have always loved Winnie the Pooh. This quote was said to Pooh by Christopher Robin. "You are braver than you believe, stronger than you seem, and smarter than you think"
7. Eye Pillow
On the 7th day of stocking stuffers, these are the things that dreams are made of.
This pillow is filled with organic flax seed and smells wonderfully of lavender (per reviews on Amazon). Lavender is a relaxing scent that promotes rest. Whether she needs just a little help relaxing or suffers from migraines, this is a handy pillow to have around.
8. Leather Journal
On the 8th day of stocking stuffers, to remember the good.
Having a place to write and keep things is always nice. This journal is still small enough to fit in a purse.
9. Pumice stone
On the 9th day of stocking stuffers, I'll walk with you forever.
My feet take a lot of abuse because I like going barefoot. They get tough, but then they start to crack and hurt and have all kinds of problems. A nice pumice stone is the perfect thing to ease this problem.
10. Body Butter
On the 10th day of stocking stuffers, Love the skin you are in.
Moisturizers are great to keep a woman's skin soft and smooth. Though I haven't used this brand before, I am impressed that it is scent free, paraben free and gluten free!
11. Ulta Beauty Gift Card
On the 11th day of stocking stuffers, you are beautiful.
This is my daughter's favorite place to shop for make-up and other girly things! So much fun to know that you have a little spending spree coming up, to choose your favorite products!
12. Stockings
On the 12th day of stocking stuffers, you are the socks to my feet.
No stocking is complete without a nice new pair of warm winter socks.