My daughter spoils our dog! Penny is now 7 years old and she often wants a treat along with everyone else. We have all kinds of treats for her, but on special occasions it is fun to give her a special puppy treat!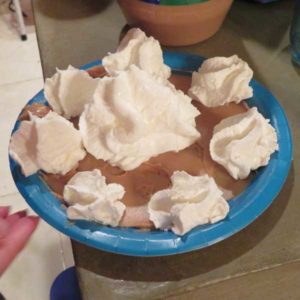 Is it healthy for my dog?
The answer is: yes and no.
The peanut butter is awesome for your dog! Peanut butter is loaded with all kinds of proteins, vitamins and healthy fats. However, make sure to avoid sugar free and/or lite peanut butter. To replace the sugar they load it up with sugar substitutes, like xylitol, which is toxic for dogs. (As are other artificial sweeteners, but I think xylitol is the most harmful.)
The whip cream isn't harmful and dogs love it! However, it may bother some dog's tummies. Also, you shouldn't do a lot, even though they love it! Whipped cream has a lot of sugar and fats that aren't necessarily the best for your favorite puppy. (Honestly, my daughter should put a little less whipped cream. Also, just found out that the best peanut butter for her is raw and unsalted, we use Jiff.)
Special Puppy Treat Ingredients:
A small paper plate (dessert size)
Peanut butter (preferably raw and unsalted, according to Cesar)
Whipped cream
Constructing the Puppy Treat:
1st spread a thin layer of peanut butter across the plate.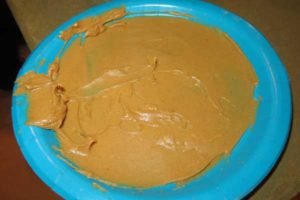 Next, apply the whipped cream.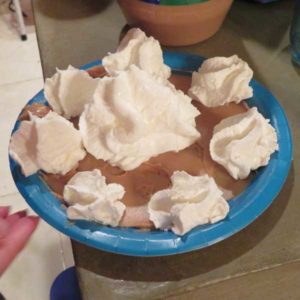 Enjoying Her Treat
Penny is a well trained dog and knows where she is to eat and to wait patiently until told it is time.
Why does it matter that it is gluten free?
Our family is gluten free because of celiac, crohn's and other medical conditions that respond better when you are on a gluten free diet. Okay, so our dog doesn't have any of those, so why should she have to be gluten free, too?
Well, because my dog doesn't wash her face and brush her teeth after she eats, before she licks me. I react topically to gluten and I need to minimize gluten exposure risks as much as possible. It is miserable to break out in a rash because of gluten and one exposure can last for months!
Some other risks, come from the gluten that goes in the air when putting her dog food in her bowl or touching her dog food or treats that contain gluten. Breathing in the gluten definitely is not good! Also, If I forget to wash my hands and touch my lips, skin, table or counter there is now cross contamination risks that can cause me to have a reaction.
A reaction to gluten typically lasts 3-5 days, at least the most obvious symptoms do. Some doctors say that the reaction can continue virtually unnoticed in your body for up to two months. However, on the skin I have experienced reactions that last for several months and took a steroid shot to calm it down.