2319 or 23-19 is the code in Monster's Inc. for something from the human world coming back with them. It must be destroyed, since it is toxic and could likely kill the monsters! This year in 2019, February 3rd was 2-3-19, but the great thing is, every month this year has a 23-19!
2319
In Monster's Inc., the first time a 2319 is put into action is when the monster, George returns from a great scream and has a child's sock on his back. The sock is immediately destroyed and poor George is completely humiliated by being thoroughly shaved. George has really bad luck as 2319 seems to follow him throughout the show.
So, new socks were a must for our party!
The 2319 Party
We donned our purple socks as we watched Monster's Inc. and Monster's University. Our kids are pretty grown up, now and so it has been a while since any of us have seen these shows. It was so much fun and lots of memories!
My daughter made a fabulous gluten free monster cake. Purple and blue of course!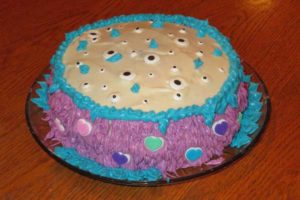 Fun, relaxing and low key is the way we like to party. So much less stress and still a lot of fun!
The Cake
My daughter made the cake using Gluten-Free Heaven's Yellow/Vanilla Cake Mix
and a buttercream frosting. She put food coloring spots throughout two of the layers and mini chocolate chips in the third layer. I think she could have done more chocolate chips! It was delicious!
And don't forget the ice cream! My kids LOVE Playdough ice cream! Personally not my favorite since the yellow has a banana taste, but my kids love it!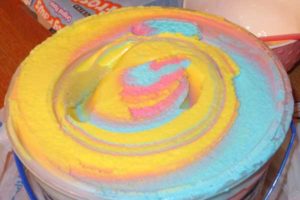 More 2319 Party Ideas
Have someone draw (or get a monsters poster) a monster's back on a poster board. Draw the outline for a sock on the monster's back. Cut out little socks to "pin" on the monster's back.
Make a blanket fort to watch movies in
Monsters photo booth with props
Make sock puppets that look like monsters
Remembering Mike on 2319
We decided our 23-19 would be February 3, 2019. It was perfect! My brother-in-law passed away a year ago, right before his 51st birthday. He was a character! He would have loved a party like this. Well, February 3, 2019 would have been his 52nd birthday and what a great way to remember him!
We got everyone purple socks for the occasion. My husband's even have lemons on them. Significant because many people mistake our last name for lemon.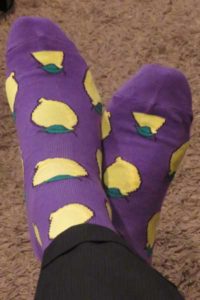 Mike's favorite color was purple!
Then, the two main monsters in the movie are named Mike and James. Just like my husband and his brother.
Happy Birthday, Mike!