We wanted to make my husband's 50th birthday celebration a lot of fun for him. My husband didn't have birthday parties as a child and since we have been married they have been family parties. But being the Big 5-0, we wanted to do something special!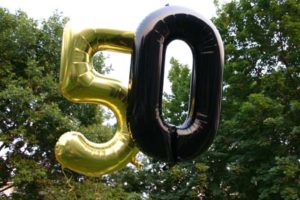 We had him wear his new, special shirt!
Favorites
We decided to invite some of his favorite people and have some of his favorite things.
We had a taco bar for dinner. I wasn't able to get a good picture of things uncovered. The flies, bees and little bugs and ash made things difficult.
Ash? Yes, ash. There are so many big forest fires in our state right now and a lot of smoke has blown in from California's fires that our air quality has never been this bad! I have never seen it this smokey before! And the ash was falling and obvious on our black covered tables, which we kept wiping off.
Favorite Food
We covered the tables with a black covering. I had intended to write with a white chalk pen what everything on the table was, but ran out of time.
We had pulled pork, hamburger taco meat, refried beans, cheese, salsa, onions, tomatoes, olives, guacamole, jalepeños, corn flour taco shells, and crisp corn taco shells.
At the other end of the table we have nacho cheese, corn chips and some Baskets
with Checkered Food Wrapping Papers
(just for the fun of it.) if people wanted to put their nachos in them. My daughter made homemade root beer!
Favorite hobbies and more
We had one table set up that was about James and his hobbies and things that he likes.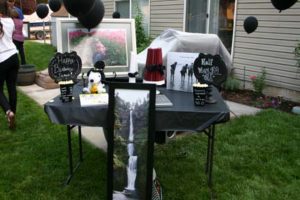 There's a lot of photography items on this table. Most of the art work in our home is from the photographs he has taken. The waterfall also represents a favorite vacation and the book and pictures of our kids because family is really important.
He loves snoopy and so we have a snoopy on the table as well. I tried to find some computer stuff but couldn't locate anything I felt would be appropriate on the table.
Favorite Cake
My youngest daughter made him his favorite cake! Gluten Free Applesauce Spice cake with cream cheese frosting.
My oldest daughter made a second cake. Chocolate isn't really his favorite, but she and daughter #3 had a joke they wanted to play.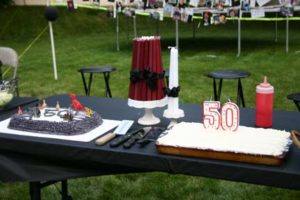 The Birthday Joke
My husband often tells the girls about the time he was in 1st grade. He got chocolate cake in the cafeteria and then he saw the ketchup. He put the ketchup on his cake and sat down to try it out. Before he could, the school janitor came by and saw the ketchup on his cake. The janitor grabbed his cake and said, "We don't put ketchup on chocolate cake," and threw it into the garbage!
He has always been so disappointed to not have tried ketchup on chocolate cake. However, every time we tell him now is his chance he decides he doesn't want to try it.
My daughters made a runny frosting with some raspberry and vanilla flavorings and put it in a bottle labeled ketchup. After serving him his chocolate cake they presented the ketchup and squeezed it on his cake. He had a few moments of panic before realizing it wasn't really ketchup. It was a great joke!
Party Music
Daughter #2 was in charge of the music. She put together a play list with songs from the 5 decades that are a part of his life. It was a lot of fun and added so much to the atmosphere!
50th Birthday Decorations
My favorite was the time line photos we put together of his life. We set up a volleyball net and didn't put it to it's full height, so it would be easier to view the photos.
My youngest daughter was in charge of making the time line descriptions.
The little details
He didn't realize all of the little details, until he was looking at the photos. That's okay, almost everyone else did.
Favorite Hot Air
Of course we had to light ALL of those candles! I missed 4 candles when putting it together and didn't want to short him his 50 wishes. So that is why there are two groups. They were tricky to light. It's a good thing I worked on getting them stable. A friend picked the bundle up and held them on their side while I lit the bottom ones, which then helped to light the rest. When we set it back down there were only two or three I had to light. Click on this link to see directions in putting the candles together.
Happy 50th Birthday And Many More!!!