When we first started homeschooling I thought it would be so much fun to make fairy gardens. My girls didn't react with much enthusiasm, especially my oldest, who was 11 at the time and never got into really girly things. So, like many other things, we began figuring out what worked best for us.
We created our own mini gardens. At the dollar store, the girls found things they thought would be fun in their own little personal garden. We also tried them in these cute baskets, but even with the peat moss in them, they dried out quickly and only made it through June.
Our First Personal Mini Gardens
Every year they enjoyed going to the dollar store and finding treasures to put in their personal garden. Then, we would go buy flowers and they would pick out which ones they wanted to use. I thought I had done so good and taken pictures every year, but I hardly took any at all, of their gardens. Wish I could go back in time and take those photos! Luckily the girls took some pictures.
After that first year, we got smart and purchased small planters that would last for several years.
They may be a little messy and not fancy, but the girls enjoy doing this, even still!
What they have learned
How to prepare a planter:
You fill the bottom with rocks for good drainage. This is done even if your pot or container doesn't drain out of the bottom. The water will settle down through the rocks and is better for the plants.
Fill the planter with potting soil.
Put plants in and leave room for them to grow and take up more room and space. The smaller planters don't hold much, but that is okay.
*When planting a plant from the store you remove it from the plastic container and then break up the roots. Just pull from the middle of the bottom of the root ball with your fingers. This encourages them to grow better and they don't stay bunched up in the ground/soil.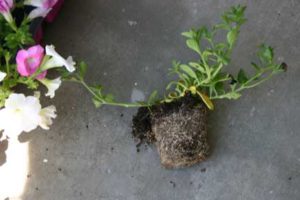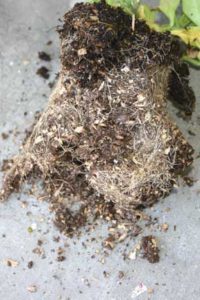 Make sure they get watered a couple times a day, especially when it gets hot.
It also sparked some photography interest and they have several pictures of flowers from their gardens.
Our Gardens now
My husband has made me a drip system so our gardens last all spring and throughout summer. Last year, we had a problem when the city flushed the system and we suddenly lost a lot of water pressure. By the time we discovered that the problem was a clogged filter, the flowers had nearly died and it was too hot for them to recover.
For Mother's Day my girls gave me some wonderful Fairy Garden things! I love my little fairy garden and look forward to doing more for my own gardens, now that the girls are nearly grown.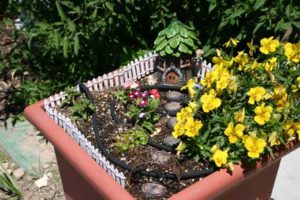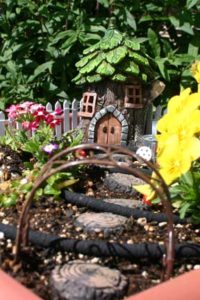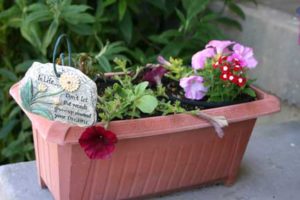 Cleaning Up the Porch
This year we cleaned up the porch and got rid of all the old, broken and faded garden items from the past.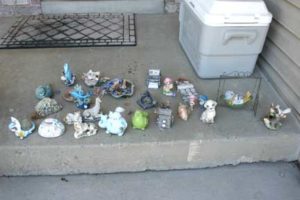 The only one we are still using from past years is the cute ballerina. Hoping the little plant on the right recovers. It snowed after we bought it and before we got it in the pot. Not normally that cold in May!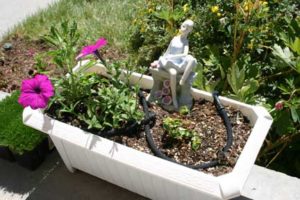 Happy Planting!
What is your favorite planter idea or tip? We would love for you to leave a garden tip in our comments!