Easter is a magical time, especially for kids! The last thing you want is the magic to be disrupted by tummy aches and GI troubles! Lets keep everyone bouncing around and happy this holiday!
Chocolate Easter Bunnies
Chocolate is almost always gluten free! Yeah! However, read the labels, read the labels, read the labels! There are more chocolates, especially those cute chocolate bunnies, that contain gluten! The reason for this most likely has to do with dusting and molding the shapes. Though that isn't the only candy or chocolate you will find gluten in this Easter! Reading the labels helps as well as checking out gluten free candy lists.
Candies
There aren't just more chocolates that contain gluten, but also many candies including ones that are normally gluten free. For example, on this list Reeses Peanut Butter Cups in Easter shapes are NOT gluten free. However Reeses Peanut Butter Cups and Reeses Pieces are normally gluten free. Again, I'm wondering if this has to do with making them into shapes? Dusting molds with flour?
There are many lists put together by different groups and bloggers. *I am not sure how up to date they keep this list. Companies often change recipes and practices. I do like this one because it has tons of information and is one of the longest I have seen. Click here. Another list, that was created this year, 2019, contains lists for all the top allergies, is found here.
Easter Feast
What Easter would be complete without an Easter feast? Once upon a time this was much harder! Manufactures used to put wheat in mayo and mustard! I haven't seen that in several years now. Can you imagine not being able to have Deviled Eggs or Potato Salad? Thank heavens for change!
Ham in and of itself is gluten free. It used to be that all ham glaze contained gluten, but that isn't so, anymore. Read the label. There are many gluten free ones available. If you are leery about the ham glaze, cook it without it! I like to add some water to the pan as well as the juice from a can of pineapple rings. Then I take toothpicks and place the pineapple rings around the ham. It gives it a really nice flavor. I cook it covered.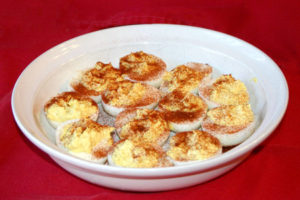 Deviled Eggs and potato salad are usually fine. Watch out for noodle salads, especially if your family eats buffet style. No one thinks about taking a spoon from one dish and using it in another. Unless you have to worry about allergies or cross-contamination issues this usually isn't on your radar as a problem and big no-no!
Jell-o brand Jell-o is gluten free.
Watch out for croutons or pita bread in green salads. Watch out for dressings that contain gluten.
Avoid the gravy. Most gravies contain gluten. Some do make gravy with cornstarch, but many gravy mixes contain gluten.
If you are eating with family or friends that are not gluten free, you might want to take your own gluten free rolls. I love this recipe I found on Pinterest! These are seriously the best gluten free rolls! However, I think they taste best the day they are made.
Pimento Cream Cheese Salad is my favorite! Especially on Easter! Don't get freaked out about the Pimento! My father-in-law thought he wasn't going to like it; now he asks where it is every time we have dinner together.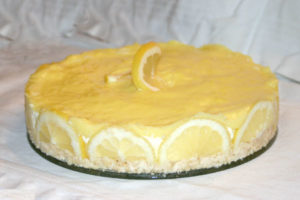 A really delicious springlike pie for Easter is this Gluten Free Creamy Lemon Pie. It is one of our favorites and the kids ask for it on a regular basis!
Have I missed anything? What food tradition do you have for your holiday table?
Save