*Updated post May 2019

Gluten Free Sunscreen

It's important to check, every year, what the gluten free sunscreens are because companies change their ingredients and formulas. Sunscreen should be the least of your worries when playing in the sun!
Some ingredients to be aware of:
Wheat, hydrolyzed wheat protein, wheat germ (vitamin E derived from wheat germ oil), oats and other gluten ingredients (because it isn't a food product wheat and other gluten ingredients can be called by other names).
If you have other allergies also watch for those ingredients: milk, tree nut (sweet almond oil, ginkgo bilboa, and argan oil) , peanut (arachidyl glucoside and arachidyl alcohol), and soy to name a few. (Sunscreens listed may contain these ingredients.)
Some people react to Titanium Dioxide (Some of the sunscreens listed contain this ingredient)
Oxybenzone
Octinoxate
Homosalate
Wheat and oat ingredients
Wheat and oat Ingredients– If you are gluten free you naturally want to make sure your sunscreen is gluten free. The most common gluten ingredients in body products are wheat and oats. Here are some top reasons for not having wheat, oats or other chemicals in your sunscreen:
If it is in spray form, it can be inhaled and get into your system.
When you sweat it can get into your mouth when it rolls down your face.
If it gets on your lips, you can ingest it.
Many people react to gluten topically.
Some ingredients do absorb into your skin.
Why you should worry about these other ingredients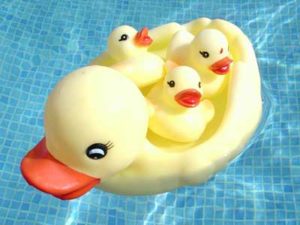 Celiac and thyroid disease often go together. Therefore, anything that can effect the thyroid, you should be aware of, so you can protect your thyroid health. Learn more about endocrine disruptors.
"Laboratory studies indicate that some chemical UV filters may mimic hormones, and physicians report sunscreen-related skin allergies, which raises important questions about unintended human health consequences from frequent sunscreen application." (http://www.ewg.org/sunscreen/report/the-trouble-with-sunscreen-chemicals/) This is especially worrisome with thyroid issues. Not much testing has been done on the safety of many of the chemical ingredients that may disrupt hormones used in sunscreen, lotions and cosmetics.
Oxybenzone
Oxybenzone is a chemical often put in sunscreen and cosmetics. Oxybenzone is known to cause allergic skin reactions. "In laboratory studies it is a weak estrogen and has potent anti-androgenic effects." (http://www.ewg.org/sunscreen/report/the-trouble-with-sunscreen-chemicals/) It acts like estrogen, in the body, disrupting natural hormone levels.
Some research has shown that teen boys have a lower testosterone level when they have high levels of oxybenzone in their systems. The chemical has also been detected in breast milk, may contribute to endometriosis, and poor sperm quality in men.
Octinoxate (Octylmethoxycinnamate)
Octinoxate (Octylmethoxycinnamate) Another hormone disrupter to watch out for. It disrupts the hormones as it mimics estrogen and can disrupt the function of the thyroid. (http://www.safecosmetics.org/get-the-facts/chemicals-of-concern/octinoxate/) Studies show it can also affect the reproductive system and may be linked to breast cancer. (http://www.thedermreview.com/octinoxate/)Not only is this chemical found in sunscreen but also in hair color products, lip stick, shampoo, lotion, nail polish and skin cream.
In sunscreens, this chemical is used for UV ray filtering and absorbs quickly into the skin. This chemical has been found in breast milk, urine, and blood of those who regularly use sunscreen.
More names octinoxate may be listed as on the label:
Octinoxate,o methoxycinnamate (OMC), parsol, parsol MCX, parsol MOX, escalol, 2-ethylhexyl p-methoxycinnamate – See more at: http://www.safecosmetics.org/get-the-facts/chemicals-of-concern/octinoxate/#sthash.qg6qMNi1.dpuf
Homosalate
Homosalate Disrupts estrogen, androgen, and progesterone. Besides being a hormone disrupter it may also enhance the absorption of pesticides! (http://www.safecosmetics.org/get-the-facts/chemicals-of-concern/homosalate/)
PABA
PABA is short for Para-AminoBenzoic Acid aka vitamin Bx. Some consider this a complex B vitamin, but it is actually an amino acid, not a vitamin. This chemical is used for blocking UVU Rays, but can be harmful to your skins health. Ingested it can be harmful to the liver (8 grams or more ingested). It can also lead to skin abnormalities including melanoma as well as, some have allergic reactions to this ingredient.
https://www.livestrong.com/article/303974-negative-side-effects-of-paba/
*This is not a complete list. Always double check ingredients. Ingredients sometimes change.
Gluten Free and Hormone Disrupter Free Sunscreens
Not listed in any particular order!
Many of these brands carry other sunscreens that may contain wheat, gluten, or hormone disrupters. Be careful of the ones you choose. You can check out the hormone disrupters at this website, but may still need to check ingredients or contact companies about the gluten. http://www.ewg.org/sunscreen/best-sunscreens/best-beach-sport-sunscreens/ Most mineral sunscreens won't have hormone disrupters.
1. Honest Company Mineral Sunscreen
Used this last summer and loved it! Went to Zion's National Park and didn't get sunburned at all!
2. Blue Lizard Australian Sunscreen
3. Goddess Garden
In a chat with Goddess Garden Organics, I was told all of their products are gluten free!
4. True Naturals
All their products are gluten free, according to the ingredient statement on their page.
5. Waxhead Sun Defense
6. All Good
7. California Baby
From their website: "California Baby products are free of common allergens such as gluten, milk/casein, egg, peanut, walnut, cashew, almond and pecans, fish, shellfish, soy, and wheat."
8. Kabana Organic Skincare
*This one is also soy free!
9. Thinksport
One of the ingredients is Pine Wood Resin. Interestingly, this ingredient is used in many cosmetics. It isn't harmful but some people may react to it. I for one won't be using it. My dad is a carpenter and I used to work for him until I developed a horrible reaction to pine saw dust.
In a Pinch
If I couldn't find one of the sunscreens on the list I would use Coppertone Sport. We have used it for several years. She won't get a rash from it, but I would worry like crazy about the other ingredients in it that are hormone disrupters. I don't plan on being in a pinch!
Coppertone Sport
I am so disappointed to learn about the ingredients in this sunscreen. I have been using this sunscreen on my daughter since she was very little. She was diagnosed with her thyroid disease right before her 11th birthday!
No gluten, but. . .
Contains all of these hormone disrupters:
Avobenzone- part of the Octinoxate family
Homosalate
Octisalate
Octocrylene
Have you tried any of the sunscreens on this list? What did or didn't you like about them? What is your favorite gluten free/hormone disrupter free sunscreen?
Please leave a comment and share your experience.