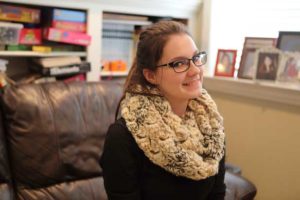 My daughter is going to school in a colder place than where we live. On average, it is 20 degrees cooler where she is than where we are. I found this wonderful, Fluffy Infinity Scarf- free pattern,  and thought it would be perfect to help keep her warm! I have been wanting a really nice infinity scarf pattern and this is definitely it! It was fast and easy to put together!
What I Used and Adjustments I Made
I used 3 and 1/2 ish skeins of yarn. I chose the Lion Brand, Wool-Ease, Thick & Quick. It is 80% acrylic and 20% wool. There are 87 yards in one skein. It is machine washable and dryable. (Always a plus!) I used a size "M" hook. However, I made some alterations to the pattern.
*Make sure you check the gauge I had to adjust the pattern because I love the size of the stitches with the "M" hook but my gauge made it huge! The full pattern ran to a full 12 inches! So, I knocked of 10 stitches and had 4 clusters across. So, instead of chaining 32 I did 22ch.
Also, the instructions weren't clear for row 1. Through trial and error I realized that after the *ch 3- you should then skip 3 ch and then do the DC4tog in the fourth stitch. I didn't understand that right away in reading the pattern.
It is still thick enough that she can pull part of it up, over her head and keep her ears warm. She wore it out all evening and loved it! It kept her really warm!
I am so tempted to make this into a blanket! It would be so pretty and warm!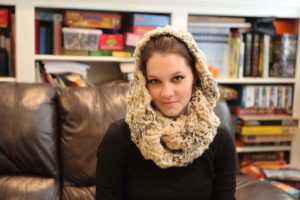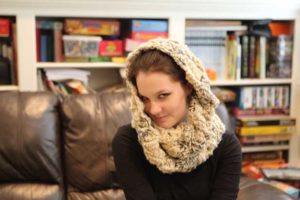 Save
Save
Save