So, I have these bananas; 3 of them were almost done crying to be banana bread! One more day and they wouldn't have made it!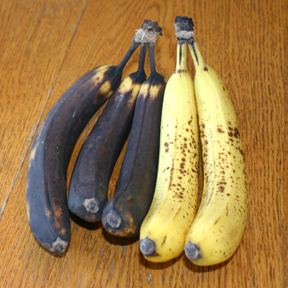 I like banana bread with a lot of flavor and I avoid the nuts; mostly because I am allergic to walnuts and nuts in stuff just makes me nervous!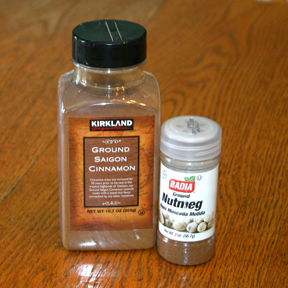 I use 5 ripe bananas. If there are bad spots, cut those parts out. With how ripe these 3 are, you would think they would have lots of bad spots, but they didn't! They were perfect bananas!
When I mashed them I got approximately 2 1/2 cups of banana. I don't usually measure the bananas. If they were larger bananas 3 or 4 probably would have done the job! Mash them until they are fairly smooth. The nice thing about really ripe bananas is how easily they smoosh! If there are chunks of banana when you are done there will be chunks of banana in your bread. Some people like that, but I prefer it to be smooth.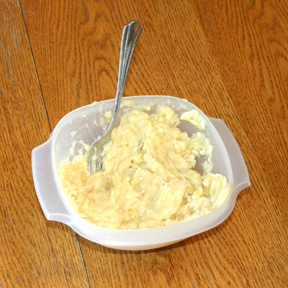 Pre-heat your oven to 350 degrees.
Mix all your ingredients in a mixer. I love my KitchenAid
with the Beater Blade
! Some people like to mix all of the wet ingredients first and then add the dry ingredients to the mixture. I just throw them all in at once.
5 Cups of flour- I use a featherlight flour mixture for baking (1 cup rice flour, 1 cup Tapioca flour, and 1 cup corn starch). If the bread is spongier than you like, you can break up the flour and do 3 or 4 cups of the gluten free feather light flour and 1 or 2 cups an all purpose gluten free flour.
2 tsp xanthan gum, 2 cups sugar, 2 Tablespoons + 1 tsp baking powder, 2 tsp salt, 1/3 C + 1 Tb Olive Oil, 1 1/2 C milk, 2 eggs, 5 smashed bananas, 1 1/2 heaping Tablespoons of cinnamon (I bet I put in close to 3 T) and 1 1/2 tsp nutmeg. Scrape down sides and along the bottom of the bowl to make sure it is all well mixed. I like to set the mixer on a med-high and let it run for 3 or 4 minutes after it is mixed.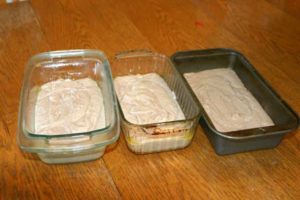 Spray 3 loaf pans with a non-stick cooking spray. Pour well mixed ingredients into loaf pans, evenly distributed.
Bake loaves for 50-60 minutes.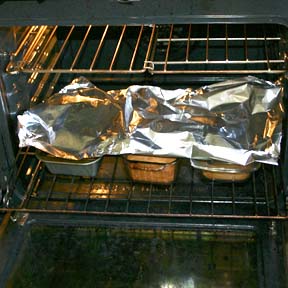 Check at about 45-50 minutes if the bread is starting to brown more than you like, put some tinfoil lightly over the top. (Tenting it a little, if possible.)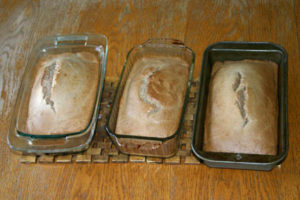 Let cool for 5-10 minutes, after removing from oven.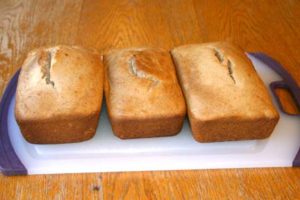 Dump loaves out of the pans onto a plate, or cutting board to finish cooling.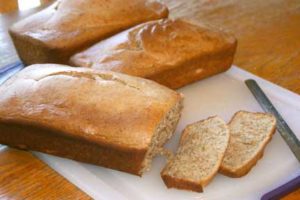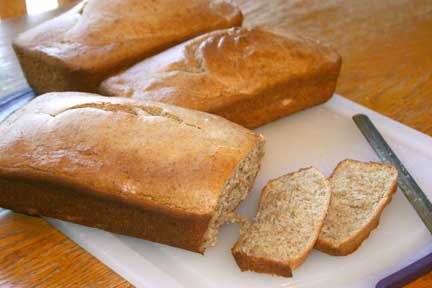 Slice the Flavorful Gluten Free Banana Bread. It tastes really good when it is still a little bit warm!

Enjoy with some softened butter.
Adapted from Eating Gluten Free's  Banana Bread Recipe.
Please Share: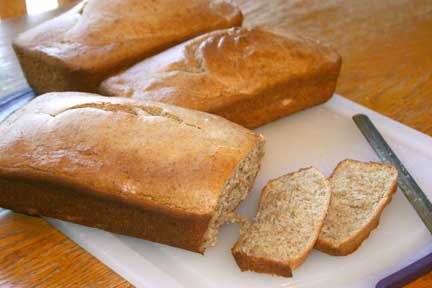 Flavorful Gluten Free Banana Bread
A flavorful Gluten Free Banana Bread, lots of yummy cinnamon and nutmeg to enhance the banana flavor. Nut free.
Ingredients
5

Cups

feather light gluten free flour

2

tsp

xanthan gum

2

C

sugar

2

Tb

+ 1 tsp baking powder

2

tsp

salt

1/3

C

+ 1 Tb Olive Oil

1 1/2

C

milk

2

eggs

5

smashed bananas

1 1/2

heaping Tablespoons cinnamon

1 1/2

tsp

nutmeg
Instructions
Pre-heat oven to 350 degrees

Spray 3 bread loaf pans with non-stick cooking spray.

Add all ingredients to stand mixer and mix well

After all ingredients are well mixed and sides and bottom of bowl are scraped, I like to let it run on medium for a few minutes.

Pour into loaf pans

Bake for 50-60 minutes.

Check with toothpick to see if it is done. There may be a little fluff on the toothpick, but not a lot and no batter.
Save