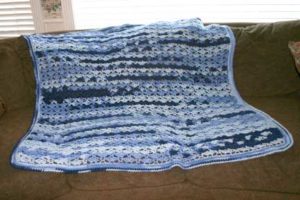 The snapdragon crochet stitch is  is one of my favorite stitches for making baby blankets. My kids loved their blankets to the point of wearing them out. Wearing out those blankets were the catalyst to me picking up crocheting again. Before this I had quit crocheting, for many years, because of carpal tunnel issues.
Easy and a great gift!
I love this baby blanket, it works up quickly, it's pretty and it is a great blanket that has loose stitches and fairly easy to breathe through. I found my daughter like this, frequently during her naps. Any other blanket would have been scary to find her with it over her head! (The blanket in the picture is actually an offset blocks pattern (another one of my favorites), but about the same looseness.) She often wrapped her little fingers around the double crochets. So, secure and comforting to be able to hold her blanket while drifting off to sleep.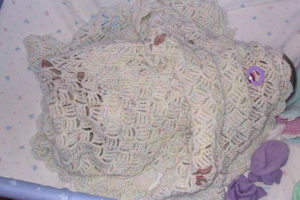 Another reason I like this blanket is because it makes a great baby gift!
I had left over yarn from making the Diamond Lace Baby Blanket and thought this would be a great pattern to make with what I had left! The snapdragon stitch alternates between a shell stitch and v stitch which gives it some variety.
The yarn I used is Caron Simply Soft. Color (5oz): Saturday Blue Jean Ombre. Using a "K" or 6.5 sized hook.

Snapdragon Baby Blanket -Free Pattern
*I recently noticed an error in row 2 and edited this post/pattern January 18, 2022.
Hook size K or 6.50 MM
Yarn 6 skeins (5oz) Caron Simply Soft: Saturday Blue Jean Ombre
Chain 128 +5
Row 1: Begin with a dc in the 5th chain from the hook. (This makes your 1st "V"), *Skip 3 chains, Dc shell stitch in next chain (5 double crochets in 1 chain), skip 3 chains, dc in next chain, chain 1, Dc in same stitch as first dc (make a "V"), Repeat from *across to end. (Row should end with a "V". (16 shells, 17 "V"s)
Row 2: Chain 3, 2 dc in first ch stitch, *skip next 3 dc, dc in next dc (3rd double crochet of shell stitch), ch 1, dc in same stitch, skip next 2 double crochets and next double crochet, 5 dc in chain stitch, repeat from* In the last ch 3 dc to end the row. (17 shells [including the partial ones on the ends], 16 "V"s)
Row 3: Chain 4, dc in first dc, *skip 3 dc, 5 dc in chain stitch, skip 3 dc, dc, chain 1, dc, repeat from * In last turn ch of the last row, do your final "V"stitch (dc, ch 1, dc) and turn, (16 shells, 17 "V"s)
Repeat rows 2 and 3, 49 times
52 Rows
Rail Road Border: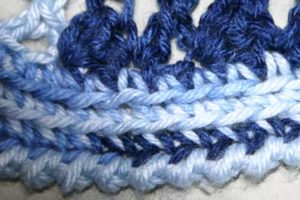 This combination looks like little railroad tracks going around the edge of the blanket and the crab stitch gives it a nice finished look!
Base row: ch 1 sc in first stitch and in every stitch in the row. At the corner sc 3 sc in the corner stitch and evenly sc on the side of the blanket. (If you do stitches too close together it will cause a ripple effect in your finished project.) 3 single crochet in the corner and evenly sc across the bottom of the blanket. Sc evenly on the last side. Two sc at the corner and join with a slip stitch.
Row 2: sc in each back loop of each sc around the blanket. In each corner, sc 2 sc in the middle corner stitch. (Each corner had 3 sc in it.)
Row 3: Repeat row 2, but in the 2 corner stitches, of each corner, do 2 stitches in each corner stitch. (Remember back loops only.)
Row 4: Crab Stitch in each sc around blanket, once around, join with a slip stitch and finish off. (The link will take you to a great tutorial that will show how to do the crab stitch.)
Remember to sew in your ends, if you haven't worked them into the blanket.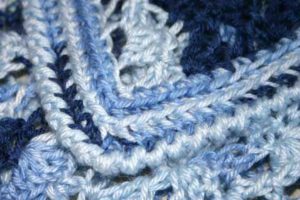 Past Snapdragon Project

Made this for a gift several years ago.