I finally got around to making this pretty Diamond Lace baby blanket. I've been wanting to crochet it for several months!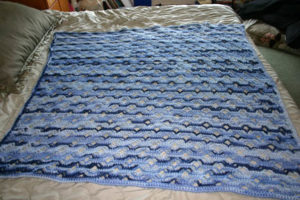 What I used
I used Caron Simply Soft 5 oz. yarn and it took approx. 4 1/2 skeins of this yarn. The color I picked is Saturday Blue Jeans Ombre. My hook is a "K" or 6.5 hook.
Get the free crochet pattern here!
You can get the free pattern here: https://www.stitching-together.com/diamond-lace-blanket/
The border
I have never done the crab stitch before and the instructions aren't with the pattern for the blanket. So, I found this tutorial. It feels really weird to do this stitch since it is crocheting backwards! Where you normally work your piece from right to left, this stitch goes from left to right. I think it has a masculine look to it.