There are far more than 7 harmful chemicals that may be in your sunscreen. I am focusing on 7 of the most harmful chemicals to your body, because they are endocrine (hormone) disrupters and some do damage to the coral reefs.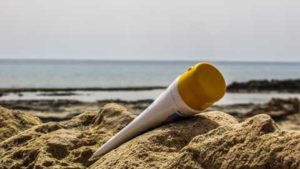 Sunscreen isn't only a potential hazard for your health, but also to the coral reefs and marine life. Have you heard about how sunscreen is harming the coral reefs? It is pretty startling and some places are banning harmful sunscreens. (*Not all hormone disrupting chemicals damage the reefs. A sunscreen may be reef safe, but still contain harmful hormone disrupting chemicals.) Interestingly, the same chemicals that are harmful to the reefs and ocean life, are also harmful to us! They are known to be harmful and yet are still used in the majority of sunscreens!
Hormone Disrupters
What is a hormone disrupter and why should you avoid it?
Great questions! Hormone disrupters mimic or block your hormones and interfere with your body's natural functions. They are confusing to your body and how it functions; they absorb through your skin and into your system.
This is of course bad for everyone, but is especially worrisome if you have a health condition like celiac or thyroid disease. Celiac makes you more prone to developing auto-immune thyroid disease and diabetes. Hormone disruption chemicals increase that risk. Also, another term for hormone disrupting chemicals is endocrine disruptor. Meaning it can disrupt your endocrine system, which is largely responsible for regulating hormones.
This is an incomplete list of health issues caused by Hormone Disrupting Chemicals:
Problems with sperm quality and fertility
Abnormalities in

sex organs

(fibroids, undescended testicles, and urethra defects)
Endometriosis
Alter the function of the

nervous system

(possible connections to autism and ADD for example)
Effect immune function
Linked to some cancers
Respiratory Problems

Metabolic diseases

– obesity, Type 2 Diabetes, non-alcoholic fatty liver disease, hyperlipidemia
Cardiovascular problems
May effect growth
Neurological and learning disabilities
Harmful Chemicals
This is not a complete list of harmful chemical that are found in some sunscreens. I am focusing on the ones that are commonly known as harmful due to hormone disrupters and what they do to the coral reefs.
Oxybenzone and Octinoxate appear to be two of the most harmful chemicals found in sunscreen, for the reefs, marine life, and you. Some people say that you can taste the fragrances used in sunscreens, when you eat fish from the ocean. For example, your fish may taste like it has had a coconut seasoning or cooked in coconut oil, when in reality, no coconut was used in seasoning or cooking the fish.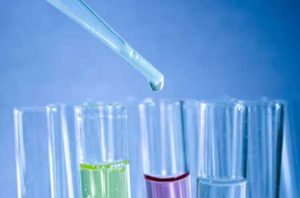 1 Oxybenzone or Benzophenone-3
This chemical in sunscreen and cosmetics is used because it absorbs harmful UV rays from the sun. However, there are several problems with this chemical! Oxybenzone is known to cause allergic skin reactions. "In laboratory studies it is a weak estrogen and has potent anti-androgenic effects." (http://www.ewg.org/sunscreen/report/the-trouble-with-sunscreen-chemicals/) It acts like estrogen, in the body, disrupting natural hormone levels. (Making it a hormone disrupter.)
Some research has shown, teen boys have a lower testosterone level when they have high levels of oxybenzone in their systems. The chemical has also been detected in breast milk, may contribute to endometriosis, and poor sperm quality in men.
Yikes! It is also the main culprit to damaging the reefs, because it acts as a bleaching agent.
2 Avobenzone and Benzophenone
This is another chemical that helps to protect you against UV rays. However, it is less stable and breaks down quickly. It only gives about 30 minutes of protection, so other chemicals have to be added to help it break down slower and last longer.
Problems with this are similar to above: skin irritation, acne and rashes, and is a hormone disrupter. Even worse is the research that show avobenzone, becomes toxic when in chlorine. Studies have shown this toxicity can result in problems with the kidneys, liver and nervous system.
*I don't know why Avobenzone is allowed in sunscreens that are considered reef safe,
3 Homosalate
Often paired with Avobenzone is homosalate. They are put together because the homosalate allows the sunscreen to absorb quickly and deeper into your layers of skin.
Homosalate disrupts estrogen, androgen, and progesterone. Besides being a hormone disrupter it may also enhance the absorption of pesticides! (http://www.safecosmetics.org/get-the-facts/chemicals-of-concern/homosalate/) Another issue sited, is that it may take longer for our bodies to get rid of the chemicals, causing it to build up and be toxic.
4 Octinoxate (Octylmethoxycinnamate)
Octinoxate (Octylmethoxycinnamate) Another hormone disrupter to watch out for. It disrupts the hormones as it mimics estrogen and can disrupt the function of the thyroid. (http://www.safecosmetics.org/get-the-facts/chemicals-of-concern/octinoxate/)  Studies show it can also affect the reproductive system and may be linked to breast cancer. (http://www.thedermreview.com/octinoxate/)Not only is this chemical found in sunscreen but also in hair color products, lip stick, shampoo, lotion, nail polish and skin cream.
In sunscreens, this chemical is used for UV ray filtering and absorbs quickly into the skin. This chemical has been found in breast milk, urine, and blood of those who regularly use sunscreen.
Bleaches the coral reefs.
5 Cylcopentasiloxane / Cyclomethicone
This chemical is added to sunscreen for the purpose of soft skin and smooth follicles. The problem is, it is known to cause health problems, accumulate in marine life, and is toxic. May cause problems with reproducing and be an endocrine disrupter.
6 Phthalates
This chemical is especially bad, if you are a guy. It blocks male hormones, causes problems in development, reproduction, and normal brain function. These chemicals are endocrine disrupters. Why are they used in products? To smell good. They are part of the fragrance.
7 Parabens
Parabens are preservatives. If you have ever made your own beauty products you know they can spoil quickly, because they don't have preservatives in them and some of them, like homemade shampoo may need to be kept refrigerated. Chemicals that are parabens will have "paraben" in the word, but may be listed as: propylparaben, benzylparaben, methylparaben and butylparaben.
2 big health issues with parabens: they are suspected of causing cancer and they are hormone disrupters.
As far as the environment goes, these chemicals have been found in marine life.
What now?
Most mineral sunscreens are free of these chemicals. Here are a few suggestions:
For more safe sunscreens check out

this post

for 2019!