Safe sunscreens are a must. You don't want to burn, but you also don't want a negative reaction and other medical problems caused by your sunscreen. Many sunscreens contain harmful chemicals. These chemicals can be detrimental for your health and the environment. Also,if you have celiac or react to gluten, you should consider a gluten free sunscreen. Then, there are the hormone disrupting chemicals you need to be aware of. I have addressed the harmful chemicals and what they are and what they do, in this post, you can check it out.
Safe Sunscreen
Gluten Free
Why you should look for a gluten free sunscreen. Okay, so everyone will tell you that if you have celiac, you don't need to worry about what you put on your skin, because the gluten protein is too big to absorb through your pores. However, there are many people with celiac or other gluten issues who react to gluten topically. (I am one of those people! The reaction is horrible!!!)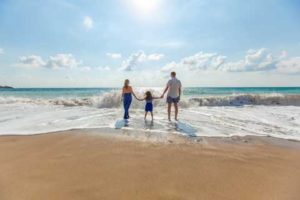 Also, if you get the sunscreen in your eyes or on your lips and in your mouth, that is one way to get cross contact with gluten. I have had sweaty sunscreen run into my eyes and mouth before and it isn't pleasant. Even worse, if it causes you to react to the gluten. If the sunscreen is on your hands and you are eating, you can get cross contact that way as well.
For me and my family, finding a gluten free sunscreen is important, but we also want it to be free of hormone disrupting chemicals and here is why: having celiac makes us more likely to develop other auto-immune diseases. Chemicals that disrupt hormones increases that risk. My youngest daughter, has Hashimoto's disease and the last thing she needs is more problems with her hormones.
Gluten free or certified gluten free doesn't mean it doesn't have other issues that are unsafe.
Free of Hormone Disrupting Chemicals
If you have celiac disease, your are more prone to developing other conditions like diabetes and thyroid disease. Hormone disrupting chemicals increase that risk. A hormone disrupting chemical is one that either mimics or blocks your hormones. Some of these chemicals /toxins can build up in your tissues and become toxic.
2 of the most harmful chemicals are also very harmful for the coral reefs and are responsible for bleaching them. They are Oxybenzone and Octinoxate (Octylmethoxycinnamate). For more information about these 2 chemicals and others, check out this post that discusses hormone disrupting chemicals, what they are used for and the problems they cause.
Reef Safe does NOT mean that is is hormone free or gluten free.
The majority of spray on sunscreens are not hormone free. Click here  to find certified gluten free sunscreens. The certified products on the list are there for being gluten free, some still contain harmful chemicals that should be avoided. Many brands have hormone free, chemical free, and gluten free products, but not all of their products may be safe. Check the labels to be sure.
Safe Sunscreen Options
These sunscreens are free of hormone disrupting chemicals and are gluten free. All of them are reef safe, as well. I am unaware of any other harmful ingredients in these products, at this time.
ThinkSport
3rd party verified for being gluten free. They are a Leaping Bunny member; meaning they don't test on animals. Rated well by EWG. Sunscreen should be re-applied every 80 minutes for the best protection when sweating or swimming. Consult a doctor for children 6 months and younger.
Mineral based, water-resistent, no PABA, parabens or BPA. Non-nano zinc oxide.
Great for travel with the 3 oz bottle, it is approved by the FDA for carry on baggage.-
All Good
Lists their products as being gluten free on their web-site. Free of hormone disrupting chemicals and safe for the coral reef. Excellent rating by EWG. Their sunscreens are vegan and biodegradable.
This particular brand is tinted so you can be sure you are getting covered. Re-apply every 80 minutes.
Fragrance free, non-nano zinc (18%), vegan, and biodegradable.
Babo Botanicals
*No phlalates- fragrance free, soy free, gluten free and dairy free. They use certified organic oils. Safe for adults and kids. Hypo-allergenic, but does contain Shea butter. Has mixed ratings at EWG depending on the product from their line.
Non-nano Zinc (19%)
Suntegrity
Phthalates free, as well as free of other hormone disrupting chemicals. They have no gluten ingredients, but haven't been tested and will not make a definitive statement for that reason. They have excellent ratings at EWG. Contains organic ingredients. Contains a small amount of essential oils, but their tinted face sunscreen and no fragrance sunscreens are the way to go. They are also free of mineral oil.
Non-Nano (20%)
Leaping Bunny certified
Badger
Certified Gluten free! However, not all of their products are gluten free, only some of them are certified and free of gluten. Certified organic ingredients and no GMOs.  Cruelty free, biodegradable and reef safe. Re-apply every 80 minutes. Excellent ratings at EWG.
Un-coated clear zinc oxide (22.5%) and fragrance free.
Raw Elements
Really good ratings a EWG. Safe for the reefs and biodegradable. This sunscreen is also soy and nut free, besides being gluten free. Re-apply every 80 minutes. Non nano (23%) and hormone disrupting chemical free. USDA certified organic. It does contain Mangifera Indica seed butter which is made from mango. I have a daughter anaphylactic to mango and so this is a concern for us.
Kokua
Excellent EWG ratings. Made in Hawaii and safe for the reefs. Non-nano zinc (25%), hormone disrupting chemicals free, biodegradable, and broad spectrum protection. They are also gluten free! They use a natural resin extract instead of beeswax. There are 23 antioxidants in this sunscreen. They really want to look out for your skin and keep it from being damaged or aging prematurely. I can't wait to try this sunscreen!
Raw Love
Could not find an EWG rating. Non-Nano, free of hormone disrupting chemicals, and made with natural ingredients, they don't use fillers. The owner of the company is gluten free and developed her sunscreen to be safe for her skin. Needing skin products that were hormone disrupting free, were a necessity as well. Cute company in Hawaii. Re-apply often.
Loving Naturals
Verified gluten free through e-mail. This sunscreen has a high EWG rating. Should be applied every 40 minutes. They use all natural ingredients and are part of the Leaping Bunny Program. No testing on animals, cruelty free. Broad spectrum UVA and UVB protection.
Goddess Garden
In a chat with Goddess Garden Organics, I was told all of their products are gluten free! Excellent ratings at EWG. New sheer formula in their daily mineral sunscreen. Non-nano zinc oxide and is reef safe without harmful chemicals for you and your skin.
True Naturals
All their products are gluten free and vegan, according to the ingredient statement on their page. Great ratings by EWG. Their sensitive skin formula is especially great for those prone to allergies. Certified organic.
California Baby
From their website: "California Baby products are free of common allergens such as gluten, milk/casein, egg, peanut, walnut, cashew, almond and pecans, fish, shellfish, soy, and wheat." (does contain coconut) Great EWG ratings. Award winning, cruelty free sunscreen. Apply every 80 minutes
Kabana Organic Skincare
Green Screen D Organic SPF 35 is free of common allergens: soy-free, gluten-free, corn-free, dairy-free, Non-GMO and vegetarian. Mixed reviews on EWG. Contains 6 certified organic and mineral ingredients. 25% non-nano zinc oxide.
I hope this post helps you to find safe sunscreens for all your outdoor play, this year!
For babies check out this post on Best Sun Care For Babies. You don't want to use the same sunscreen on babies as you do on yourself.