We desperately needed a summer getaway! Everyone has been so busy, that we could only squish in a short trip, before school starts. Even with that, my husband still had to bring along his laptop and work while we drove and during an evening or two.
The Itinerary
Day 1
Drive 4 hours to Shoshone Falls for our first stop of the day.
Head another 4 hours north/west to the outskirts of Oregon and stay in Baker City.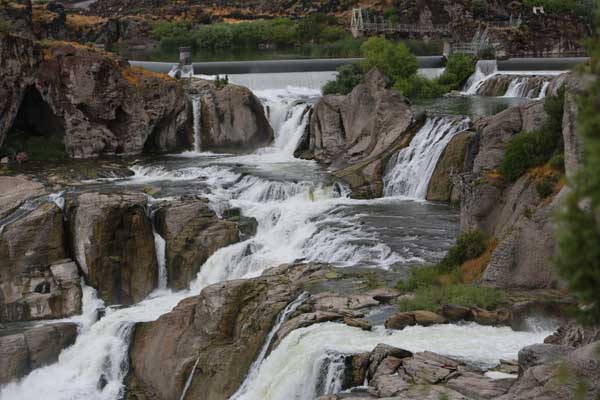 Day 2
Go to Multnomah Falls on our way to Portland, Oregon
Set the GPS for Corbetts Fish House on Hawthorne Street in Portland
Enjoy Corbett's Fish House and the yummy gluten free food we can't get at home!
Head over to Powell's Bookstore to check out the largest bookstore
Check in to the hotel in Astoria, about an hour and a half from Portland
Find Scoops and Frites for a snack of fries with spicey honey and some ice cream in a gluten free cone.
Day 3
Go south to Cannon Beach and search really hard for parking
Head to the beach and play in the ocean. Walk to Haystack Rock
Relax on the beach, listen to the crashing waves and feel the sand in your toes.
Get a late lunch at Fetta-A-Pizza. Great gluten free options on a large crust made in Portland. So delicious!
Pay the toll at Ecola State Park $5 per vehicle and go to the view points and walk down to Indian Beach.
Look for cool rocks and shells.
Day 4
Go to a beach you have never gone before. For us it was Gearhart.
Get there early, we did not. Evidently, there are lots of sanddollars on the beach right after low tide. Not so many later in the day.
Drive to Seaside. Check out gift shops they have a great mall in Seaside! There's even a carousel inside.
Eat at Doogers.
Go back to the hotel to freshen up.
Pay another $5 for your vehicle, in order to go back into Ecola State Park.
Have a photoshoot on Indian Beach and watch the sunset.
Day 5
Check out of the hotel
Drive home only stopping for gas and food
Conclusion synopsis of our whirlwind coast trip
It was wonderful to get away even though it was short and a lot of driving. It could have been better and more relaxing. Especially, if hubby didn't have to work during the trip. He worked mostly as we drove, so thankfully he was able to do that.
We have often gone to the Oregon Coast, many different times and seasons of the year. I don't want to go during the first week of August, again. There were a lot of crowds and a lot of events going on.
Multnomah
We have never been to Multnomah Falls when it has been this crazy, busy!!! It was difficult to find a parking space and we had to hike 1/4 a mile to get to the visitors center. On our way home, we discovered there are places far away from the falls you can park and take a shuttle to the visitors center.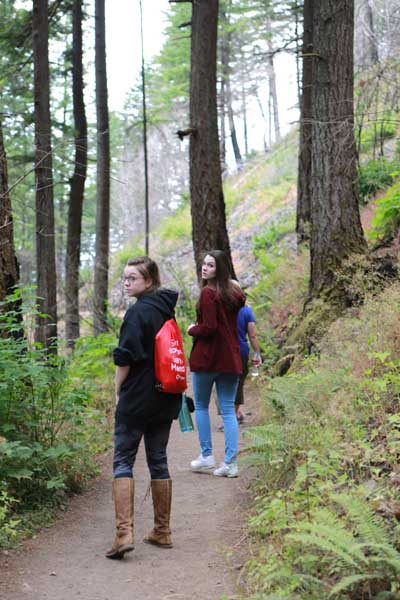 Portland
Corbett's Fish House on Hawthorne Street, in Portland, is a must for us. We have eaten here on other trips and now it is one of those places we think and dream about going. They are almost completely gluten free! (I think the only think not gluten free is some of their beers.)
We had yummy gluten free fish and chips. In an adventurous spirit, we tried gluten free calamari!
After eating we were on our way to the largest bookstore, Powell's Books! It is an amazing place! It is as big as a city block and has 3 levels.
Astoria
Astoria was having their Ragatta and was a very busy place and on Saturday there were a lot of places you couldn't park because of their parade. It's a good thing we had all our hotels booked, because every hotel was full!
Cannon Beach
Parking at Cannon Beach was also harder than we have ever experience on any trip in the 20 years we have been going here! There were so many people! However, unlike Seaside it didn't feel as crowded or chaotic.
The wind was warm and nice. Low tide made it easy to go up to Haystack Rock. We thought about renting bikes, like we have in the past, but the crowds made us reconsider and save that for another trip.
Ecola State Park
There is a $5 fee, per vehicle, for going into Ecola State Park. There are a couple of great view point areas. Some of the trails we have taken before were closed off. Last year, they had a lot of storms that did damage to some of the trails in the area.
We started out going left to get the view of the ocean from there. We could hear seals or sea lions, but we couldn't see them. Too much brush in the way of where they were. There are picnic tables here if you brought your lunch.
Then we headed to Indian Beach, aka the Goonies beach. We took a trail down to the beach and enjoyed finding interesting rocks and shells while we walked in the ocean. This is a favorite spot for surfers and bonfires.
Gearhart Beach
You can park on the beach, here, if you have a 4 wheel drive. We saw that some people let some air out of their tires, before venturing down. When they come out of the sand they have portable air pumps to pump their tires back up!
We weren't confident that we could do this in our car and so we found somewhere to park and walked a long way down to the beach. This beach is messier and much windier than other places we went. The wind may have been blowing more on this day, but it was still harder and more when we were at this beach.
They say if you get to Gearhart Beach right after low tide, there are a lot of sanddollars to be found. We didn't get there very early and what we saw was a lot of seaweed, broken shells, and yucky stuff on the beach. The waves are very choppy and it is very windy. It was not our favorite beach.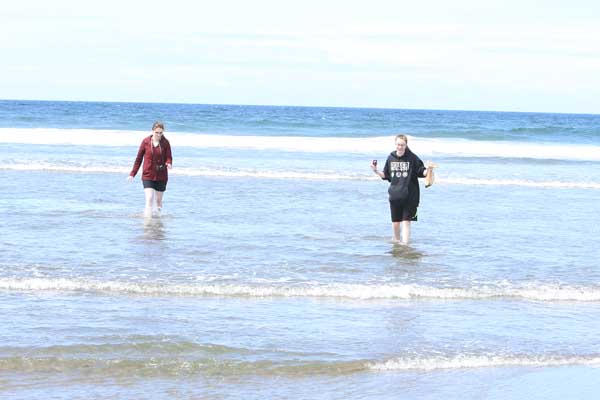 Seaside
Seaside was fun, but we didn't make it down to the beach. However, we had fun in town. Luckily, someone warned us that where we had parked, everyone had gotten a parking ticket. The paint was almost faded away and you had to look very closely to see that it said "no parking". After some effort, we found a parking place where we weren't likely to get a ticket.
The Seaside mall is a lot of fun and we bought some fun souvenirs. It was crazy busy, though! Evidently, there was a huge volleyball tournament going on in Seaside! There were more than 3,000 people who descended on this tiny little town.
I was a little disappointed in my food at Doogers and he kind of messed up our order, but it was okay. He put some of our food on gluten free bread instead of lettuce wrap. It was dry and not very flavorful. However, my daughters really enjoyed their food there. One had the Salmon sandwich with Cajun spice.
Whirlwind Trip
For a whirlwind, quick trip, this was a nice itinerary to see and do what we wanted to do. We got in some rest and relaxing. There was shopping and trying new things. We checked things off our must do list and while it would have been more fun to take our time and go slower, this was just what we needed!