When I was first married, I went to a class that was teaching some fun food ideas for appetizers and easy to make, but fun food items. The one thing I remembered and started making after that class was cream cheese ham rolls.
They suggested cutting them into bite sized pieces and putting toothpicks in them, but hey if it is your snack or lunch why bother? Except that might be fun for the kids.
When I was diagnosed with celiac, I remembered this idea and it was a life saver!
Lunch Time!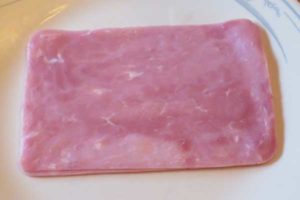 I like Kirkland's ham, from Costco, for making these. Also, I like the 1 oz cream cheese packets (I find them at Costco, too). It is easy to use and just the right amount! I do recommend letting the packets sit out for a little while to come closer to room temperature, making the cream cheese easier to spread.
Typically, I eat three, sometimes 4. They are filling, easy and have a lot of protein.
Cream Cheese Ham Roll Ingredients
3-4 oz of cream cheese – spreadable
3-4 slices of deli sliced ham- not too thin, because you need it to be able to hold ingredients
3-4 pickle spears
Knife- for spreading
Cream cheese seems to make so many things taste good! I have a few other recipes with cream cheese, you can check out: Cream Cheese Enchiladas, Pimento Cream Cheese Salad, Cream Cheese Chicken Crockpot, Creamy Lemon Pie, and Applesauce spice cake with cream cheese frosting.
Cream Cheese Ham Roll Directions
Spread the cream cheese on the slice of ham.
Put the pickle spear at one end and roll the spear in the ham. You can do it without the pickle spear, but it is so much tastier with it!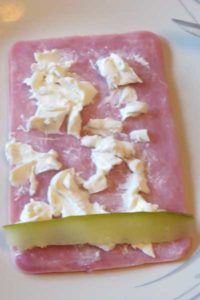 It is at this point you could put toothpicks in (usually 3 or 4) and cut into bite sized pieces or just eat as the roll!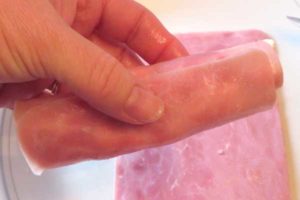 Easy Peasy!!!
Serve with chips, Cheetos or Doritos, some grapes and a juice box and you have a full lunch!
Great for travel
I think these are easier to put together on the road because they don't get slimy and soak in pickle juice until you are ready to eat. I have done them both ways depending on whether we will have time to stop or not.
Both ways meaning: already made vs making on the road.
They are easier, in my opinion, if you can find the one ounce packets and just squeeze the cheese onto the ham and then spread it out with a knife. If you don't have a knife or don't want to worry about it you can squeeze the cheese on one end and then carefully roll it. You will still get cream cheese in every bite. However, the small spreadable containers are also easy for travel, too.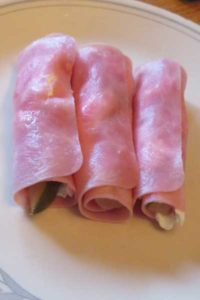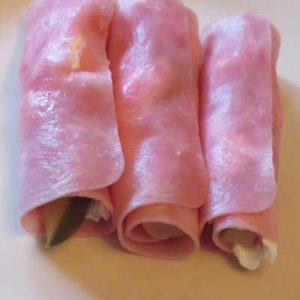 Cream Cheese Ham Rolls- Gluten Free Lunch or Snack
Easy to make at home or on the go.
Ingredients
3-4

Ham slices

3-4

ounces

of cream cheese

1-2

pickle spears

sliced again making 2-4 pickle spears - optional

Knife

Plate
Instructions
Spread cream cheese onto ham slice. Optional: put pickle spear at one (short) end of the ham slice. Roll the ham from short side to short side making it a log roll.

Optional: put toothpicks in and cut into bite sized pieces.