I have only made traditional rolled enchiladas once or twice. I found them to be messy and tedious. I ran across doing enchiladas like this in a family cookbook. After my grandma died, the family put together a cookbook of grandma's favorite recipes. Now, this is my preferred way to do enchiladas!
Directions for Gluten Free Layered Cream Cheese Enchiladas
Pre-heat oven to 350 degrees. (Start your chicken boiling while you make your soup.) Make your Gluten Free Cream of Chicken Soup. * Go here for recipe. You will need to double it and add your cream cheese and small can of green chilies to the soup before removing from heat. Spray a baking dish with a non-stick cooking spray.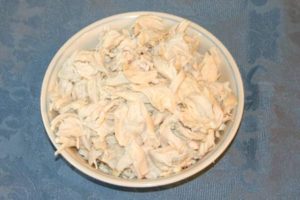 Boil 2, 1/2 (Notice the comma. It's not 2 and 1/2 chicken breasts it is 2 space [meaning quantity] 1/2 chicken breasts. [Meaning size]) chicken breasts or 1 package of boneless, skinless chicken tenders. (I get ours from Costco. There's 1 package of chicken tenders which has 6 smaller packages that can be separated from one another. Does that make sense? I use just one of those packets.) When the chicken is cooked through, shred it and set aside.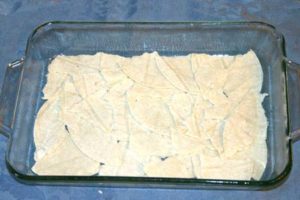 Tear up 4 or 5 white corn tortillas. Cover the bottom of the baking dish with the torn tortillas.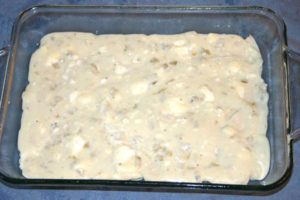 Put enough soup on tortillas that there is approx 1/4 – 1/2 inch of liquid on top. Gently spread with the back of a spoon or knife.  It looks a little chunky from the cream cheese that hasn't melted yet, but it will when it is put in the oven.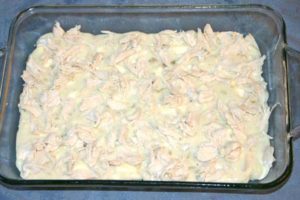 Next, put a layer of chicken sprinkled across the soup.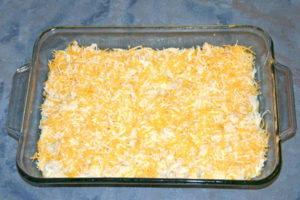 Next comes a layer of cheese 1/2 C to 1 cup. Whatever your cheese preference is.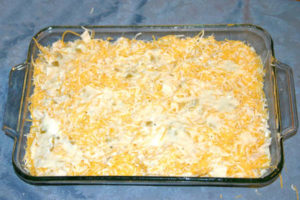 Layer again, starting with more torn shells, soup (if possible, keep approx 1/2 cup aside for top), shredded chicken and then the cheese. Across the top layer of cheese put the 1/2 cup of soup. Use a knife to spread it out across the layer. This helps your cheese to not stick to the foil. If you forget or don't have enough, it will be fine. Cover baking dish with foil.
Bake for 25-35 min. You want it to be heated all the way through.
Top with sour cream, olives, Avocado or guacamole.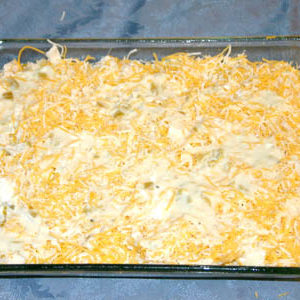 Gluten Free Layered Cream Cheese Enchiladas
Ingredients
Approx 8 gluten free white corn taco shells

2 - 1/2

chicken breasts or chicken tenders

boiled and shredded

2

cups

gf cream chicken soup

8

oz.

cream cheese

1

small can green chilies

2

cups

cheese

I like to use Colby Jack or a Mexican blend

Sliced olives

optional

Sour Cream

optional

Avocado

sliced (optional)

Guacamole

optional
Instructions
Boil and shred chicken.

Pre-heat oven to 350 degrees

Make your creamed chicken soup, add the cream cheese and chilies to it before removing from heat.

Spray baking dish with non-stick spray.

Tear gf white taco shells and cover bottom of baking dish.

Spread a thin layer of soup across taco shells.

Put a layer of shredded chicken

Layer of cheese

Start your layers over with more torn gf taco shells, soup (leaving approx 1/2 a cup aside for the top), chicken and cheese.

After the cheese, put the 1/2 cup of soup across the top, use a knife to spread it out some.

Cover with foil

Bake for 25-35 minutes or until heated through and cheese is melted to your liking.
Save
Save
Save