Asparagus wrapped in prosciutto is a favorite side dish at our house! I love that it is naturally gluten free! It is easy to make and tastes so good! The most time consuming part of making this dish is the time it takes to spread the cream cheese and carefully roll, the thin slices of prosciutto.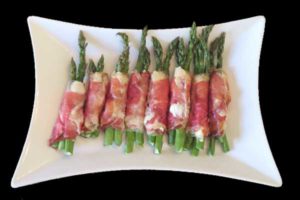 Ingredients for Asparagus Wrapped in Prosciutto
Asparagus
Prosciutto (for most families 1 package will be enough)
Cream cheese – softened (used for spreading)
Cookie sheet
Tin foil
Cooling rack
I am not going to put amounts because it depends on how much your family eats.  We typically buy our ingredients at Costco, because we feed 4-7 people on average at our house.
Directions for Asparagus Wrapped in Prosciutto
Pre-heat your oven to 350 degrees.
First, wash your asparagus and break off the woody ends. It should snap where the stalk becomes more tender, getting rid of the woody end. Sometimes, you will have over-ripe pieces that don't want to break and are kind of floppy. They can still be used if you find a breaking point, but likely will need to discard the floppier pieces.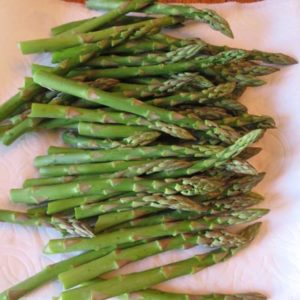 Dry the asparagus so the cream cheese sticks to the stalk when you roll it.
Prepare, your pan. I us a cookie sheet, covered with tin foil. This makes clean up easy. Inside the cookie sheet I put a cooling rack sprayed with non-stick spray. (If you are gluten free, make sure your spray is gluten free.)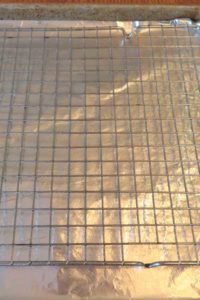 Next, spread the softened cream cheese on the prosciutto. Spreadable cream cheese works really well for this.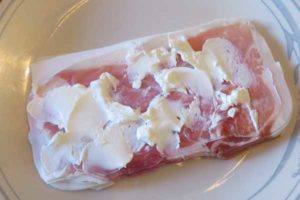 Now, take your asparagus. You can wrap one alone or 2 or 3 together. For me, it depends on how many people I want to feed, how much asparagus I have versus how much prosciutto I have. Often, it is a combination of 2 or 3 wrapped together. When I do one alone, it is usually with the larger asparagus stalks.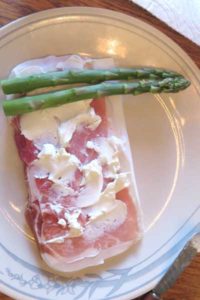 Prosciutto is very thin and tears easily, so be careful as you roll that you are getting all of the prosciutto rolling together.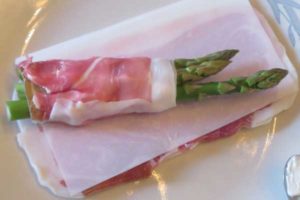 Set the rolled prosciutto on your prepared cooling rack that is in your cookie sheet. Place in pre-heated oven and bake for 20 minutes.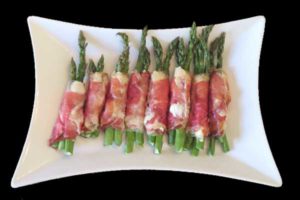 I hope your family enjoys this delicious side-dish as much as my family does!