Brown Sugar Bacon is a favorite for special occasions! We typically make it for The Church of Jesus Christ of Latter-day Saints General Conference, Christmas, Easter, and my husband's birthday. It is a crowd pleaser and you might want to make extra.
This past weekend we used 1 1/2 pounds of bacon and approximately 2 cups of brown sugar; 24 wooden skewers. Pre-heat oven to 350 degrees.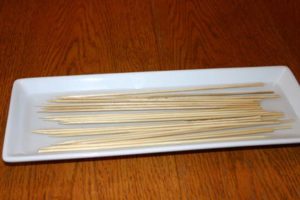 The first step is to put some wooden skewers into some water to soak. This keeps them from splintering when you put the bacon on the skewer.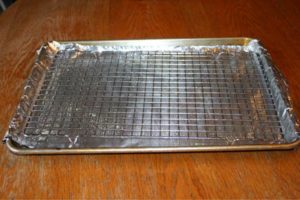 You need a cookie sheet covered with aluminum foil. Place a cooling rack in the bottom of the cookie sheet and spray with a non-stick cooking spray.
Put brown sugar in a flat dish. Put 1 strip of bacon in the brown sugar at a time. Cover with brown sugar.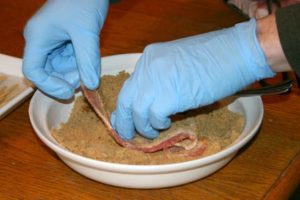 My husband helped me and decided to try his own method of pressing the bacon into the brown sugar. After doing this twice he realized my method was better. You don't get as much sugar on the bacon. (He doesn't like touching the bacon and so he is wearing disposable cooking gloves.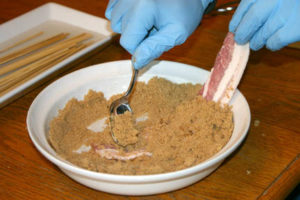 I use a spoon to put the brown sugar on the bacon and then pat it down, turn it over and do the same thing to the other side. I slide the bacon between my fingers as I twist it onto the skewer and this dislodges any big chunks. Some of the brown sugar will drip off during the cooking and will make a smokey mess. Make sure you use tin foil or something that can easily be thrown away after cooking! Use your overhead vent fan during cooking because the brown sugar does burn and smoke a bit.
Putting the bacon on the skewer: on one end of the bacon strip slide the skewer through and move bacon down past the middle of the skewer. Depending on the length of your bacon depends on how far down you slide it. You want the other end to be at the top where you can secure the other end by poking the skewer through the bacon. Before securing the other end of bacon, wrap the bacon around the skewer working your way to the top. (the pointy end)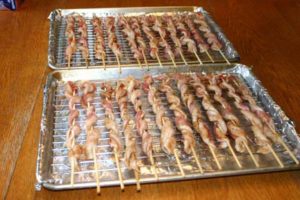 Place on sprayed cooling rack. Place in 350 degree oven and cook for 20 minutes.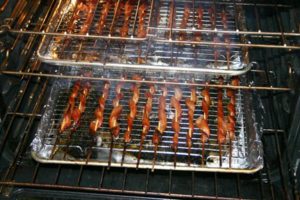 After 20 minutes very carefully turn the bacon over.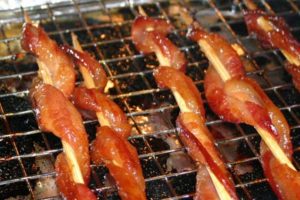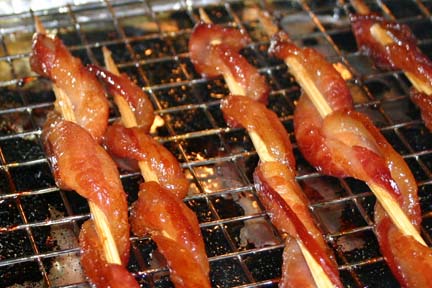 Thinner pieces may be done and removed at this point. The bottom side won't look as good as the top side. Bake bacon 2 to 3 more minutes or until it is done to your liking.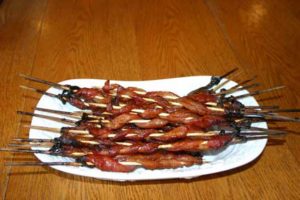 Omelets
I make our omelets more like a pancake. A couple of Tablespoons of olive oil or coconut oil in frying pan. We use 3 beaten eggs and load it up with things like: red pepper, green pepper, onion, green onion, mushrooms, ham, turkey. When egg is firm on the bottom, I flip it over to cook the other side. On the already cooked side, I add cheese. We like to experiment with different cheeses. By the way, Asiago cheese is quite good and I use a mixture of different cheeses together, but use your favorite! On top of the cheese put chopped tomatoes and avocado.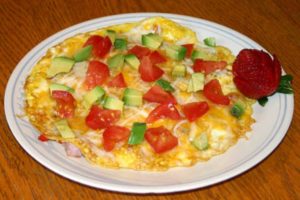 Omelet ingredients:
3 eggs, beaten
chopped onion
chopped green onion
chopped green pepper
chopped red pepper
chopped mushroom pieces
chopped ham
chopped turkey
cheese
chopped tomato
chopped avocado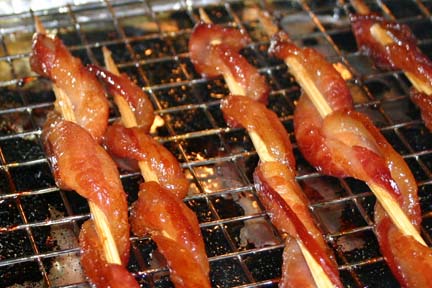 Brown Sugar Bacon
A tasty way to enjoy bacon!
Ingredients
1

Pound

bacon strips

approx 2 cups brown sugar

approx 16 wooden skewers

Aluminum foil
Instructions
Preheat oven to 350 degrees

Place skewers in water- to avoid splintering

Line cookie sheet with aluminum foil

Place cooling rack in cookie sheet and spray with non-stick cooking spray

Put brown sugar in flat dish

Cover bacon with brown sugar

Put one end of bacon through skewer and slide down a little more than 1/2 way and wrap the rest of the bacon around the skewer. Secure the end of the bacon to the top by pushing it through the end of the skewer.

Place wrapped skewer on sprayed cooling rack.

Turn skewers, removing ones that are done and cook the rest for another 2 minutes or until done to your liking.
Cute little strawberry roses to add a fun little flare!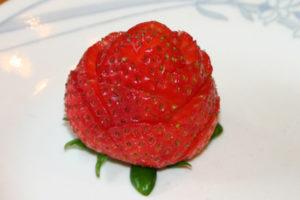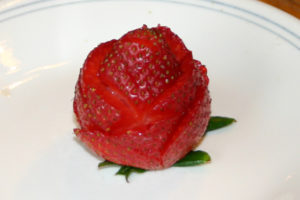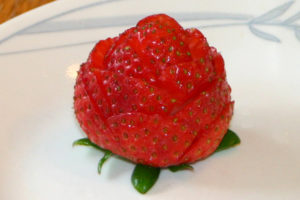 Please Share: