For the past week or 2 we have been noticing a damp smell in our basement, but were unable to find the source. Our cold storage has a crack that sometimes leaks and needs to be repaired before winter, but there were no signs of this being the source.
Thankfully we have a water bug, also called a flood alert. It is a little device that detects water and will alert you before your basement floods. The other night the water bug went off and started screaming. This noise meant that water had reached it and we were in danger of having the basement flood.
The Death of Our Water Heater
We have had our most current water heater for 7 years. It has surpassed it's warranty by a full year. 6-7 years seems to be the life-span of most water heaters. In the past, our basement has flooded thanks to the water heater giving out!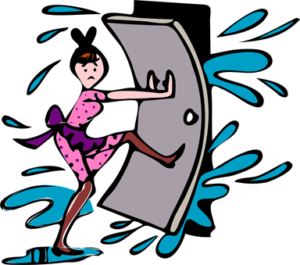 It was slowly leaking water, but not draining very well from the basement. Of course all of this happens the week my husband is gone to a conference! Luckily the conference is close enough that he is still home in the evenings.
When my husband checked it out, he removed the drain cover and broke up the minerals that were keeping it from draining well. This is the drain in the floor of the basement. It is a place that drains water, for this purpose, out of your basement to help keep it from flooding from things like broken water heaters.
We also used our carpet cleaner to suck up the water and keep it from coming into our finished basement and ruining the floor. (We sometimes use our carpet cleaner like a shop vac.)
The water heater would be okay for a few days. It was "weeping" steadily. As the leak increased, we turned the hot water off for several days, ate on paper plates, didn't do dishes, or anything else that needed hot water (laundry, mop floor, etc.). We turned the hot water on for quick showers and then sucked up the water in the basement. As long as the hot water was off, the leak was slower and the drain could handle it.
I feel like we barely made it! We are so blessed that it didn't burst!
Tankless Water Heater
We decided that we are through with the 50 gallons of water that could flood through the basement every 6-7 years. Not to mention that the space where the water heater sits is very tight and hard to get a water heater in and out of. Many an installer has injured his back putting our water heater in or taking it out.
We want to go tankless! I was able to get an appointment 2 days after discovering our leaking water heater. We continued to suck up excess water for safety measures but the water bug didn't ever really go off until after we met with the water heater guy. This was for them to access what they needed to do. Then they arranged for an installer to come out.
I had no idea there was so much that has to be done to switch from a tank water heater to a tankless water heater. It is pretty pricey but we think it will be worth it in the long run! (If your unit is too small for number of bathrooms and how you use hot water, you will be disappointed.)
*Important tip: You need a tankless designed for where you live and size of home. They have different ratings and if you choose the wrong one for your climate or size of home you may end up with luke warm water  in the winter because it can't heat the cold water fast enough. Or not enough hot water because the unit is too small.
Changes and Work
They had to ensure the gas line is sufficient for the furnace and tankless water heater. Our old water heater was about 35,000 BTUs. The tankless water heater is 199,000 BTU. Even with the added BTUs, the overall gas that is used is much less than with a tank water heater. They also had to find and cut a hole to the outside to properly vent the unit, which required a 3″ pvc pipe through the ceilings and walls. It sounds invasive, but there are only two small holes in one ceiling, and they are coming back to repair them.
All of this work took nearly 11 hours! (It made me anxious. So, I left my husband to supervise and my 2 daughters and our dog went on an adventure.)
Snags
There are always snags and things rarely as simple as they should be. The drain in the floor of the basement wasn't installed properly in the house! Shock!!! (Not really, being sarcastic.) It is supposed to join up with the sewer, but it simply drains into a gravel pocket under the house. When the ground gets saturated, the excess water fills the basement. It doesn't drain the way it is supposed to. Grrrrrr.
They had other things they were trying to figure out and it was stressful, to me. The most difficult part was finding an adequate path to the outside to vent the unit.
The package
Water heaters have gone up a lot in the past 7 years! New regulations have pushed up the cost. It is all expensive whether it is with or without a tank.
Since there is so much that goes into getting a tankless water heater make sure you check and get a firm bid on installation costs. We did ours through Costco and everything was included in one tidy package! There were absolutely no hidden fees or surprise installation costs. For example, concrete core cuts, a new gas meter, gas pressure reducers on other gas appliances, etc.
What is so great about tankless?
Glad you asked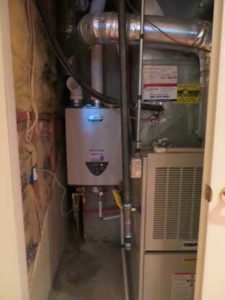 There isn't a large amount of water that is stored
The water is heated as it is used
You use less gas and electricity (

30-50 percent less

) because the water isn't constantly being heated- Save money!
More people can use the hot water at the same time!!! You won't run out of hot water- multiple people can shower, use the dishwasher, etc. at the same time and the water will still be hot! (Make sure your unit is big enough for your home and bathroom size.)
Less space and easier to install
Increases value of home, when it is time to sell
The Down Side
The water flow with many things or people using hot water seems to be reduced, but everyone continually has hot water.
It needs maintenance every other year. The tankless water heaters build up with minerals and need to be cleaned to keep them efficient and to prolong their life. It isn't very hard, but needs to be done. There are kits you can buy and lots of YouTube how tos on cleaning your tankless water heater.
Rebates
Since we went through Costco there were special savings:
Costco rebate of $650 on a Costco cash card
Our 2% back using our Costco Visa
The 2% toward our Costco rebate check we get each year via the Executive Membership
$350 rebate from the gas company (check what rebates are available in your area)
There may be more savings on taxes – check with an accountant
So far we are really liking our new tankless water heater!