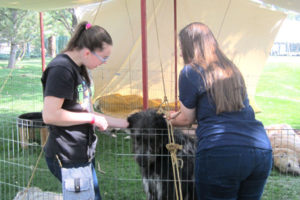 Our first day of homeschooling, 2016! The great thing about homeschooling is we can begin our school year on any day! This year has been especially crazy! My second to oldest, daughter is getting married in October and we are knee deep in wedding planning. My 3rd daughter is heading off to her first year of college, 2 hours away. The public school started on the day before we moved my daughter to college. I try to do our school close to what the public school is, so my daughter can do things with her friends when they have breaks.
Then, we had an unexpected accident when we were taking our daughter to school. A suburban backed into the side driver's door of our packed mini-van! Grrrr! Now we have to get that fixed on top of everything else.
So, our first day of school ended up being on a Friday. We started it at the Utah Renaissance Faire, for a field trip. We were so excited that my oldest daughter, who is 24, was able to join us! The above picture is Alia and Kaylee petting an Irish Wolfhound. Isn't he beautiful?!
There were several different music groups like this one.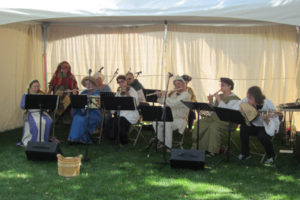 They were great and we loved their costumes! Maybe one year we will dress up.
I liked the group that sang at the jousting, but I didn't take a very good camera.
The joust was especially fun! Watching how the knights had to have step ladders to mount their horses and their authentic looking attire.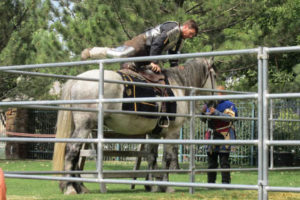 They have to be hot! We were really hot waiting in the sun! I can't imagine what it would be like wearing that metal suit!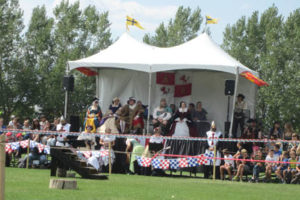 The royal courts were ready to watch the joust. There were two kings and each king was represented by a knight. Each side of the arena had a knight to cheer for and to boo for the opposing knight.
It was so much fun!
To make it safer for the modern day knights they attached a special piece that would protect their neck and shoulder and give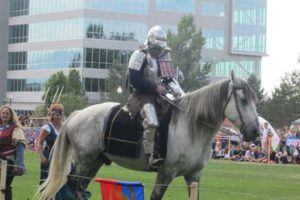 the opposing knight a target to aim for.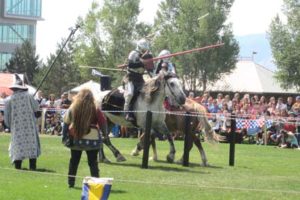 This picture is just cool; being able to see the splintering of the jousting sticks! That flying wood can cause injuries too.  They guy in the wizarding hat is Merlin.
My youngest collects bottles of all shapes and sizes. We had to get a big bottle of root beer for her collection. Having her older sister along made things a little less awkward for her. This is the first year, that she will be the only one homeschooled at our house. She isn't sure she likes the idea of being homeschooled alone and we are searching for the right co-op or other activities that fit into our school plans.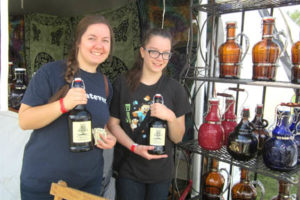 All in all, I think this was the perfect start to our homeschool adventure 2016!
Save
Save
Save