Next week is camp for my daughter. It is a large church camp. My anxiety is kicking in to high gear and now I'm finding it hard to sleep.
Our church holds one to two camps every summer. This year there is one large camp being held. It is a co-ed camp, with lots of leaders. Since I am not a leader, I cannot go and help out. If I could I probably would.
Camp: Ward/Stake and This Year's
Me, being a leader, didn't help
I went to one of the camps as a leader, one year with my girls. In some ways, I felt like me being there was another complication and I prepared better for my girls when I didn't go. The reason being, that I had other responsibilities. I couldn't be where I needed to be and take care of our food at the same time.
There were still glitches, even with me there. For example, no one held any chicken back for our food, to go in the gluten free sauce, so my girls and I had no protein with our dinner that night. There are often a lot of people that help with meals and at least one person that is supposed to be looking out for and making the gluten free meals, but things often happen and each year camp and leaders are different. If I could just be in charge of the special needs food, then it would probably work. Otherwise I'm just another complication at camp, at least that is how it felt to me.
Stake Camp
Every other year we have what is called Stake Camp. That's where several congregations (wards), plan and do camp together. Everything is organized together. Often each ward is given one or two meals during camp that they are in charge of. This means I have to call 6-8 people to find out what the meals are going to be, what I should send to substitute and talk to them about proper handling of gluten free food. As well as, asking them to set some things aside in order to be safe. These are the harder camps to work with because there are so many people involved.
Ward Camp
On the "other" years, it is just our ward girls (congregation), it is easier because there is one person planning the meals and arranging things. However, with both kinds of camps there are always things that are missed.
The bishop of our ward (congregation) often visits the camp sometime during the week and takes a special treat. If this is forgotten there is nothing special for my girls and they have to watch everyone else enjoy a special treat and are really left out. (For a long time, my girls were the only ones who were gluten free. This year there are 5 and I only have one daughter going!)
Then, there are other treats and snacks the leaders and youth leaders do for the girls. I have to remember to ask about everything or they get forgotten.
This Year's Camp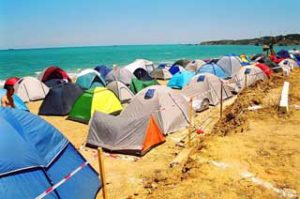 This year is different than any other church camp my girls have been to over the past 13 years. It is being held at a Scout camp and they have staff that does all of the cooking for the campers. Another thing that is different is this years camp is co-ed. Highly supervised but still boys and girls in the same camp.
Yesterday, I called the camp where it will be held and talked to the head cook, but I am not feeling satisfied. There will be a staff that takes care of all meals and no campers or leaders from our group will be helping with meals.  In fact, as I relate some of the things I talked to the head cook about my anxiety and uncertainty rises.
The head cook seems highly qualified to do this job and I felt good after talking to her, but I may have to call her again. I dread having to do that! I know she has a lot going on planning and taking care of all the food and I hate to be a bother! However, I know it is my kids health and the health of the other kids that are gluten free, for me to check into the details.
I will probably send some food just in case.
By nature I am not super nosey or pushy and asking for details is difficult for me. I know they have a lot of people and I hate feeling like I am adding one more problem.
I'm soooo looking forward to not having to worry about camp, when all my girls are over 18 years old! Don't get me wrong! If I didn't think these camps were important, I wouldn't worry about camp and we would do something else. I have tried really hard to make everything as "normal" as possible for my girls. My girls shouldn't have to miss out on the experiences their peers are having because of food! They can be safe and have a great time too, if people will just work with me!
Here's what I need people to understand:
I need to know what all the food is and that includes all the treats and snacks that will be given to the group.
My teen doesn't want to stand out or be put in the spotlight or feel like there is something wrong with her.
I need to feel comfortable about the menu, the substitutions, the kitchen process and know that someone is looking out for my kid.
I wish someone knowledgeable (with gluten free and allergies) was in charge and would understand how the parent feels in giving up this control for a week. My kid knows what she can and can't have and she can take care of herself, but this is not an environment where that is possible.
It is hard for me to trust you and that my kid isn't going to get sick especially when they don't have to be sick and it is totally preventable!
I have been worried about camp since last summer and as details begin to trickle out.
I don't know what you have planned and so I have to ask if it is covered because I want the best experience for my daughter. Sharing food details with me would be great!
I clarify because I don't know what you know and want to make sure there are no misunderstandings. (Do you know how many times I have talked to a waiter or waitress and explained my gf diet and what needed to be substituted; only to have them throw a roll or piece of toast on my gluten free plate because they didn't know bread contains gluten?! We didn't talk about there being bread or rolls, no where in the menu did it mention these items with this meal; how was I supposed to know?! Then, having to explain to them that I needed them to make my food over again and I couldn't eat it without getting sick.)
I may be neurotic, but it is only because I want my kid to be healthy and have a good time. I want my kid to be just like all the other kids!
I don't want my kid to be sick or have to miss out on things they don't need to.
Gluten can not only make her sick but cause complications with her other auto-immune disease.

Understand that there are things that my child and what we have gone through that your know nothing about!

I know I am probably a pain and the last person you want to talk to, but it would help me if you would ask me, really wanting to know, what you can do to put me at ease with sending my daughter to camp.
What I need to know:
Who is in charge of the food?
Will anyone be looking out for my child and her needs?
I need to know that you understand how to handle gluten free foods, cross- contact, proper pre-cautions when working with gluten and gluten free foods in the same environment.
I need to be aware of your substitutions- (I was alarmed when one camp leaders plan was rice cakes, fruit and yogurt for every breakfast! (Only for the gluten free kids. Oatmeal too, but we don't do oatmeal.) No protein before sending them out hiking?! Not a breakfast that is very filling or enjoyable when everyone else is having pancakes and other things.)
I need you to know that not everything gluten free tastes good.
I need you to know that not everything marked gluten free is safe. The celiac and gluten free groups don't consider General Mills products that contain oats and use mechanical sorting instead of certified oats as safe at this time. Not to mention their controversial testing procedures.

More here

about Cheerios.)
I know it won't be perfect, but I expect people to really try.
What I wish
I wish we didn't have to worry about this.
I wish my child could eat wheat and be "normal".
I wish I could send my child to camp and not give it a second thought!
I wish I didn't stress and worry about camp year, after year!
I wish I could just check off the packing list and be done.
I wish I didn't have to call, track down, and interrogate people about camp!
I wish I didn't dread the things that my kids look forward to. (Camp, youth activities, parties, church activities, etc.)
I wish it got easier; some days are really hard!!!
I wish auto-immune diseases weren't a part of our everyday life!
Thank You!
Thank you to all those who have listened and have helped in the past and continue to do so.
There are a lot of good people who try to help and do a really good job! As the day is progressing and I'm talking to more people in charge and clarifying details, I am feeling much better. It's so hard to give trust and control over to people whom you don't know.
Time for me to breathe! View the details and press forward. It's going to work out and be fine.
***Update
I love the leaders of our ward and stake! As I brought some of these issues to their attention they volunteered to be my daughter and the other kids advocates. They validated my worries and are picking up the slack felt with dealing with the camp itself. Right now I am feeling much better and quite comfortable that it will work out and she will have food to eat and stay well.
*Last Update
Camp is now over and I'm so glad I went to all the work I did and talked to everyone I did.
The cook over the camp had never fed so many people! Thank goodness they had a cook over the allergy/gluten free foods!
I am so grateful for the leader whom I asked to be the kids advocate! The first morning they were given a piece of cold gluten free bread and that was it! She went to the gf cook and asked if something more could be done. She didn't know what they had been given and after that first morning she did much better taking care of them and it was all because there was a leader to advocate for them!
The kids had gluten free food at the camp that was never opened. The kids were so busy they forgot the food was there for them.
You can only do what you can do. . .thankfully none of them got sick and they had a great time!