Chef Aaron Flores became my hero shortly after I was diagnosed with celiac disease. He had been a chef at Disneyland, California in the Story Teller Cafe. He has been a great advocate for the gluten free community. You may not know how he has affected your life. If you have had great food at Disneyland, he was the pioneer! He also helped with gluten free menus for many other places including his work at Hilton (if I remember right) and Marriott.
His resume is very impressive! It includes things like cooking for the Obamas in the White House and holding the title of Executive Chef. There's so much more, but I am unqualified to list them. Within the gluten free community, he: helped to build the largest gluten free cake, spoke at celiac conferences, and was a pioneer in gluten free cooking and products. He also helped with the FDA labeling laws for gluten free foods.
My 1st Introduction to Chef Aaron
I was worried about how we were going to go on vacation and if there would be anything there I could eat. I was a part of the Gluten Intolerance Group of Utah County and the Branch Manager told me a wonderful story about an incredible chef who had worked at Disneyland! What a relief to know that people were looking out for those of us who have to be gluten free!
I went from thinking there were few, if any, vacations in my future to feeling relief that there was one place I could safely go.
The Gluten Free Story
I have recently heard this story with differences in the details, told by other people. (The biggest detail difference has been what he made for the little girl. I remember being told it was bland eggs and someone else said it was bland chicken with bland steamed veggies. In any case, it was bland.) This is the way I remember it.
Chef Aaron was busy working in one of the Disneyland kitchens, Story Tellers Cafe. A grandmother came in pulling her large rolling suitcase with her, accompanied by her young granddaughter. The grandmother sent a card to the kitchen about her granddaughter's dietary needs.
Wanting to know more, Chef Aaron came out of the kitchen and talked to this woman and her granddaughter. She explained to him that her granddaughter has celiac disease and how she couldn't eat gluten. Her suitcase had been packed with food for her granddaughter, but they had run out and she needed to eat. Chef Aaron's heart went out to them. He said he made the most bland eggs for her because he didn't want her to get sick.
The grandmother also explained that they were in town for a conference about celiac disease and the conference was still going on. Hearing this, Chef Aaron found out where the conference was being held and as soon as his shift ended, he went to the conference. He sat in the back in his full chefs uniform to learn everything he could about celiac disease and gluten free.
He talked to people and made it his mission to develop recipes and options for people who are gluten free so that everyone can enjoy Disneyland without having to worry about what they can eat.
Our Disney Vacation
It was amazing! Chef Aaron no longer worked there, but he left wonderful things in place! We had fantastic food and such a wonderful time! It was such a treat to get to eat pancakes outside of our house and have pizza! (Not to mention that they tasted amazing!!!) We hadn't had pizza, spaghetti, or pancakes outside of our house since being diagnosed. (We took this trip 3 or 4 years after being diagnosed and have now been gluten free for 14 years.)
At Disneyland, we met another great chef, named Edgar. We absolutely loved him. He was so disappointed that our gluten free girls only wanted to have pizza. He wanted to make the whole family prime rib (it wasn't even on the buffet menu), of course, my husband and I gratefully accepted his offer!
They sat us in the middle of the restaurant and when they brought the food out to us 6 chefs in full uniform (hats and all) came out carrying our food! We looked and felt like royalty! Especially, since this was a buffet restaurant and everyone else had to get up and get their own food.
2009 GIG Conference Meeting Chef Aaron
In 2006 or 2007, there was a Gluten Intolerance Conference held in Salt Lake City, Utah. Chef Aaron was scheduled as a speaker. I was so excited to finally get to meet the great Chef Aaron! However, he was unable to make it due to a family emergency.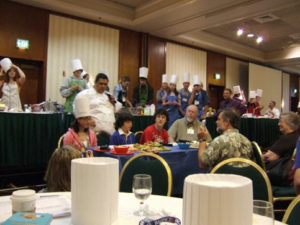 Then, in 2009 my girls and I attended the Gluten Intolerance Group's conference in Seattle, Washington. At this conference my daughters not only got to meet Chef Aaron, but they were taught by him and got to cook with him. They loved Chef Aaron!
My daughter felt empowered walking into a fast food place and using the words Chef Aaron taught her: "Do you have a dedicated fryer?"
He also taught my girls to not ask things about "cross contamination". He explained to them that this is an insult to most chefs. They think of cross contamination as having a dirty kitchen where your foods are in danger of meat juices, where they shouldn't be.
A better phrase to use is, "Cross Contact". This more effectively describes what we are worried about. Touching gluten or having a surface touched by gluten that comes in contact with gluten free items. This then, makes them unsafe because of the contact, not because of a dirty kitchen, that should be shut down.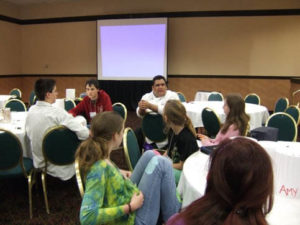 Thank You Chef Aaron
When I met Chef Aaron I thanked him for all he had done at Disneyland. It was such a wonderful experience! He told me that he was happy to hear that it was such a great experience. It is what he was hoping to accomplish with the work he did there. My meeting him was very brief, but it meant a lot to me. I really wanted to thank him and I'm glad I had that opportunity.
I have so much gratitude for all he has done to make the world more accepting of gluten free foods and kitchen processes that make it safe to enjoy these foods.
I am grateful for:
His curiosity and willingness to learn more
The innovation and care he put into making products and recipes for the gluten free community
Advocacy in raising awareness for the need of gluten free options
His help with the FDA gluten free labeling law
Willingness to educate and help people understand more about gluten free issues
Inspiring others to follow in your footsteps
I know there is so much more that he has done. He has done so much good for the gluten free community!
Rest in Peace Chef Aaron, July 24, 2018. Our hearts and prayers go out to your dear family. May they find comfort in their time of mourning.
*I am a Gluten Intolerance Group Branch Manager. This blog and post are not connected in anyway to the Gluten Intolerance Group. All opinions are my own and not necessarily shared by the Gluten Intolerance Group.