Potato skins are a yummy gluten free snack, lunch or appetizer!
Potato skins are relatively easy to make and they are naturally gluten free! However, it does take time for the potatoes to cook and cool enough, so you don't burn your hands. (Like I usually do, because I want them, NOW!)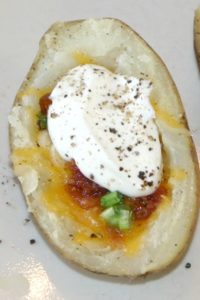 You will also need 6 or so pieces of cooked bacon cooled and crumbled. Cook the bacon while the potatoes are cooking. Also, slice the onions while the potatoes cook. You will want to give your potatoes about 30 minutes to cool down. If they are too hot to handle, wait a little longer.
I always intend to make extra bacon (What's that?!!!!) when we have bacon, but funny thing, everyone loves bacon! Then, there's my husband who can't help himself, but to share some with the dog. So, having "extra" bacon is really hard to come by.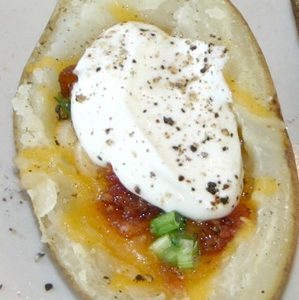 Homemade Gluten Free Potato Skins
Appetizer or snack.
Ingredients
Baked Potatoes

1 potato = 2 potato skins bake as many as you want to eat

6

strips of cooked bacon

cooked and crumbled

3

or 4 green onions sliced

Grated cheese

I like a cheddar mix

Salt and pepper to taste

Sour cream- optional
Instructions
Pre-heat oven to 350 degrees

Once potatoes are cooled- cut potatoes length-wise so you have two long halves.

You want a thin edge around the whole potato. So, 1/4"-1/2" from edge of potato score with a knife where you want to scoop out the middle of the potato. Be careful to not go through the potato skin.

Use a spoon to scoop out the middle of the potato, leaving 1/4-1/2" of potato on the skin. Be careful to not scoop away the bottom of your potato.

Place the potato skins on a baking sheet.

I like a lot of cheese so we fill the middles up with lots of cheese!

Sprinkle crumbled bacon and onion slices on top of cheese

Bake for 5-7 min or until cheese is melted. (May need to cook longer if potatoes have been in refrigerator.)

Top with sour cream and salt and pepper
Save
Save
Save
Save