What isn't good dipped in chocolate?
White chocolate, dark chocolate, milk chocolate. . . it doesn't matter what kind, chocolate makes everything more delightful and delicious!
Thankfully, most chocolate is gluten free!!!!
Such a consolation when there are so many things we can't eat! Chocolate covered cinnamon bears, chocolate covered bon bons, chocolate covered grapes , . .  gluten free! Wait, maybe not. Don't be so quick to eat those chocolate covered grapes or partake in the chocolate fondue fountain with fruit!
What else has been dipped in the same chocolate before doing those gf foods?
Some people (I don't know about commercial candy makers.) save their chocolate from one batch to the next and let it harden and then re-melt for the next chocolatey adventure.
Fondue's are another adventure.
We thought this would be a great activity with our friends and then, they pulled out the pretzels and cookies to dip in the chocolate, too. They didn't understand that we wouldn't be able to eat any chocolate that had gluten goodies dipped into the chocolate. It doesn't matter if we aren't eating the gluteny foods, but that Oreo just left particles of gluten in the chocolate. Making it so we couldn't have anything dipped in chocolate! That pesky protein! Gluten contaminates so easily!
Fun with chocolate dipped goodies!
I keep an eye out for ideas to have fun stuff for my kids especially when we have been to a fair or festival and we had to say no. Pinterest is my favorite for ideas! It is a wonderful resource!  https://www.pinterest.com/shannonlemmon/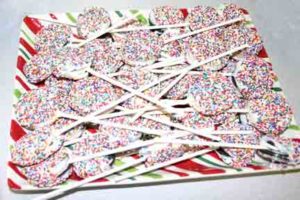 Kinnikinnick Chocolate Sandwich Creme Cookies
dipped in melted white chocolate, then put in a flat bowl (or cookie sheet) of candy sprinkles on a stick! It's been a while since I have made these but it seems like we put the stick in the cookie before dipping them in chocolate and putting sprinkles on them.
I saw this fun idea on Pinterest and decided to try it with either K-Toos or  you can use Glutino's Chocolate cookies.  http://charmedlifediva.blogspot.com/2012/09/its-pumpkin-time.html
We dipped the gf pretzels in green chocolate for our stems.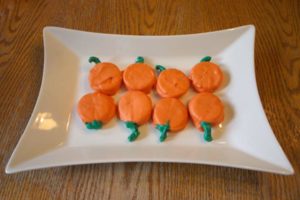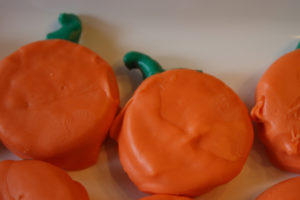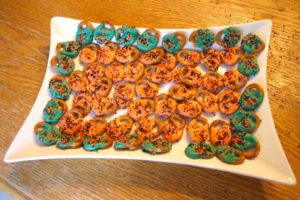 Then, to use up the left over chocolate we dipped gf pretzels. I like Glutino Gluten Free Pretzel Twists
My older kids and I missed having Mother's Circus Animal Cookies. Our younger kids don't remember them, but love these! So, we use Kinnikinnick Gluten Free Graham Style KinniKritter Animal Cookies
or Mi-Del Arrowroot Cookies Gluten Free
.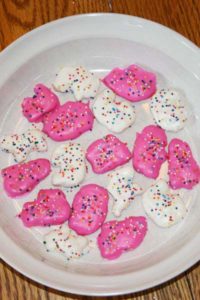 This is Monster Bark, we made it for a Halloween meeting and a church party. It was a huge hit!  http://www.forkandbeans.com/2014/10/07/monster-halloween-candy-bark/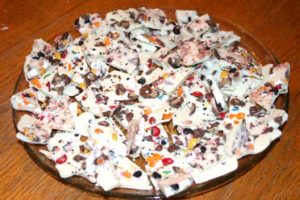 This is a fun one we saw at a festival and came home and made our own. 3 marshmallows on a stick, dip in white chocolate, mini M&M's, and gf pretzels for arms. The kids loved them!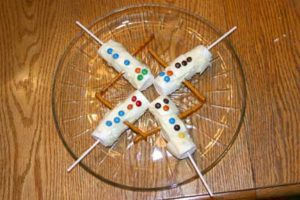 Save
Save
Save
Save
Save
Save
Save