When I was first diagnosed I went through all of my recipes and moved all my casserole recipe cards to the back of my card file. After discovering this soup base and getting the hang of making soup as part of making dinner; I added casseroles back into our menu plans.
I love this cream soup! I keep this soup base mix in a container so I can make it quickly for any recipe. I have modified it a little bit, the original recipe was from Bette Hagman. The original recipe added dry bouillon to the mix and I don't. Waiting to add the boullion makes it possible to easily flavor it for chicken or beef.
Better than Bouillon is my favorite! It must be kept in the refrigerator, once it is opened.
Keep mixed to make gluten free creamed soup!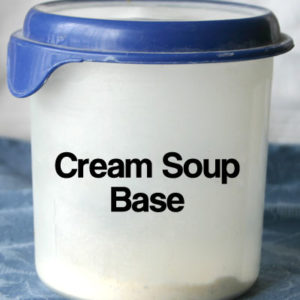 Gluten Free Cream Soup
Modified from Bette Hagman's dry soup mix
Ingredients
1

Cup

rice flour

1

Cup

gf dry/ powdered milk

2

Tb

minced dry onion

1/2

tsp

salt

1/2

tsp

pepper
Using the Soup Mix:
1 1/4

C

Water

divided

3-4

T

of the above mix

1

tsp

Better Than Bouillon

or favorite gf bouillon

1

T

Butter

Optional- to make creamier
Instructions
Making the Mix
Mix the dry ingredients and keep in an air tight container until ready to make cream soup.
Making the Soup
In 1/4 C water stir 3-4 Tbs mix (How many Tablespoons you use, depends on how thick you want it).

Put the mixture in a sauce pan and add 1 cup water and 1 tsp Better Than Bouillon and stir. Option to add butter at this stage. Stir and thicken on med-high.
Save
Save
Save
Save
Save
Save
Save