We are going to jump right in here! Finding gluten free food, even when there are options can still be challenging. Here is a place to start.
If you are using the Disneyland app., filter for dining. Then, go to the menu of each place to check what the gluten free options are at each place. The ones that offer gluten free options will have a section for Gluten/Wheat allergy friendly listed in their menus. I wish you could filter for dietary needs!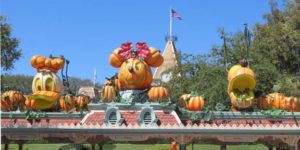 Even if the options appear to be the same options from one place to the next, doesn't mean they are able to accommodate gluten free options.
Using the app findmeglutenfree is also helpful, however, Disneyland has changed some of the places names and menus. I wish I would have put this together before our trip! I would have printed this out and taken it with as a guide for meal times and snacks.
*This list does NOT include restaurants that don't appear to have any gluten free options, drink stands and is not a complete list of where to get snacks and food. This list doesn't include the dining at the resorts that offer character dining. (Though I recommend Goofy's Kitchen, especially if you have little ones.) Also, ask your own questions before ordering to make sure it is still gluten free as they do change their ingredients and menus from time to time.

Reservations
Yes! Make reservations in advance before your trip! Try to arrange your meal times when it is less likely to be chaotic. Eat a little earlier or late and snack to make up the difference.
Caution
Many of the places that sell turkey legs and corn also sell gluten items that are stored in the same cases. We did get turkey legs and our very sensitive family had no negative reactions.
Don't be afraid of places that have allergy friendly menus upon request. The chefs will usually come out and talk to you. They are very knowledgeable and helpful. They want to help you have a wonderful experience.
* Disneyland uses the terms allergy friendly and gluten/free friendly because the recognize that there is always a risk for cross contact. Some places at Disneyland do a better job than others.
Gluten Free Dining List
Main Street
Carnation Cafe
Dining options (time of day) from $14.99 and under – $15-$34.99
Bread/buns
Dedicated fryer
allergy friendly menu upon request

Reservation

recommended and can be made from the Disney app.
Gibson Girl Ice Cream Parlor
$14.99 and under
ice cream
Plaza Inn
Depending on meal time $15-$34.99 or $35-$59.99

Reservations

are only needed for breakfast (characters)
For breakfast ask about gluten free options when making your reservations
Lunch and dinner gluten free options are available upon request
Refreshment Corner
$14.99 and under
allergy friendly options upon request
Tomorrowland
Tomorrowland Skyline Lounge Experience
Pricey $30-$59.99
Reservations are recommended

Call

to inquire more about gluten free menu options
Alien Pizza Planet
$14.99 and under per adult
Allergy friendly menus available upon request
We were told they had some pasta and pizzas (pizzas are pre-made frozen and re-heated)
Galactic Grill
There are cheaper places in the park to buy a hamburger. Here you will pay about $12.50.
$14.99 and under
Offer gluten free breakfast options for less than $10 (Breakfast sandwiches, smoothies, fruit, etc.)
Hamburgers, fries (and they may have more options)
Dedicated fryer
Fantasyland
Edelweiss Snacks
Turkey leg
Corn on the cob
Doritos
Cheetos
Potato Chips
Drinks
Red Rose Tavern
This has always been one of our favorite places to eat!
$14.99 and under
Offer breakfast: scrambled eggs, bacon and potatoes
Turkey sandwiches, hamburgers, cheese pizza, salad and more
Troubadour Tavern
$14.99 and under
Options available upon request
New Orleans Square
Blue Bayou Restaurant
We ate here years ago and it was really good. The atmosphere is amazing. This is a really fun splurge for adults and older kids, not so much fun for little ones.
$35-$59.99
Need to make

reservations

Bread/buns
Dedicated kitchen space
Allergy friendly menu upon request
Cafe Orleans
$15-$34.99
Allergy friendly menus available upon request
Make

reservations
French Market Restaurant
$14.99 and under
allergy friendly menu upon request
*my guess is that they can do salad and roasted chicken gluten free
Frontierland
Bengal Barbecue
$14.99 and under per adult

All the sauces contain gluten and cooked on same grill

Years ago we got the most delicious asparagus wrapped in bacon. It still would be the only thing I would be willing to try from here. Intended to, but we didn't make it back.
Harbour Galley
$14.99 and under
Salad (tuna or shrimp)
fruit
Rancho Del Zocalo Restaurante
*We really liked our food here. It was delicious and they took good care of us. They even used ingredients from the back to cut down on cross contamination. The tip the employee at the front of the restaurant gave us is to go to one window. (It is set up with different areas for salad, grill and I don't remember the other one.) If you give your order to one person, then only one person is changing their gloves and watching your food. This takes longer but is better for you and the restaurant.
$14.99 and under
Gluten free options available upon request
Street tacos, citrus chicken, and Chile Verde (These were the things we ordered. The chicken is big, if you don't have a big appetite, you could probably share it.)
River Belle Terrace
$15-35.99

Reservations

needed
Offer breakfast
Gluten free options upon request (ask about options when you make your reservations)
Critter Country
Fantasmic Dinner Packages
Multiple locations (not just in Critter Country)
Pricey $35 and above $60 depending on place you dine
Get to watch the Fantasmic show from your dinner location (premium spots)
Absolutely need a

reservation

(make before your trip)
Hungry Bear Restaurant
$14.99 and under
Hamburgers
Salad (with turkey)
dedicated fryer
Strawberry fruit bar (frozen on a stick)
Toon Town
There really isn't anything in Toon Town for gluten free other than a frozen strawberry bar. The salad might be okay, but they only get a certain number per day and aren't made on site. We were really disappointed about this.
Fruit Carts
There are fruit carts everywhere and they often have more than fruit on them: drinks, yogurt, etc.
There are a lot of meal and snack options available but finding them when you are hungry can be a challenge. I hope this helps you in narrowing down your search when you are hungry at Disneyland.
Happy Gluten Free Vacationing!
For more tips check out my post: Survival Guide for Disneyland with Crohn's and Celiac Disease