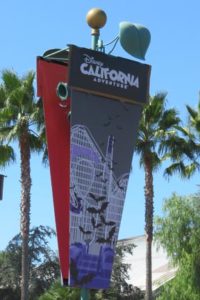 Disneyland parks are wonderful for gluten free eating! However, it can be difficult to know where to go. The Disneyland app is very helpful but you have to open each menu to find what you are looking for and not every place has gluten free options. It is still a good idea to ask questions about how they handle their gluten free foods, but often they will tell you before you have a chance to ask.
Here is what I found on the California Adventure side at Disneyland.
FYI: there are Turkey carts and fruit carts, just like on the Disneyland side. Often there are gluten items in the same case, but they are careful with handling. Use your best judgement in whether you feel this is safe for you. *California Adventure isn't as good at marking their menus with gluten free options.
Hollywood Land
Award Wieners Hot Dogs
I wanted to eat here. It looked so good! However, we weren't ever hungry when we were in the area or we had a reservation somewhere.
$14.99 and under
hot dogs
Buena Vista Street
Carthay Circle Restaurant
Depending on time of day $15-$34.99 or $35-$59.99
Gluten Free bread and pasta
Great reviews on

findmeglutenfree

Dinner and a show- Frozen dining package need

reservations

(ask about gluten free options)

Reservations

needed (check for gluten free options when making reservations)
Fiddler, Fifer and Practical Cafe
$14.99 and under
Smoothie
Cars Land
Fillmore's Taste-In
$14.99 and under
Fruit, pickles, chips and cheese
Flo's V8 Cafe
We ate here and it was really, really good!
$14.99 and under
dedicated fryer
gluten free bread/buns
Gluten free breakfast offered: eggs, potatoes, bacon, fruit, yogurt, and more
Lunch and dinner: turkey sandwiches, burgers, fries, salad and shakes
Paradise Gardens Park
Boardwalk Pizza and Pasta
$14.99 and under
Allergy options available upon request
Pacific Wharf
Cocina Cucamonga Mexican Restaurant
We wanted to eat here, but the park closed early the night we had planned on doing so and we missed our opportunity.
$14.99 and under
Great list of gluten free options on their

menu
Lucky Fortune Cookery
$14.99 and under
Lots of gluten free options on their

menu

: rice bowls with beef, tofu or chicken, and more
Wine Country Trattoria
Pixar Pier
Adorable Snowman Frosted Treats
My husband really wanted to get some treats here, but the girls weren't very accommodating and we had dinner reservations. They just weren't in the mood for lemon.
Lamplight Lounge
$15-$34.99

Reservations

recommended (ask about gluten free options)
Grizzly Peak
Smokejumpers Grill
$14.99 and under
Great gluten free options (we have eaten here in the past and loved it!) Check out their

menu

: hamburgers, barbecue, chicken skewers, salad, cookies and brownies.
Gluten free bread/buns and desserts
dedicated fryer
Happy Vacationing!
I hope this helps you to have a great vacation! This is a place to begin in planning your meals, so you can focus more on what you want to ride and shows you want to attend. For dining ideas in Disneyland check out this post.