Gluten Free Wedding Cake
Since being diagnosed with celiac I have worried about my daughter's wedding cake. How would we do it? Would they need something creative and different? Could we afford it? Would it taste good? Thankfully so much good has happened in the gluten free world and we now have many options to choose from!
Cravings Cupcakes
Near us is the cutest little cupcake shop! The owner, Alisha Nutall, won Cupcake Wars in Season 7 and she has worked with a friend of mine in making some very tasty and beautiful cupcakes that are gluten free! Cravings Cupcakes uses her flour (Gluten-Free Heaven) for making their gluten free cupcakes. Cravings isn't a dedicated gf bakery, but they are doing it right. We have never gotten sick eating here and we have done it frequently. I was so excited when we discovered that the cake would be in our budget and we know that Alisha always does a great job and her products taste wonderful!
The Taste Test
I went with my daughter and her soon to be husband to do cake testing. They picked 6 flavors to try and choose from. It was so much fun and so delicious! They loved the sticky lemon so they made that their biggest layer. The second layer was a Strawberry cream or strawberry short cake (I don't remember what it was actually called.). (Real strawberries in between the cake layers!) The top layer was Better Than What.
Alisha suggested that if we wanted to have people eat the cake and not have tons of cake left over, that we serve it in the middle and not wait until the end. (Which is traditionally done.) So, about an hour or so into the reception, the cake was cut.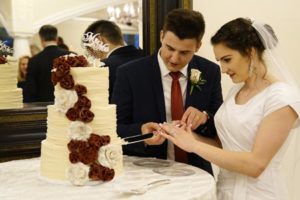 My wonderful sister-in-law did a great job cutting it up to serve! Some of the people helping us were afraid to cut the beautiful cake and it was a little overwhelming to figure out how to divvy it out. However, Alisha also provided us with a cake cutting diagram, which helped.
Cake Details
Look at these beautiful roses! They are made from gum paste. My daughter had a hard time making most of the decisions about the reception; except for the cake. She knew exactly what she wanted for her cake and it turned out so beautifully! We couldn't have been happier with how it turned out!
People couldn't believe it was gluten free. There were so many compliments about how beautiful the cake was and how delicious it tasted. Alisha also made yummy gluten free sugar cookies for the reception!
Gluten-Free Heaven
My friend, Andrea Custer, owns Gluten-Free Heaven and her flour and mixes are fabulous! (Seriously, the best gluten free donuts can be made from her mix!!!) I'm so grateful for all of her work; working with our local bakery and getting her products into local stores!
It all helped make a wonderful day more wonderful!
Save
Save
Save
Save
Save