This is a favorite activity we do every year for Valentine's Day! Anyone and everyone that comes to our house throughout February is welcome to make a guess.
Candy vase instructions:
2 vases. One should be able to fit inside the other one.
Mine are about the same size but the center one could be shorter, if that's what you can find. You would just give it a taller foundation because you want the inside vase to be a little taller than the candy in the outer vase.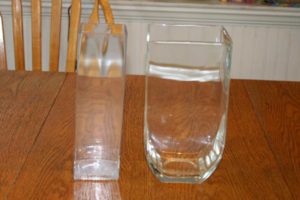 Put some candy on the bottom of the big vase. You are making a foundation for the smaller vase. You want it to be a little taller than the big vase. Most likely your smaller vase won't fit standing well without having some candy on the bottom anyway.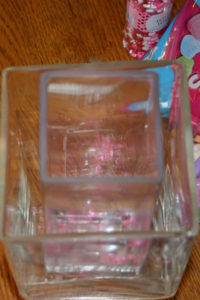 You want it to sit well on the layer/s of candy and fairly centered, so you have room to put candy down each side.
Put Saran Wrap or some Press and Seal around the top of the middle vase. Be careful to not put it too far down the side of the vase or it will be hard to remove when the outer vase is full of candy. The Saran Wrap or Press and Seal keeps candy out of the center vase. This is especially helpful when you have little ones helping to fill the outer vase.
Be careful, the middle vase will sneak to one side more than the other if you aren't careful and then candy won't fit down the side. Put candy down each side working toward the top so you keep it as centered as possible.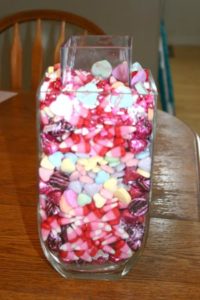 Remove the plastic wrap. Arrange flowers in the middle vase. A watering can is very helpful in being able to put water in for the flowers without getting the candy wet.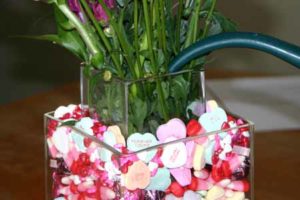 This is a fun decoration for the table. Anyone who comes to our house can make a guess on how many candies are in the vase. I have had people want to guess when I have posted pics of our vase on Facebook, too. It's a fun activity. After Valentines Day, we pour all the candy into a big bowl and then wear some gloves to count all the candy. (No one wants to eat candy that everyone keeps touching. LOL) You can do a prize for the one who is closest to the amount of candy in the vase.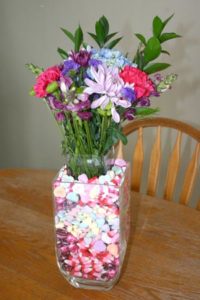 Lesson ideas and skills:

Time management: big candies are like "big rocks" the things we have to get done. Small candies are those things that are nice to get in but aren't as important important as the "big rocks"  (We just read about this principle in "The 7 Habits of Highly Effective Teens", by Sean Covey)

Organization

Spacial skills

Artistic expression

Estimation

Sorting

Counting
FYI: Our final count for this year's vase was 1,065.
Save
Save
Save