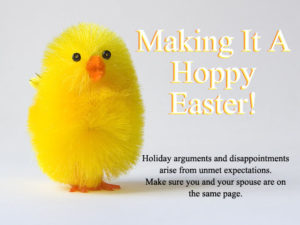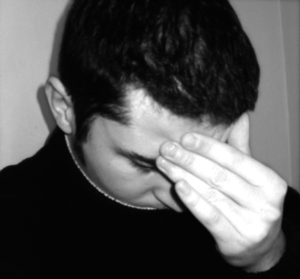 Arguments and hurt feelings over holidays are often from our expectations not being met. Maybe you think you don't have expectations about Easter, but if the day comes and something you enjoy about this holiday isn't there. . .  maybe it never occurred to you that it would be any different than it has always been.
It is better to find out if you and your spouse are on the same page before the holiday arrives. Each couple must decide how they want to celebrate the holidays. Just because you both grew up celebrating Easter, doesn't mean you did it the same! What makes Easter, Easter to you? If these one or two things are missing, does it still feel like Easter?
Is there something you expect your spouse to do? For example, if you are the husband and your mom took care of everything, is that what you expect your spouse to do? What if she came from a family where their celebration was about going to community events and church and not much done at home? Does the Easter Bunny come? Do you Dye Easter eggs? Do you get new outfits for Easter? Presents?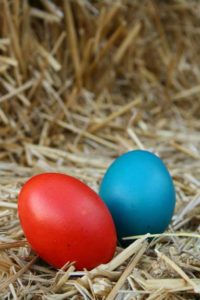 There are so many ways people celebrate Easter. . .
Make a Plan
Do you dye Easter eggs? When?
Do you do the Easter Bunny? When?

Some religious families choose to have the bunny come the day before Easter. This way Easter Sunday can be focused on the meaning of Easter; the resurrection of Jesus Christ.

Who hides the eggs?
Already prepared baskets or do you put your own together?
Do you hide the baskets?
Easter treats, candy? If you don't have Peeps will you be sad?
What community, work or family events might you participate in?
Do you go to church?
Do you get Easter dresses and/or other Easter clothes?
Do you visit family on Easter? His, hers, both or alternate?
Most likely, you don't have kids for your first Easter. So, what if anything are you going to do for one another? Do you expect your partner to do something? Don't assume anything! Talk about everything you can think to discuss.

Do baskets for one another.
Set a dollar amount so one spouse doesn't go all out and the other has just a few little things.
If you want a new dress, discuss it and see if it is in your budget. (Many girls grow up with getting a new dress for Easter.)
Why does it matter?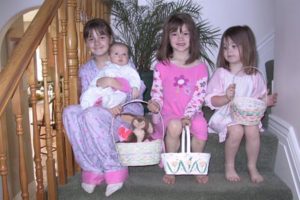 Whether you realize it or not, we all have expectations for how Easter should be celebrated. If you aren't on the same page you run the risk of having a stressful and difficult holiday. That is never fun and those hurt feelings can last for many, many years.
Traditions are part of who we are and what we do.
Traditions help us to understand ourselves and our families. Traditions give us things to look forward to. They give us consistency and bind us together.
The great thing about traditions is that they can change and evolve. When a tradition becomes more of a nuisance than it is fun and enjoyable; it is time to change.
Our Family
When my girls were young they loved searching for and finding their baskets. It would take all day for them to find and fill their baskets if they were empty. So, I would fill the baskets myself with little toys and treats and then wrap them with plastic wrap and ribbons. As they got older it made more sense to have their baskets lined up so they could pick them up and fill them as they found treats and eggs, etc. This evolved over time as they got older and wanted more to be able to find and put in their baskets.
Anything especially for them is in their basket when they get it in the morning. We let them know how many Cadbury eggs, chocolate bunnies or special treats each one is allowed to find. If they find more than one they leave it and if someone hasn't found their special treat they help them find it. We also have hidden special things for the family to share: bags of candy, peeps, a game, and/or a video. There's so much candy and eggs that we don't worry about who find what. However, if one is being aggressive we have reminded them that everyone needs a chance to find some; especially the younger ones. We share almost everything and the girls are really fair about dividing things up when the hunt is over.
Changes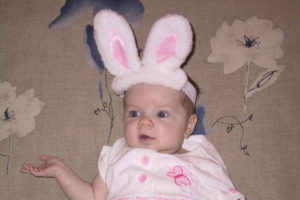 It won't be long before we are done with this part of our family tradition and we will have to figure out and discuss what to do with our grown, married, and grandchildren.
I love what my grandparents did. Every year we would go to their home on Easter evening. We would get to hunt for 1 plastic egg that had our name on it. (We weren't supposed to let anyone know if we found their egg; so they could find it themselves.) Hidden with the plastic eggs was a Hershey's chocolate candy bar and inside the egg was a $1.00 bill.
For me, Easter dinner must have:
Ham – I follow the cooking directions on the ham package, but I use the juice from a can of pineapple chunks or rings to add to the water that you put in the bottom. I use toothpicks to stick the pineapple around on the ham.
Deviled eggs– Easter eggs sometimes make the most interesting deviled eggs, especially when you have kids that help decorate them and they get little cracks when being dropped in the dye colors. This recipe comes from the first cookbook I got when I was newlywed! Better Homes and Gardens New Cook Book
Celery with cheese whiz– My grandma always had this on Easter! Now, my kids insist we do too.
Pimento Cream Cheese Salad, my favorite salad in the whole wide world! This salad is also a must for Thanksgiving!
Save
Save
Save