Saturday, I got an air fryer and I have used it everyday (4 straight days and counting) since getting it! I am totally obsessed with my air fryer! When I see a recipe, I immediately wonder. . .  can I air fry that?!!!
I thought I might have damaged my air fryer!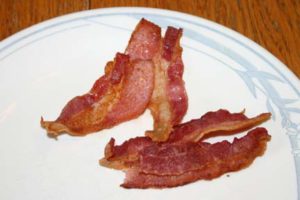 We did bacon, lots and lots of bacon! In fact, we fried bacon, did tater tots wrapped in bacon, French fries wrapped in bacon, and dill pickle spears wrapped in bacon. (Sounds weird, but it was really good and I WILL do it again!) I only removed some oil/grease out once. Truly, I should have done it again, but I couldn't find anything to put it in, so I kept going.
I think I did too much for too long. It needed a break and I pushed it. Plus the grease really splattered all over it.
It's Okay!
It's taking me a while to write this. So, no I don't think it is damaged. I needed to give it a good cleaning. Now, I also know that it needs to cool down and not to be pushed so long and hard.
I need a bigger air fryer!
The one I have, I got for $15 with the purchase of my new washer and dryer. It isn't very big. The basket is 7 inches in diameter and is a 2.75 quart air fryer. Go Wise USA is the brand I currently have.
It is fantastic if you only plan on feeding one or two people, but a bigger one is needed for doing larger quantities! Trying to feed more than a couple of people takes a lot of time! Not quite as bad as cooking with an Easy Bake Oven, but it does take more time than other methods. Not because the air fryer takes a lot of time (It doesn't), but because of the small quantities done at one time. However, if you are only making food for a couple of people or have the right sized basket for your crew, then it is a quick and fantastic way of making many dishes!
What I want!
I want a larger air fryer! On my wish list is one that comes with accessories! You see, when I fry bacon, (Which by the way, tastes amazing air fried!), it curls and doesn't stay put very well. For larger basket air fryer's there is a tool for holding the bacon in place.
There are air fryers that come with accessories and so far all the accessories I have seen are for the larger ones. Accessories can also be purchased separately.
We have tried air frying a lot of things!
We have tried air frying so many things! Here's a list of some of the things we have been air frying:
cheesecake – I made a makeshift tinfoil pan
fries
bacon
French toast (My absolute favorite way to have French toast!!!)
eggs
gf chicken nuggets
I LOVE my air fryer!!! Everything tastes so good!
Wish List
I just saw that there is an air fryer oven! It can cook more food at one time, can do rotisserie, and dehydrate food!
I love these options for healthier "fried" foods!!!