I love wreaths and I love lanterns and putting them together makes me so happy!!!
Materials:
30″ Wreath- evergreen, metal frame
5.71×5.71×11.81″ Lantern (I got mine from Hobby Lobby)
Cut 5 or 6 pieces of 12″ ribbon and you will need more ribbon if you want to tie a bow (wire ribbon)
5 or 6 pieces 8″ wire and more wire for wiring pieces to the wreath
Wire cutters
Needle nose pliers
scissors
Plastic berries
Poinsettias
Pine cones
Battery Powered Candle with timer
Working with the Wreath
Fluff the wreath. Pull the pine branches out all the way around.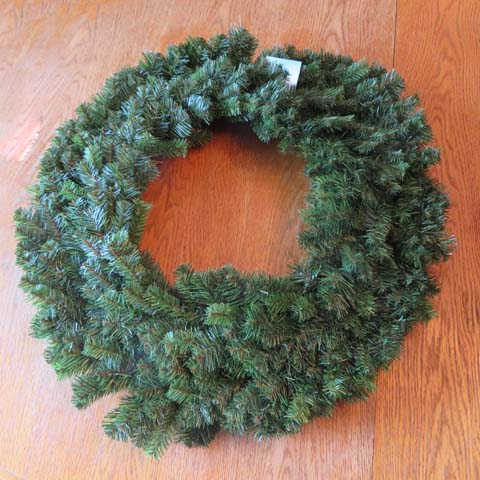 Wire the Lantern in
Using crafting wire, wire your wreath in place. I pulled some branches behind the wreath to cushion it from the door. I didn't want my pretty wreath to leave scratches behind.
Check your placement of the lantern. You don't want it to sit back and hit your door. Make sure the door to your lantern is facing the front so you can put a candle inside and change batteries as needed.
I found it easiest to hang it on the door and work with it there to figure out placement and to do some of the wiring.
Wire pieces
Put wire around the pinecone and twist to make stable. It is easiest to twist what you are wrapping the wire around rather than twisting the wire. *Hold the wire stable and with your other hand, twist the object. It helped to hold the wire with some needle nose pliers.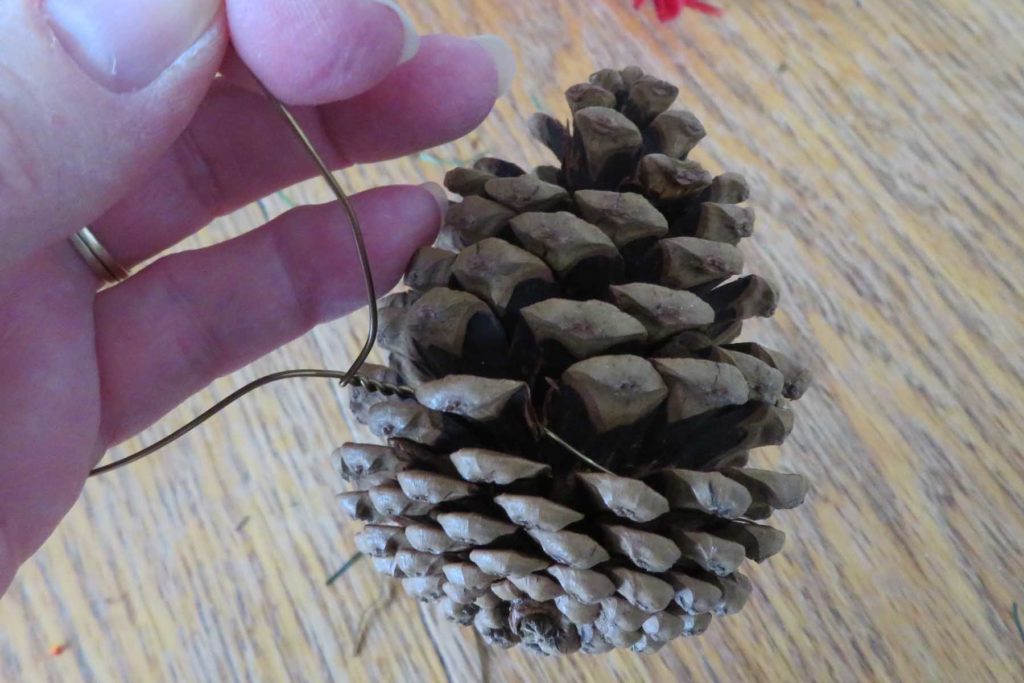 Ribbon Puffs
Cut 5 or 6, 12″ pieces of ribbon. Next, cut 5 or 6, 8″ pieces of wire. Put the ends of the ribbon together and wrap wire around the bottom of the ribbon. Needle nose pliers are particularly helpful for twisting the wire tight. Pinch the wire on the ribbon and make sure it is secure.
It is important to use wire ribbon because it holds it's shape and can be easily maneuvered.
Decorate your wreath
Place your decorations and find what configuration you like. Berry stems, poinsettias and pine cones. I carefully placed them and then took the wreath down and wired them in place.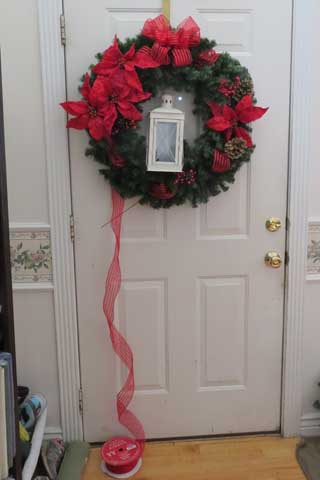 Put your battery powered candle in the lantern and remember to set the time.
Christmas Lantern Wreath
Place on your door and enjoy throughout the season!!!