Celiac disease affects both men and women, however, women are diagnosed in greater numbers than men are. It may be controversial as to why this is the case. Is it because women are more willing and more likely to go to the doctor and be tested or is it that women are more affected and prone to this disease than men? It is hard to say which is more accurate.
Celiac affects women's health in ways that are central to a her health. This may be another reason why women are more likely to seek help and answers to their symptoms.
There are more than 200 symptoms for celiac, this post is just focusing on the most common symptoms, found in women, that are not "typical".
Symptoms in Women
Women are more likely to have symptoms that are related to other areas of her health, before experiencing what are considered "normal" or "typical" celiac symptoms. (i.e.: diarrhea, constipation, and other gastrointestinal issues.) This is due to the inadequacy or inability to absorb important and vital vitamins and minerals.
Osteopenia or osteoporosis
Anemia
Chronic Fatigue
Depression and anxiety
Other autoimmune diseases
Menstrual cycle issues
Fertility
Difficulties in pregnancy
Bone Health in Women
Women are at a greater risk for bone loss and bone issues especially as they age and go through menopause. However, osteopenia and osteoporosis can be found in young women, as well, due to the nutritional deficiencies caused by celiac disease, resulting in mal-absorption.
After being diagnosed with celiac, it is a good idea to get a bone scan done. This will give you a base line, to look at, as to whether your bone health is improving or deteriorating.
Have your vitamin D levels checked if you have celiac disease. You can't absorb calcium when your vitamin D level is low. Make a plan with your doctor.
Get a Dexa Scan done to check your bone health
Anemia in Women
Iron deficiency anemia is high in women who have celiac disease. You may need on-going treatment.
Have your iron level checked
My Anemia:
I was very pale as a teenager. I was often asked by clerks, at stores, if I needed a chair and if I was about to pass out. My mother would laugh it off and say this was just my normal paleness.
I also had very frequent periods, which likely contributed to this problem.
During my pregnancies I struggled significantly with my iron levels and was always on the verge of needing a transfusion.
After I was diagnosed with celiac disease, I had a couple of really close together periods. My iron level dropped so significantly, in a two week time frame, that my doctor ordered IV iron treatments for me. Thankfully and for the first time in my life, I have been able to hold onto my iron.
Chronic Fatigue
There are so many reasons women can and should feel tired. However, there is tired and then there is fatigue and or weakness that just doesn't go away, regardless of the amount of rest you get!
Mal-absorption may be the main culprit here, since it leads to so many other health problems. Anemia can also cause fatigue and so that should be ruled out and worked on, as a cause of fatigue.
Accidental gluten exposure can bring on sudden fatigue that lasts for quite a while after ingestion. This article by Very Well gives some good suggestions to handle fatigue from gluten.
Vitamin and mineral levels checked- malnutrition is common when you haven't been able to absorb important vitamins and minerals. Many find it helpful to see a medical internist to help and work on improving those levels. Others prefer working with a nutritionist.
Depression and Anxiety
Women are more likely to have issues with depression and anxiety. While symptoms often improve, when gluten free, many women (and men), have some depression and anxiety even after being gluten free. The cause of this continuation is because it is hard dealing with an on-going chronic illness; as well as, not addressing the nutritional deficiencies that contribute to this.
For some people, depression, anxiety, ADHD, irritability and trouble sleeping may be their only symptom.
Increases in depression and anxiety may increase with gluten exposure.
Other Autoimmune Diseases
Lucky us! When you get one autoimmune disease, you are more likely to develop other autoimmune diseases. Personally, I believe this is also because of the nutritional deficiencies our bodies have experienced for so long. We need to advocate for ourselves for better health care related to our nutrition.
Women are more likely to have thyroid issues. Make sure your doctor is doing a true thyroid panel. Doctors often say their panel is complete, but they miss checking the antibodies, total T3 and free T3. It is important to have the antibodies checked. This is the level that tells you whether or not your thyroid problem is auto-immune or not.
Learn about other related diseases and conditions there are to celiac, so you can watch for symptoms for early diagnosis. (I believe that knowledge is power and early diagnosis is important. You are your best advocate for good health!)
Menstrual Cycles
Many women with celiac have had one issue or another with their menstrual cycle. These issues may or may not be due to celiac, more research is needed.
I have talked to many women with celiac who believe PCOS is related to celiac, but I couldn't find any research that proves or claims the connection, yet.
Some common issues are:
Late onset of menstruation
Painful cramping
Inconsistency in frequency (for me every 2-2 1/2 weeks apart)
Heavy flow
Absence of Menstruation
Pelvic pain
Fertility
Both men and women can experience infertility with untreated celiac disease. However, like most things, women are more frequently diagnosed, because they are willing to go to the doctor.
How do you know if infertility may be caused by celiac? Infertility that doesn't have the common factors and there aren't hormonal deficiencies. It may also include those that don't fit under the infertility banner, but have to try for a longer period of time to conceive.
Eat a strictly gluten free diet (If you haven't been checked yet for celiac, do that first!)
Get checked for nutritional deficiencies
Make sure you are getting folate (check out my post why I suggest avoiding folic acid which is the man-made equivalent to folate.)
Difficulties in Pregnancy
Not only can it be difficult to get pregnant, but it doesn't end there. I had horrible pregnancies due to undiagnosed celiac disease. I have wondered what it would have been like to have had a "normal" pregnancy.
Pre-term labor
Slow fetal growth (low birth weight baby)
You and your baby have a hard time absorbing important vitamins and minerals.
Lots of nausea (I had nausea all 9 months. Thankfully it was just occasionally in the third tri-mester. Stomach was often on edge.)
Anemia
Some antibodies related to celiac disease, may harm the placenta or the mother in other ways. (My third daughter came 4 weeks early. Her placenta looked calcified, like that of an overdue baby. She was almost my biggest baby weighing only 6lbs 3 oz. My biggest was 6lbs 4 oz. The smallest was 5lbs 10oz.)
Good News
All evidence and research suggests that women who have celiac have "normal" pregnancies. At least, the risks and many of the difficulties are lessened.
I can only imagine what it would be like to go through a pregnancy without constant contractions, watching the clock and trying to get things to settle down, so the baby doesn't come too early.
Normal Pregnancy
Seriously, who can say what is normal?! I had 4 and all were different in one way or another. All my friends say the same about their pregnancies. I wish I would have had one more, so I could, hopefully, have had a good pregnancy. I never liked being pregnant. It was stressful and incredibly hard on my body.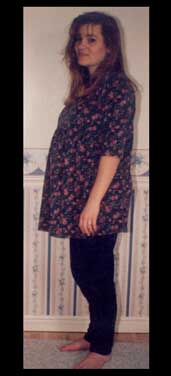 Even worse is a doctor that won't listen to you. I knew there were some legitimate problems with my last pregnancy and my doctor wouldn't listen! Thankfully, she and I were okay.
Testing for Celiac
Testing for celiac starts with a celiac panel blood test. If this is positive, or you still have concerns, the next step is to go to a gastroenterologist.
The "gold star" in diagnosing celiac is through a biopsy. Several biopsies need to be taken, since celiac damage happens in patches and can be missed, if the right place isn't biopsied.
Good luck on your journey to good health!