Bone Concerns with Celiac
One of the concerns with celiac disease is osteopenia and osteoporosis. The deterioration of bones is one of the most common problems seen with celiac disease. Bone density is often the worst at the time of diagnosis and improves with the gluten free diet as the body is able to absorb important vitamins and nutrients. Some may need to supplement with calcium and Vitamin D supplements.
Did you know?
"The American Gastroenterological Association recommends that all patients with celiac disease undergo bone density tests to determine whether they have osteoporosis or osteopenia." (From an article on Verywell)
From Gluten Free Living:
"Experts say that adult celiac disease patients should consider being tested for osteoporosis because there's such a strong link between the two diseases and because adults are less likely to improve their bone density with a gluten-free diet alone and may need supplements and medication.
In adults, bone mineral density after treatment with a gluten-free diet only increases about 5 percent a year, according to Katz."
My First Dexa Scan
I was very lucky with my bone health! I had my first Dexa scan shortly after being diagnosed with celiac disease. It looked good. It was nice to have something good going for me!
3 years later I had a follow up Dexa scan and it showed improvement. In fact, the technician said that my first looked good but the second looked even better. This is often the case for patients with celiac disease.
I fell down the stairs
The day before Christmas Eve, I fell down the stairs when I misjudged how many there were and how far I had gone down them. I very nearly broke my foot and several of my toes. Just call me Grace!
Falling and injuring my foot meant I had to stay off of my foot for the next several days! This put me in a very bad mood! I had so much planned and left to finish for Christmas!
I have been struggling with my daughter and her husband unexpectedly and suddenly moving to another state and they were coming for Christmas. Having an injury, really put my plans out of whack as well as my mood! I had planned to stay very busy, but instead I was hostage to my foot and all of it's limitations!
Hurt but not broken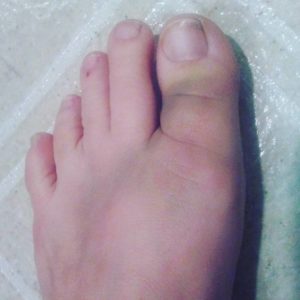 So, while I have had a lot of aches and injuries from falling, nothing is broken! This would not be the case if I had osteoporosis. I surely would have broken: my hip, knee, elbow, foot and toes (just to name a few). Why am I so convinced of this? Because of all the places that hurt from falling and the experience of a friend.
My friend has celiac disease and was diagnosed with osteoporosis. Her case was pretty severe and she was having a hard time increasing her bone density. Like the doctor above stated "In adults, bone mineral density after treatment with a gluten-free diet only increases about 5 percent a year, according to Katz." (Gluten Free Living)
So, while bone density can be recovered, it is slow in coming!
One of the good things she was doing for her bones was exercising. She chose to ride her bike, but to store her bike, she had to carry it up and down stairs. This worked really well, until she fell down the stairs. My friend broke so many bones: ribs, legs, wrist, etc.! From her experience I know how damaging and hard a fall can be with osteoporosis.
Gratitude
While falling and dealing with my injuries has been a pain, I have felt some gratitude. I am so grateful that I don't have osteoporosis and my bones are strong enough to withstand a nasty fall.
It's another reminder that I have celiac, but celiac doesn't have me!
Bone Health
Whether you have celiac or not, everyone should be mindful of their bone health!  Osteoporosis is considered a preventable disease.
Here are things you can do to improve your bone health:
If you have celiac be strict with your gluten free diet! Cheating isn't worth the risks that come with it!
Work with your doctor about vitamins and minerals your body needs. This

Gluten Free Nutrition Guide

is an excellent resource! *Remember if you don't have enough vitamin D you can't absorb calcium!
Make sure your supplements are gluten free. Supplements don't follow the same rules as food and so they don't have to put gluten on the label. It is a good idea to contact vitamin companies and ask about the ingredients (fillers) used in their products.
Weight bearing exercise *walking and going up and down stairs (as long as you don't fall) are great forms of this kind of exercise check out more weight bearing exercises

here

. If you know you have osteoporosis discuss with your doctor which forms of exercise are right for you.
Live a healthy lifestyle: smoking and drinking affect your bone health
If you have celiac disease have follow up dexa scans every 3-5 years
Discuss other options with your doctor
Know the other

risk factors
Resources
https://www.bones.nih.gov/health-info/bone/osteoporosis/conditions-behaviors/celiac
https://www.verywell.com/osteoporosis-and-celiac-disease-563002
https://www.gluten.org/wp-content/uploads/2016/03/The-Gluten-Free-Nutrition-Guide-3-2016.pdf
http://www.osteopenia3.com/bone-density-exercises.html
Please Share