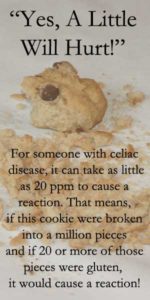 When you have celiac, gluten intolerance, a wheat allergy or some other medical issue that causes you to need to eat gluten free, there are no holidays from gluten free eating. There is no "just a little bit" because, "Yes! A little bit will hurt!!!".
So, how do we have a safe Thanksgiving and enjoy it with family and friends?!
Thanksgiving Host
The easiest way, is if you are the Thanksgiving host, but that isn't always possible. Not to mention that "easy" only refers to the being able to have some control over what gluten is at dinner. Thanksgiving is a big event that can be stressful. Keep this in mind when approaching the host. They are putting on a big party and you don't want to stress them out with demands.
However, it doesn't hurt to ask them, if they would mind looking for a gluten free turkey and not stuffing it. If this is something they are unwilling to do, there are other things you can do.
There are many brands of gluten free turkey. Yes, turkey is naturally gluten free, but some companies inject their birds with broth that contains gluten. So, stay away from self basting turkeys.
Volunteer
Ask if you can bring something:
salad
pie
rolls
stuffing
side dish
This way you know there will be something you can eat. If possible, you may want to bring something for the meal and something for dessert. Dessert is always nice to have the option of, especially at a large gathering like this. (Often I will dish to the side what I need before I put it with everyone elses to cut down on possible cross contact.)
Thanksgiving Plan B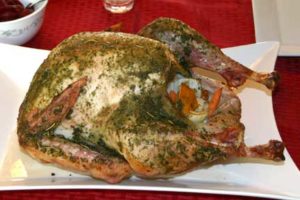 In the event that your host is unwilling to work with you or leaves you feeling like you don't dare eat anything when you go, here is plan B. Alert your host that you will be bringing your own food, because you want to enjoy being with everyone, but really don't want to get sick. Be sure to not make them feel guilty about you doing this. Emotions are already high during the holidays and you don't need this to be a source of contention.
Decide if there are parts of the meal you are safe to eat and just bring the parts you need. Your health is important and you need to do what is best for you.
Option 1
Decide if you feel safe eating parts of the meal: salad, deviled eggs, vegetables, plain mashed potatoes etc. Bring your own gluten free: rolls, stuffing, gravy, turkey (if they aren't working with you), pie, etc.
Option 2
Bring your own turkey and stuffing if you want. I'm not talking about walking in with the whole bird! Here are some options:
Cook your own turkey at home, cut it and bring what you plan on eating. At least you will have leftovers.
Get turkey from a deli (check on it's gluten free status) and bring that with you.
Cook a little Cornish hen for your Thanksgiving meat. It is small and looks so cute when cooked.
Offer to bring the Thanksgiving turkey for everyone and take that load off of your host.
Option 3
Bring all your own food and don't worry about what everyone else is having. No cross contact or worrying what Aunt Martha put in her bean casserole.
There are some restaurants that serve gluten free Thanksgiving dinners. If you have a place like this near you, you may be able to place your order ahead of time and pick it up on the way to your party. You'll have to do some work before Thanksgiving to have this in place and double check on their menu. Even if they say it is gluten free, it is still a good idea to ask questions and be sure that they truly know what is gluten free and that gluten free is more than just ingredients, it also involves the kitchen processes.
Thankful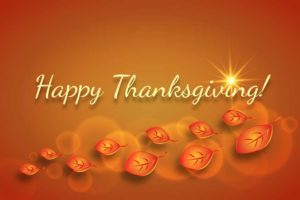 Remember to be thankful this Thanksgiving.
Thankful:
To have a diagnosis and/or know what you need to do to be healthy
There are options for how to enjoy this holiday and still be with family and friends
Your health is in your hands- through diet, you can choose how healthy you are going to be
Hopefully you have family and friends willing to work with you that you can be thankful for
Thanksgiving is only once a year
Time with family and friends
Wishing you a happy, safe, gluten free Thanksgiving!