We always make Deviled Eggs for Easter and Thanksgiving and sometimes Christmas. This is our favorite recipe and we have been making it for 25 years! I found it in the "Better Homes and Gardens New Cook Book" 1989, when I was first married. I have  slightly modified it to fit our family's needs.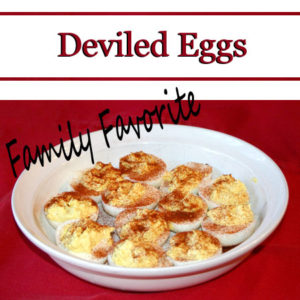 The first step in making Deviled Eggs. . .
is to boil your eggs. Fill a pot with water and place raw eggs in pot. There are all kinds of tricks to try to get the perfect boiled egg. Placing a dishtowel in the water with the eggs can reduce cracking from them hitting against one another. If you try this method, put the towel in before filling with water. I arrange eggs under the towel as well as on top of the towel so that it cushions the eggs a little bit and then fill the pot with water. 1 tsp or 2 of baking soda seems to help eggs peel better.  My father-in-law swears by running the eggs under cold water for 10 minutes after they finish boiling. Once the water comes to a hard boil I set a timer for 20 minutes. After 20 minutes, remove from heat.
Let eggs cool or you can put them in the refrigerator until ready to make the Deviled Eggs.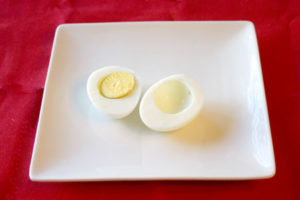 Peel the eggs and rinse. Now you are ready to get started!
Cut the long ways.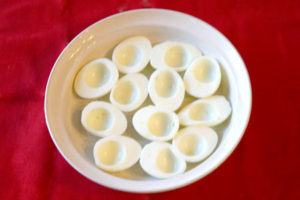 Pop out the yolks into a small mixing bowl.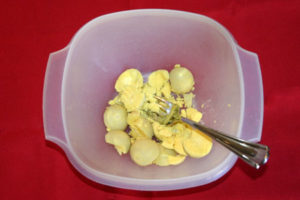 Smash the yolks with a fork.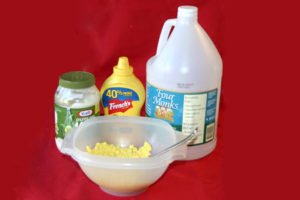 Add vinegar, mustard and mayo.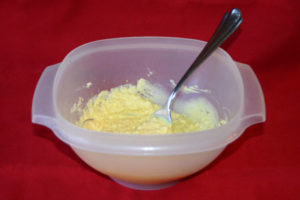 Continue to smash chunks and mix with the fork.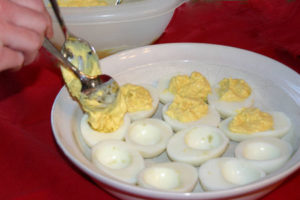 When fairly smooth, spoon into the empty halves.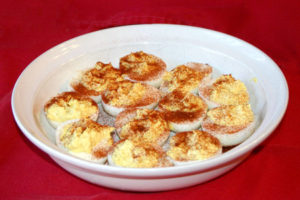 Sprinkle with paprika.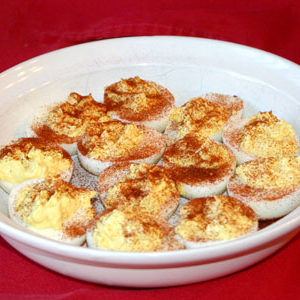 Deviled Eggs
I have been using this recipe for 25 years. It is our favorite for holidays like Easter, Thanksgiving, and Christmas. It is slightly modified from a Better Homes and Garden's recipe from a cookbook I got when I got married.
Ingredients
12

hard boiled eggs

cut in half the long ways

1/2

cup

Mayonnaise made with olive oil

no high fructose corn syrup

2

tsp

mustard

2

tsp

white distilled vinegar

Paprika
Instructions
Peel boiled eggs and cut eggs in half the long way.

Pop out yolks, being careful to not tear the egg and put in a small bowl.

Use a fork to mash the yolks.

Add mayo, mustard and vinegar.

Mix well and until fairly smooth. A fork is enough to do this with, you don't need any other electric tools.

With a spoon, gently spoon the mixture into the empty egg halves. I like them a little rounded. Sprinkle with paprika.

Keep chilled until time to eat.