Christmas Traditions
Creating Your Own Family Traditions
Creating your own family Christmas traditions is especially important when you are newlywed or when you want to make changes in your family and how you do things. Of course, these traditions may evolve, change, or be dropped altogether. Keep in mind that traditions help people to know how they fit in as well as expectations for upcoming events.
Christmas Past
My husband grew up in a family that while they were members of The Church of Jesus Christ of Latter-day Saints and believed in Christmas and Easter, they really didn't celebrate these holidays. They had a tree and exchanged presents but his biggest present he got the year we were engaged was a flashlight. His step-father believed that Christmas should be no different than any other day, so Christmas wasn't treated very special. They gave me a gift too, books, elementary school level books. It wouldn't have been so bad if his mother wouldn't have said, "Since you gave us something, here you go." (I think she also said that they "had to give me a gift" too. Or maybe that was just what her attitude and tone indicated. I was hurt and insulted. I really wanted to give her gift back to her and tell her to not bother if she only felt obligated to give me something! However, I was trying my hardest to figure out how to be friends. Glad I tried. Less regrets.) I was surprised at the lack of excitement and joy for the Holiday in their home. They didn't even have a family Christmas party or any type of holiday get together with other relatives.
My family, was to the other extreme and often went overboard with gifts and celebrating! Every Christmas Eve we had a family party at my Grandparents. These type of parties started before I was born and my dad's parents carried the tradition to their family. We had a big pot luck dinner with a ham my grandmother would cook. My aunt always made fudge and chocolate treats. We would have a small talent show. When I was young my cousin and I would put together a dance for the show or do one we were learning in dance class. It was a great time with cousins and family. Santa would come and give each child one gift. (These gifts were provided by the parents of each child, with a set $ amount so they were relatively around the same cost.) We exchanged gifts with cousins and grandparents and had a great time watching everyone open their gifts. It got crazy as the family grew. My grandparents had 5 children and all were married. Then there were 20 living grandchildren. Then the great grandchildren started to come. Eventually, the party got to be so big that it was moved to a church and a Saturday early in December.
After the party, we would all go to our own homes. We got to open one gift before going to bed and it was always pajamas. Why was it always pajamas? Because on Christmas there would be a lot of Christmas morning pictures and everyone would look nice in their new PJs!
Christmas morning was big and crazy! After opening presents and having breakfast; we would meet at one of my aunt and uncles houses and then travel to each relatives home to see what one another received. It was a lot of fun, but as we got older we disliked it more and more. It was hard to leave our gifts to run around all day. This is not a tradition we have kept.
That first Christmas, when we were engaged, was a shock to my husband! He had never seen anything like it, except in movies. My parents used Christmas as a time to help us obtain the things we would need when we were on our own. (The beginning of the school year, my birthday and Christmas were really the only times I got new clothes.) My dad is a carpenter and he made us some high quality dressers and we got an electric wok and a few other things to help us as we prepared to start our own home. He had never been given so much in his entire life and was overwhelmed.
Christmas Present/s
We had some huge differences and had to figure out what we were going to do with our family. We might have done things a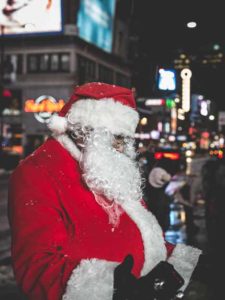 little differently if we had known about the 3 gift idea; something you need, something to learn and something you want. We have done Christmas a lot like what I grew up with: big, exciting and fun. My husband hated the Santa Clause thing, but I insisted on it. He had a hard time with Santa getting the credit for all he had done and we were "lying" to our kids!
As a compromise, our kids were told the "truth" when they were 8 years old. (At least with the 2 older ones, they were 8. Our 3rd didn't seem ready to be told until she was a little older and then our baby of the family, no one wanted to tell her because we wanted the magic to continue a little longer.) I would take them Christmas shopping with me and while we were shopping we would talk about Santa and gifts. With my oldest I asked her what she thought Santa should bring her sister. She said something and I said, why don't you go get it and put it in the basket. She did and I said, so, what does this mean? If Santa should give it to her, but we are buying it. . . she's very quick and she started jumping up and down saying "I knew it! I knew it! I knew it!" I asked her to explain to me what she knew and we talked about how important it was for her friends and siblings to continue to believe. It is the parents' decision on when to tell their children. We talked about the spirit of Christmas and how special Santa Claus is as a representation of love and giving. How in many ways Santa exemplifies Jesus Christ. Santa is real because we believe in the spirit of Christmas. I then let her be my Santa's helper. On Christmas Eve, once her sister was asleep, I would sneak her out of her room to help me set up her sister's things from Santa. Then she would go to bed so we could do hers.
We have 4 kids, so as each one came to know, each one became a helper. So, the first two would set up for the younger two. Now, they take turns setting up for one another. Blankets are thrown over things so only the one doing the setting up sees it and then before we go to bed, we uncover everything.
Christmas Future
It is important for couples to talk about how they want to celebrate the holidays, what is given emphasis and what makes
Christmas, Christmas to them. We all celebrate it but don't realize that we all have our differences in celebrating this special holiday and how important certain things are to us!
Tell one another about how your family does Christmas.
What do you want to continue doing in your family?
What are your expectations of Christmas?
What kind of tree do you want to have? (Sparse, Charlie Brown tree or a full evergreen tree? Real or artificial?)
When do you put up the tree, when do you start playing Christmas music?
Do you decorate the house? Inside, outside or both?
Santa Clause or no Santa Clause?
Nativities? We don't put baby Jesus in the Nativity until Christmas Day because that is when he was born.
Gift Giving? Who? How much? Budget? When do you start buying gifts?
What do you expect from your spouse for Christmas presents?
Visiting relatives?
Parties?
Family and friends on Christmas? Or immediate family only?
My sister-in-law insisted that her husband buy her lots of clothes and it really didn't matter size or what they looked like. She would then take them all back (even if she liked them) and get the cash and shop the sales. Personally, I hate this for so many reasons! However, it works for them.
One might not be used to buying lots of things for one person or just wants to buy one big thing. Talk about it or you may have a disappointed partner and an unhappy holiday.
Appliances might be okay once in a while but a woman typically doesn't want household gifts. Basically you are giving her something for her to take care of the family, but it isn't pampering her or personal. Appliances don't necessarily tell a woman that you know her and understand her. Don't get me wrong sometimes it is awesome and very needed. Wives and mommies still want jewelry and to be pampered.
Merry Christmas
Talk about everything. There may be small things that are important and you might not even realize you miss it until the day comes and it is missing. Adjust what you want to do and how you want to do it next year.
This is your family, figure out what works best for the 2 of you and what works best for your growing family?
Most importantly have fun, love, laugh and enjoy the holidays!
Save
Save
Save
Save
Save