Summer Fun!
It had been a hard summer and I wanted to do something that the kids would remember. So, I surprised them with this wacky game of Alice in Wonderland croquet! It would at least be something to remember!
We had a very old set of croquet. I think most of the balls were missing and the hoops you shoot the balls through are bent. From Amazon I ordered a bunch of flamingos. The first set I ordered wouldn't work for the mallets, but they were fun. We kept them and used them as the places to hit your ball to instead of the hoops. We finally found the right set of flamingos and my hubby drilled a hole through the back, so they could go on the croquet mallets with their heads resting on the top of the mallet.  We probably should have glued them to the mallets.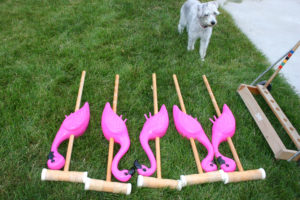 Also, from Amazon I found a hedgehog that rolled up into a ball and whoever was the Red Queen got to have that for her ball.
From the party store I gathered things to represent the 6 characters we needed. 6 because that is how many people would be playing.
We drew characters to see who would be what
I was the Red Queen and the dog kept stealing my ball (hedgehog), so I kept yelling: "Off with her head!" I also kept changing the rules (since I was the Red Queen) and made sure that I won the game! I gave myself more points and took points away from others. It lead to some good discussions about boundaries and consistency. As well as building trust. It was all in good fun and not serious!
We used irregular balls because this is wacky croquet and not actual croquet. Pretty much whatever we could find around the house. The dog loved chasing all the balls and disrupting the game and it added to the fun!
Then we ended our game with some flamingo cupcakes!
We made cupcakes from a gluten free cupcake mix, frosted them with gluten free frosting and sprinkled with colored pink sugar. Then we added some plastic pink flamingos to the top for decoration.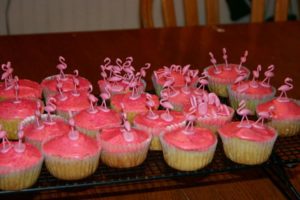 Save
Save
Save
Save
Save
Save
Save
Save
Save
Save