Cold Defense
It is so much better if you can keep from getting sick rather than trying to get better and stay on top of your health. This time of year there are many things that weaken our defense: germs, stress, not eating well, not getting enough sleep, and being too busy to exercise and properly take care of ourselves.
Many of these things can't be helped, this time of year and so we strengthen our defenses and prepare our offense.
Strengthen Your Immune System
Get enough sleep when possible
Park a little farther away from the door and take stairs (get a little exercise in, where you can).
Limit the sweets and eat at least one to two good meals a day
Take vitamins
Wash your hands
Diffusing essential oils can help you to feel grounded and calm. Some, like Proshield, also clean the air.
Try taking a bath with some Cypress oil and Epsom salts to relax
The Cold Has Hit Our House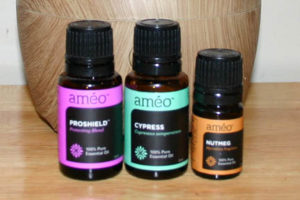 My family is fighting colds. In an effort to minimize the cold and keep myself and others from passing the cold around, our house, I have been diffusing Proshield, Cypress, and Nutmeg essential oils.
Améo Proshield- 7 drops
Améo Cypress- 6 drops
Améo Nutmeg- 3-4 drops
Our Offensive Essential Oils Plan
Once to twice a day I have been diffusing this combination. My daughter's cold has improved and only one other person (so far), in the house has gotten her cold. The other person who has gotten the cold, doesn't spend a lot of time where the diffuser is.
My sick daughter, also applies some of the Améo Proshield to her neck (throat and lymph node areas). She also likes to use some Améo Frankincense on her neck (throat, lymph node, back of neck and on her temples). *While many people do fine using these oils topically, without using a carrier, not everyone does. One of my daughters has very sensitive skin and always needs a carrier oil to accompany the essential oils she uses. (Proshield is one that she always needs a carrier oil with.)
Why I Chose These Oils
I chose this combination of oils because they clean the air, promote calmness and a grounded feeling.
Diffuser and Essential Oils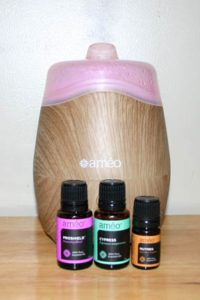 Proshield is Améo's unique blend for helping to support the immune system. This blend includes: Clove, Cinnamon, Lemongrass, Orange, Lemon, Rosemary, and Eucalyptus Radiata. This blend has cleansing properties and diffusing helps to cleanse the air.
Cypress essential oil promotes normal respiratory function. It is also helpful in calming feelings of fear, stress, doubt and panic. Helpful in promoting the feeling of being grounded.
Nutmeg has a calming and grounding effect when diffused.