Flowers for weddings are expensive!
We had a few hiccups with who was paying for the flowers and in the end we decided that we could take on doing the bridesmaid bouquets. (Did not want corsages because everyone felt it would look too much like a prom.) I have so much confidence in this now, I want to play more with flower arranging and maybe we could get good at doing some other things with flowers. Next to photography, this is another hobby I have really wanted to explore!
So, here was our plan:
We ordered some filler flowers from the Flower Patch; wax flowers and Lily's (I thought the type of lily we had was really small, but when I picked it up it was a big lily. However, it worked out really well!) 
Wax flowers, are really nice fillers! They are real flowers but that is what they are called.
We could have saved a little bit of money and gone with Queen Anne's Lace, but I know more now then I did when we were stressed out and trying to decide on things. I couldn't find a picture I could use to show you what it looks like.
The greenery was Myrtle:
Yeah for Costco!!!
Then we got roses from one of our favorite places to shop, Costco! (Practically, live there!) Their roses are always beautiful and more affordably than anywhere else! However, because I needed less than 8 dozen I had to try and arrange with the Costco flower lady instead of ordering them in. Wouldn't you know it! They didn't get any bunches of just white roses or red and white! They had red and yellow and pink and white but no red and white. So, I ended up getting the pink and white, so I could have the white roses and then 2 dozen red roses. (Next time, I will order what I want and go with the 8 dozen and make flower arrangements for the tables! Daughters centerpieces were candelabras with some greenery wrapped around them and pictures of the two of them. They were provided by the reception center. Really didn't need floral pieces. )
Awesome friends!
My friend used to work for a flower shop and has done wedding flowers in the past. I called her and she agreed to come and help me and my girls make the bouquets. It was so fun and easy. I think it also helped to reduce the stress I was feeling because I just got to be creative for a few hours and not have to run around. Next time, I will consider doing flowers two days before the event. Instead of the day before, because it took longer than I expected and by the end I was getting worried about completing my list of to do's!
Steps:
First, we forced open the lily's that were shut tight. They are pretty hardy but you still have to be careful. They can rip, tear or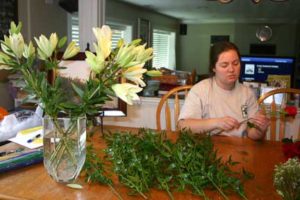 fall apart.
The wire is inserted into the base of the plump part of the stem below the petals. Then gently wrapped around the stem. This strengthens the stems so they don't break so easily in your bouquet. Only the roses needed to be wrapped with wire, the rest of the stems were heartier and don't break as easily.
Next, we picked up a stem or two of Myrtle, wax flowers and a couple of roses and a lily. Then we added more of whatever the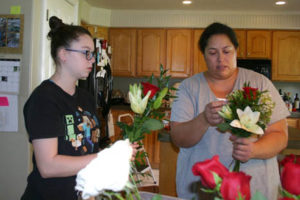 bouquet looked like it needed to be balanced and pretty. Then we stripped off the leaves and decided how long they should be when being held.
The stems are then tightly wrapped with green floral tape. Then with white floral tape you wrap again. This makes it easy to hide the green tape. Then, you can trim the ends they were about 1 1/2-2 inches from the bottom of the tape and ribbon. Then, we took white ribbon and secured the end with a corsage pin at the bottom. You want to start wrapping from the backside at the base of the tape and wrap around.
When all the tape is covered to your satisfaction you cut the ribbon, turn a little bit of the ribbon under to hide the cut edge (of the ribbon) and secure on the back side of the bouquet with corsage pins. If you end at the top of the bouquet, the pins should be pushed towards the end of the bouquet. If you end at the bottom the pins should be pushed up towards the flowers. I've always thought the pins on these kinds of bouquets were buttons. (LOL!) My friend tied some fancy bows with some tails that would hang down and secured them at the top of the ribbon.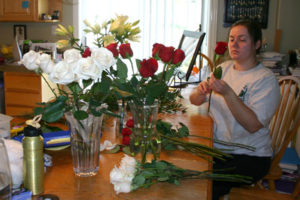 We made 5 bouquets in all. It was so much fun!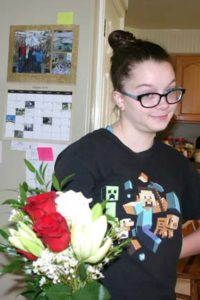 Look how pretty Alia's bouquet is!
Left Over Flowers
I had enough flowers left over that I made two vases of flowers. I was so happy I had them at the reception; they added a lot!
Keeping Them Fresh
To keep them fresh we put them in just enough water for the stems to stay wet. Mason jars and short, sturdy vases worked the best. We sprayed them with water and then covered them with seran wrap over night, so they would be as fresh as possible. They looked fabulous! I am so excited about how they turned out!!!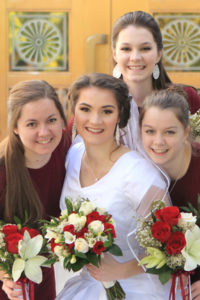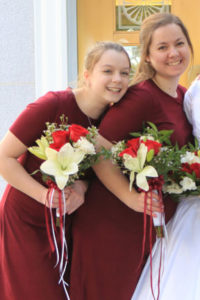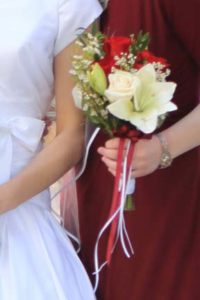 (We did not make the Bridal bouquet. That came from the Flower Patch.)
Save
Save
Save
Save
Save
Save
Save
Save