I have wanted to make one of these for a couple of years now, but couldn't find the right umbrella! They either weren't the right pattern or color and almost impossible to find one with a hook handle!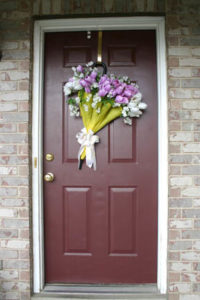 The trick to doing any craft is to make sure you have the right tools and components for the project.
I found the perfect umbrella at Amazon! #umbrellasarecool
I tried to find the original designer of the umbrella door hanger, but there are so many on Pinterest! With that said, I set out to do it my own way, with the help of my hubby!
Materials:
1 umbrella with shepherd's crook handle
6 bunches of tulips favorite colors to match your color scheme
1 flowering garland
1 spool of ribbon
Floral wire
needle nose pliers
Directions: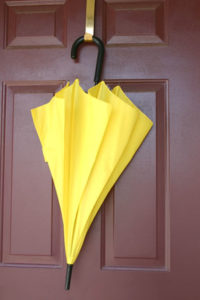 I first hung the umbrella on the door to get an idea of how it would hold the flowers and how many I actually needed. It was a little floppy and hard to tie and keep the flowers up.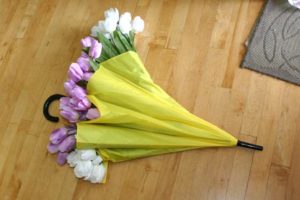 We laid it on the floor which helped us better arrange the flowers. We made sure the ends of the bunches were tied into the ribbon.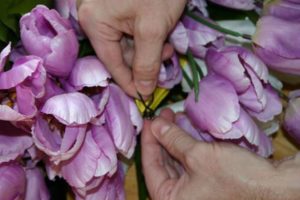 We then realized that it was a little floppy and not holding the flowers where we would like them to be. Sooooo, my hubby took some twist tie material he had but you could use floral wire or clear fishing line, and he tied the umbrella sections together from front to back. This kind of made cute pockets for the flowers to rest in without being floppy!
Then I wove the garland through the flowers. A little wire here and there helps to keep it in place by tying sections of the garland together with the flower bunches.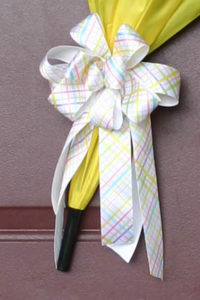 I tried and tried to tie a decent bow, but I couldn't get it right. My awesome neighbor is amazing at bow tying and did this one for me!
It turned out so beautifully! We left the wire long from tying the bow to make it easier to tie to the umbrella. this is where we used the needle nose pliers to help tie and twist the bow in place.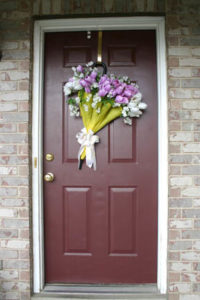 Save